Why Isn't the Federal Government Treating the Maine OWS Attack as WMD Terrorism?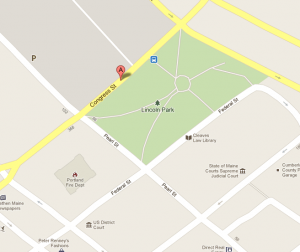 Mohamed Osman Mohamud's alleged terrorist act was to take an inert bomb constructed by the FBI and attempt to detonate it in Portland, OR's Courthouse Square; had he succeeded, a bomb would have gone off in a public space full of people and, possibly (as prosecution filings later emphasized), damaged the nearby federal courthouse as well.
Najibullah Zazi's crime was to take common chemicals found in any kitchen or bathroom–acetone and hydrogen peroxide–in hopes of turning them into an explosive to deploy on NY's subways.
On Sunday morning, someone threw a bottle containing household cleaning solvents–not dissimilar from Zazi's raw materials–into the public square occupied by Occupy Maine. Like Courthouse Square in Portland, OR, Lincoln Park, in Portland ME, is within blocks of the federal courthouse. Mohamud's target, like that of the unknown bomber in ME, was a square full of people. And in ME–unlike OR–that crowd of people was engaging in political speech.
In other words, the attack in ME–even if it was as pathetic as Mohamud's alleged attack or that of any number of aspirational Muslim terrorists–was an attempt to use a WMD, since explosives qualify as a WMD. And even more than Mohamud's alleged attack, this was an attempt to achieve political ends through violence. Terrorism.
And yet, according to anonymous police sources, the Feds don't think any federal laws were violated when this unknown bomber engaged in WMD terrorism.
Federal investigators have been contacted, but as of Monday the incident did not appear to have violated any federal laws, police said.

[snip]

The city contacted federal authorities, including the Bureau of Alcohol, Tobacco, Firearms and Explosives and the U.S. Attorney for Maine.

The ATF said such devices do not violate federal law because they are less dangerous than more powerful explosives, such as dynamite or black powder, and don't throw shrapnel as a pipe bomb would.

Police would have to determine the motive of the person who threw the device to decide whether civil rights or other federal charges are warranted. That would bring the U.S. Attorney's Office into the investigation. [my emphasis]
This, in spite of the fact that the people in the car yelled "get a job" before throwing the bomb.
Don't get me wrong. I don't think this attack equates to real terrorism, the kind of attack that Abdulmutallab tried or even that Faisal Shahzad tried. Nevertheless, it does equate to a lot of things the FBI has called attempted use of a WMD and terrorism.
And yet, somehow, in the absence of a young Muslim man goaded on and provided explosives by the FBI itself, the FBI doesn't see it as terrorism.
https://www.emptywheel.net/wp-content/uploads/2016/07/Logo-Web.png
0
0
emptywheel
https://www.emptywheel.net/wp-content/uploads/2016/07/Logo-Web.png
emptywheel
2011-10-25 12:30:34
2011-10-25 13:27:49
Why Isn't the Federal Government Treating the Maine OWS Attack as WMD Terrorism?