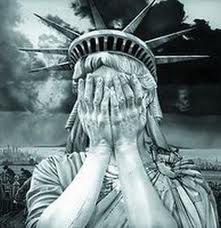 When this blog last substantively left the continuing saga of Bush/Cheney Special Counsel Scott Bloch, it was with these words:
So, between August 2, 2011 and December 21, 2012, a period of nearly a year and a half's time, the DOJ has done nothing whatsoever in furtherance of prosecuting Scott Bloch. Until today. And the vaunted Department of Justice has, on the Friday before the Christmas holiday…..filed a Motion to Dismiss. However, that is not the end of the story, as clause 5 of the Motion to Dismiss contains this language:

Concurrent with this Motion to Dismiss, the government is filing a new information.

Well, not quite concurrent, as the Motion to Dismiss was filed mid to late morning, and the new information was just now made public. The new charge, a misdemeanor, is pursuant to 18 USC 1361 Depredation of Government Property or Contracts. The factual basis is made out from the "seven level wiping" Bloch caused to be done. Here is the new information just filed.
Yes, that is the "Reader's Digest" version of how Scott Bloch came to be where he is now….awaiting sentencing in the United States District Court for the District of Columbia. For a crime that barely even references, much less is indicative of, the actual acts he committed against the United States Government, and the citizens it represents.
But, Bloch is indeed now facing sentencing on the latest cushy plea he has been afforded by the Department of Justice; sentencing scheduled for Monday May 13, 2013, less than one week from today. Here is Defendant Bloch's sentencing memorandum, and here is the curiously collusive memorandum from the DOJ, who simply cannot stand for any Article II Executive Branch attorney being sent to jail/prison for lying to Congress because, seriously, many more might be in jeopardy if that was the case and precedent.
So, what is Mr. Scott Bloch doing? Taking his medicine quietly for having been given the gift plea by the DOJ to a misdemeanor after he actually committed such acts that appear by all legal rights to warrant felony allegations? Allegations as were described the last time Bloch was tried to be handed such a gift horse plea by the DOJ as:
…felony crimes Bloch could have been, and should have been, charged with are staggering; including obstruction of justice, false statements, perjury, willful destruction of government property and Federal Records Act violations. But Defendant Bloch made a deal to plead to one little misdemeanor with the guarantee he would be considered under the most favorable sentencing guideline conditions imaginable.
Nothing has changed; not a single underlying fact has changed in the least, and Bloch still stands Read more →
http://www.emptywheel.net/wp-content/uploads/2016/07/Logo-Web.png
0
0
bmaz
http://www.emptywheel.net/wp-content/uploads/2016/07/Logo-Web.png
bmaz
2013-05-07 10:02:39
2013-05-07 10:07:37
Former Bush Special Counsel Scott Bloch Bullies Journalists and Threatens 1st Amend Speech Before Criminal Sentencing