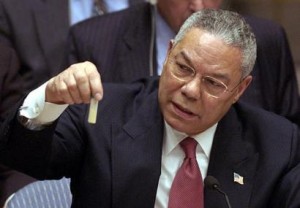 A bit of a row has started between Jay Rosen and Will Saletan for the latter's attempt to "see how [the torturers] saw what they did" in this post. Frankly, I think Rosen mischaracterizes the problem with Saletan's post. It's not so much that Saletan parrots the euphemisms of the torturers. It's that he accepts what John Rizzo, Michael Hayden, Jose Rodriguez, and Marc Thiessen said – in a presentation with multiple internal contradictions even before you get to the outright demonstrable lies — as the truth.
I'm particularly troubled by the way Saletan takes this assertion (which is based on the pseudo science behind the torture):
EITs were used to break the will to resist, not to extract information directly. Hayden acknowledged that prisoners might say anything to stop their suffering. (Like the other panelists, he insisted EITs weren't torture.) That's why "we never asked anybody anything we didn't know the answer to, while they were undergoing the enhanced interrogation techniques.
And concludes this, which I take to be Saletan's belief, not the torturers':
Fourth, the right question to ask about the EIT program isn't whether people lie under torture but whether using torture to train human beings in obedience is wrong despite the payoffs.
In an effort to take the torturers' comments — and very notable silences, which Saletan doesn't discuss — in good faith, Saletan presumes we might treat obedience among detainees being exploited as one of its "payoffs."
Doing so ignores how the Bush Administration used torture to get detainees to tell useful lies, the most important of those being that Iraq had ties to Al Qaeda, which is one of the key pieces of "intelligence" that was used to get us into the Iraq War. That lie from Ibn Sheikh al-Libi — extracted through the use of mock burial and waterboarding, the two main forms of torture discussed in the panel – contributed directly to the unnecessary deaths of 4,000 Americans, to say nothing of hundreds of thousands of Iraqis.
Hayden's claim we always knew the answer to questions we asked under torture
Here's the full exchange from which Saletan takes as truthful the assertion that torture is about "learned helplessness" (no one here uses Mitchell and Jessen's term, but that's what we know they called it).
MR. THIESSEN: Mike, one of the – one of the scenes, you have the interrogator throws the – whoever the detainee is down and starts pouring water over his face and starts shouting, when's the last time you saw bin Laden? And I think that gets to a deep misunderstanding of how interrogation actually worked. And one of the things you explained to me when I was working on my book and on the president's speech was that there's a difference between interrogation and debriefing, and the purpose of interrogation was not – we actually didn't ask questions that we didn't know the answers to. It was to ascertain whether they were being truthful or not. (So if you ?) walk through that?

[snip]

MR. HAYDEN: I'm almost willing to make an absolute statement that we never asked anybody anything we didn't know the answer to while they were undergoing the enhanced interrogation techniques. The techniques were not designed to elicit truth in the moment – which is what was, you know, tell me this or I'll hurt you more, I'm not your friend – for about a third of our detainees. By the way, for two thirds of our detainees, this wasn't necessary. Now, I'm willing to admit that the existence of the option may have influenced the two-thirds who said, well, let's talk, all right? I mean – I mean, let's be candid with one another. But for about a third, techniques were used not to elicit, again, information in the moment, but to take someone who had come into our custody absolutely defiant and move them into a state or a zone of cooperation, whereby – and then you recall the scene in the movie after the detainee is cleaned up and they're having this lengthy conversation – for the rest of the detention, and in some cases it's years – it's a conversation. It's a debriefing. It's going back and forth with the kind of dialogue that you saw in that scene about a – about a third of the way through the movie.

You know a lot of people kind of reflexively say – they'll say anything to make you stop, which may actually be true. That's why we didn't ask them questions while this was going on. Again, as John said, I mean, you know – these things weren't gentle or kind, but the impact – and I think Jose's written very thoughtfully about this – the impact was psychological. The impact is you are no longer in control of your destiny, all right? You are in our hands, and therefore, that movement into the zone of cooperation as opposed to the zone of defiance. But Jose's got more of the fine print on that. [my emphasis]
As I mentioned the other day, I still haven't seen the movie, so I'm not sure. But Thiessen's effort to dismiss the claim that we asked detainees where Osama bin Laden was while being waterboarding may be an effort to rebut Khalid Sheikh Mohammed's assertion that he lied about OBL's location to get them to stop waterboarding him — all while hiding the importance of the courier, Abu Ahmed al-Kuwaiti, who would eventually lead to OBL.
Now, Hayden's claim is so obviously false as to be almost pathetic.
The ticking timebomb that blows up Hayden's claim
It's a claim that Rodriguez — in the very same appearance — undermines, when he describes turning to torture out of sheer ignorance.
MR. THIESSEN: Follow-up, Jose. I mean, take us back to – since we're pulling the broader picture – take us back to September 11 th , 2001. You know, we've just been hit – there's smoke in the ground in New York, buildings have fallen, the Pentagon is broken. And what do we know about al-Qaida? I mean, did we know that KSM was the operational commander of al Qaida or that he had this – or that members of his network – or all this information that we take for granted that we know now?

MR. RODRIGUEZ: Yeah, we didn't know that much. Continue reading →