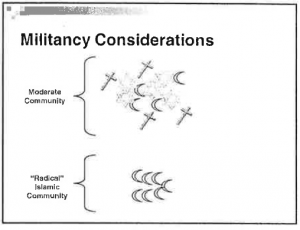 A retired Navy guy decided to treat Spencer's reporting on the dangerously bad training the FBI is giving its agents by offering a justification for that training with his own theological argument for why Muslims are dangerous.
For my own part, I would like to draw a necessarily blurry line between what Mr. Ackerman and the FBI call "main stream" American Muslims and the "pious and devout." Because the possibility never occurs to the former at least that to be a pious and devout Muslim necessarily means super-ordinating the will of God, as expressed to his Prophet 14 centuries ago in an inalterable text, and that this potentially places the believer in conflict with the values of modern Western Civilization. Most will find a way to live with that conflict. A notable few, weak-minded or otherwise deficient, have spectacularly failed to do so.
Mr. Ackerman clearly sees this as a civil rights issue rather than one of understanding the threat to the Republic – and you'd have to be willfully blind to think there is no threat, regardless of how dangerously you choose to characterize it. He sees the affirmative and bountiful evidence of Muslims in America who are good citizens and looks no further. Steeped in the culture of Western liberalism, he declines to even recognize this possibility: To the degree you are a good Muslim, as defined by rigorously following and promoting the entirety of the Koran (with Islam lacking as it does any centralized institution to contextualize those 7th Century scriptures in a 21st Century world, what other definition could there be?) it becomes increasingly difficult to be a good citizen.
[snip]
The prophet Mohammed is to his faithful the perfect man and final prophet. He took earlier Abrahimic traditions and crafted out of them the perfect book, with his own life as a perfect example.
There are secular Jews, who identify with the morality of their ethnicity more than its scriptural beliefs. There are so-called "salad bar" Catholics, who pretend devotion in every other way but for whom a woman's right to choose is inviolable – Teddy Kennedy routinely got their votes. But none among their respective faiths could call them truly pious and devoted. There are Muslims who are good citizens who point out to us the more radically dangerous among them, and those of Islamic (as opposed to Islamist) traditions who eschew the active "lesser" Jihad to await God's inevitable ordering of the world under Sharia. But to be a truly pious and devout Muslim – of the Wahabist and Salafist sects in particular – requires the follower to accept as unquestioned the guidance and example of Mohammed, and act on them, straight down the line. It is useful to remember that "Islam" means submission to God's will, and God wills the believer to act.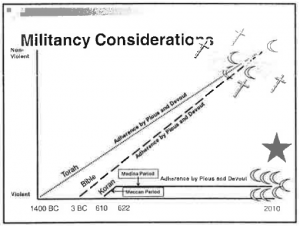 Now, you can object to his understanding of theology (and I do). But for the moment, pretend everything he says is true.
He's still ignoring one of the reasons the FBI training makes our country less safe. (When I pointed it out to him, he ultimately dismissed me because I pointed out that according to the FBI, we can't trust those who endorse torture, and therefore we shouldn't trust the US Government).
In addition to training FBI counter-terrorism agents that pious Muslims are–must be–prone to violence, the FBI is also training counter-terrorism agents that pious Christians (and Jews) are moderates not prone to violence. Pious Muslims are radical and pious Christians are, by definition, moderate. In these training slides, there are some (non-pious) Muslims who are lumped in the "moderate" category, but no Christians put in the "radical" category.
This, of course, also trains FBI counter-terrorism agents not to be all that worried about Christians who appear to be pious. They won't be radical and therefore won't be terrorists. It trains FBI counter-terrorism agents not to look for terrorists among the fundamentalist Christian (or Catholic or any other Christian) community. It makes it far more likely that FBI counter-terrorism agents will miss the Hutarees and Scott Roeders of the world.
In response, he said that we don't have to worry because these Christian terrorists weren't good Christians.
They may claim to be "pious" but claiming does not make it so. "Thou shalt not kill" + "Turn the other cheek" = Piety.
Now, aside from the fact that Neptunus Lex is taking it upon himself to dictate what counts as pious or not, rather than the thousands of Christian preachers who might not see it Lex's way (mind you, I prefer his vision of Christianity, it's just that I've run into a lot of preachers who preach something other than "turn the other cheek"), his distinction between what Christian terrorists like Roeder "claim" and what they "are" is meaningless from an investigative perspective–and therefore is meaningless to the safety of our country. I mean, is Lex asking FBI counter-terrorism agents who have been trained to assume pious Christians are by definition moderates to make the effort to conduct a theological exam on Christians to determine whether they simply "claim" to be pious or are actually pious, according to Lex's understanding of theology? And how are the faith communities that espouse or condone violence–whether it be the death penalty, America's wars, or killing abortion doctors–going to feel when they learn that some guy named Neptunus Lex had deemed them not to be pious? I'm pretty sure this is why we've got a First Amendment in this country, but it appears to increasingly not apply to Muslims.
Now, thankfully, in the case of the Hutaree and some of the White Supremacist/Sovereign terrorists who also happen to appear to be pious Christians, the FBI has still investigated, though not always. Thankfully, the FBI didn't make the same mistakes they made with Roeder. But given that non-Muslim terrorists remain a real threat to this country, training FBI counter-terrorism agents that pious Christians are by definition moderate is just as counter-productive as pissing off (and discouraging the cooperation of) the entire Islamic faith community with a theological claim that Islam is a radical religion.
https://www.emptywheel.net/wp-content/uploads/2016/07/Logo-Web.png
0
0
emptywheel
https://www.emptywheel.net/wp-content/uploads/2016/07/Logo-Web.png
emptywheel
2011-09-15 19:17:29
2011-09-15 19:17:29
Teaching Christian Moderation