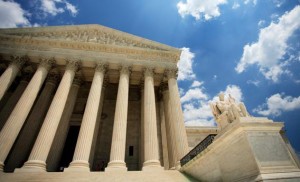 After the flurry of fast analysis on the fly, getting a post up for discussion and the crucible of discussion here and on Twitter – and a bit of sleep – I have some further thoughts on the amicus brief filed late yesterday by the Obama Administration in Hollingsworth v. Perry.
My ultimate conclusions on what the Obama amicus means and portends has not changed much, but there are several things that should be said both to explain my criticism and give a little more credit to the Administration where due. First an analogy explaining my criticism of the Obama brief.
Imagine if, when Brown v. Board of Education was being considered, the Eisenhower Administration had instructed it's Assistant Attorney General and OLC chief, J. Lee Rankin, to amicus brief that only Kansas and a handful of other similarly situated states, but not the rest of the country where the bigotry of segregation was at its most prevalent worst, should be granted desegregation. How would history have held Mr. Eisenhower and Mr. Rankin? That is, of course, not what happened in Brown; the Eisenhower Administration filed an amicus brief demanding equality and desegregation for all citizens, in all states.
Messrs. Obama, Holder and Verrilli, however, fell short of such a demand for equality for all in the civil rights moment, the Brown v. Board, of their time. Let the record reflect they did have the courage to join the game, which is in and of itself a commendable thing, just that they did not muster the full courage to play to win for all Americans, regardless of their particular state of domicile – and especially not for those in the states with the most sexual orientation bigotry and discrimination.
In this regard, I think our friend at Daily Kos, Adam Bonin, summarized the duality of the Obama amicus quite well:
To be sure, the brief argues all the right things about why laws targeting gays should be subject to heightened scrutiny, and that none of the proffered justifications for treating their relationships differently have merit ("Reference to tradition, no matter how long established, cannot by itself justify Read more →
https://www.emptywheel.net/wp-content/uploads/2016/07/Logo-Web.png
0
0
bmaz
https://www.emptywheel.net/wp-content/uploads/2016/07/Logo-Web.png
bmaz
2013-03-01 10:00:44
2013-03-24 20:59:17
Further Reflections on the Obama Amicus Brief in Prop 8