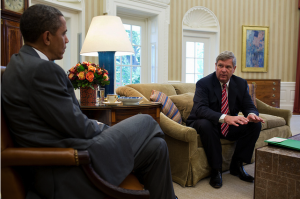 I'm beginning to wonder whether Obama is worried the drought–particularly in the Midwest–could imperil his reelection campaign. I say that because he seems to be avoiding addressing it on the campaign trail. (Compare that to the way he has addressed other tragedies, such as his well-received conversations with the victims of the Aurora shooting.)
To the best of my knowledge, this July 18 photo is as close as Obama has gotten to publicly expressing concern about the drought. And in a press briefing on the drought the same day, both participants–Tom Vilsack and Jay Carney–avoided addressing questions about whether Obama would visit drought affected areas.
Q Secretary, should we be expecting that you and the President will be heading to a drought-stricken area soon? That's normally a path that you take when you're trying to show something is a priority.

SECRETARY VILSACK: Well, I can't speak obviously for the President's schedule, but I can tell you that actually I was in Pennsylvania yesterday. We do have the Deputy Secretary going to Georgia tomorrow. We've got the Under Secretary of the Farm Service Association traveling to several states that are drought-impacted and affected.

[snip]

Q Is the President going, Jay, to go anywhere —

MR. CARNEY: I don't have any scheduling updates for the President to provide to you today. If and when I do, I'll provide them.
Now, I'm not trying to concern troll about the President's schedule, in the way Republicans are criticizing Obama for not meeting with his Jobs Council. Nor am I saying Obama's not responding to the drought; the USDA has been making low-cost loans available to those in areas declared a disaster, as well as certain other things that may provide immediate if not long-term relief.
Rather, I'm raising it because I really do think it might affect the election. Consider how many swing states are affected by the drought (conditions have gotten better in MI of late).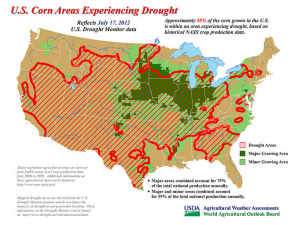 And while IA has not been included among the counties in which Vilsack has declared a disaster, its corn harvest has been affected (with 40% deemed poor or very poor on July 22). And their livestock will be affected as well.
https://www.emptywheel.net/wp-content/uploads/2016/07/Logo-Web.png
0
0
emptywheel
https://www.emptywheel.net/wp-content/uploads/2016/07/Logo-Web.png
emptywheel
2012-07-26 14:26:36
2012-07-26 17:57:09
Is Obama Worried that Fat Al Gore's Drought Will Threaten His Reelection?