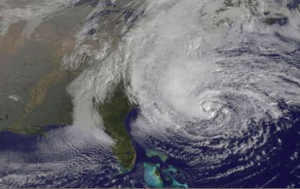 I've been thinking about how things would be different if Hillary Clinton named Fat Al Gore–my metaphorical name for climate change–a Foreign Terrorist Organization.
The FTO designation, you'll recall, is the official designation that signals the US considers an entity a dangerous terrorist organization. The criteria are:
The organization must be foreign based.
The organization engages in terrorist activity or terrorism, or retains the capability and intent to engage in terrorist activity or terrorism.
The terrorist activity or terrorism of the organization threatens the security of United States nationals or national security of the United States.
As I see it, the "foreign based" is the only stretch here. While American carbon use is one big contributor to Fat Al Gore (in the same way American foreign policy has been one contributor to Islamic terrorism), we can ultimately claim Fat Al Gore lives in the atmosphere. That's foreign, right?
As for terrorism? Fat Al Gore's latest incarnation has shut down the entire Eastern Seaboard. Pictures of Sandy have inspired awe and fear even among experienced Fat Al Gore watchers. Sandy will do billions in damage, and has already killed 51 people. This is a spectacular, horrifying disaster, just as terrorist attacks are.
Perhaps you could argue Fat Al Gore is not a terrorist because it has no political goals. But I think Mother Nature probably does have some policies she'd like us to implement. Hell, we're going to change our policies in response to Fat Al Gore one way or another, the question is when.
And clearly Fat Al Gore threatens the US–more than any other terrorist right now (and that would be true even without Frankenstorm bearing down on the East Coast).
If Hillary named Fat Al Gore an FTO, the first effect would be to criminalize financial support of Fat Al Gore. Chevron's $2.5 million donation to defeat Democrats? Material support of terrorism. Continued subsidies to the fossil fuel industry? Material support of terrorism. We could even start arresting people pursuing policies that support Fat Al Gore and throw them away for long prison terms.
The other thing that naming Fat Al Gore an FTO would do is change our response. No longer would it be enough to respond competently (or incompetently) when Fat Al Gore attacks our country. No longer would a reactive response be enough. The goal would change, immediately and at great political cost, to–as much as possible–preventing Fat Al Gore from striking the country.
Now, if Hillary did name Fat Al Gore an FTO, you can be sure all the politicians who've been in the back pocket of Fat Al Gore would complain. They'd argue the designations were political.
But as I see it, that complaint was neutralized when State removed MEK from the FTO. Tom Ridge was quite happy when State used designations politically with MEK. How can he complain when designations work the other way, by holding him responsible for supporting Fat Al Gore.
One thing's clear: our primary security apparatus–that fighting terrorism–does not now address our primary security threat–Fat Al Gore. Maybe it's time to change that.
https://www.emptywheel.net/wp-content/uploads/2016/07/Logo-Web.png
0
0
emptywheel
https://www.emptywheel.net/wp-content/uploads/2016/07/Logo-Web.png
emptywheel
2012-10-29 08:10:41
2012-10-29 08:10:41
If Hillary Named Fat Al Gore a Foreign Terrorist Organization…