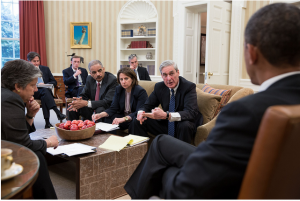 As I've noted in passing, the Boston Marathon will be the first major homeland security episode that John Brennan's replacement, Lisa Monaco, will coordinate at the White House. As NJ describes in this profile, Monaco has worked for years at FBI and DOJ in national security, so it's not like the Administration loses expertise with Monaco in the Homeland Security Czar.
But it does mean the Administration doesn't have John Brennan, who has been known to give briefing on crises to his predecessors with TV contracts, as when he leaked that UndieBomb 2.0 was an Saudi sting to Fran Townsend and Richard Clarke.
About an hour or two ago, the media was buzzing, with CNN in the lead. The FBI had identified a suspect, they reported. The FBI had arrested someone, and would be bringing the suspect to the Court House, they reported. Along the way John King suggested, video evidence to the contrary, the suspect was a "dark skinned male."
A key source in those report was Fran Townsend, working from tips from people inside government.
Ultimately, FBI actually released a press release making clear there hadn't been an arrest.
Meanwhile, in response to CNN and other outlets' reporting, a big crowd had formed at the courthouse. Predictably, a bomb threat came into the courthouse, so then the police had to evacuate the courthouse.
As CNN's reporters were standing around trying to avoid apologizing for possibly tipping of the suspect of the attack, they started blaming their sources, suggesting they had been "used" to flush out the suspect, even while warning that saying "too much" might lead the suspect to do some undesirable things.
It was a thorough clusterfuck.
Mind you, I have every reason to believe that Monaco is doing a great job, and I actually don't think it's the job of the Homeland Security Advisor to hand feed the cable news channels.
But I guess blabby Brennan would have at least ensured that Townsend got her story correct.
Update: This chart of the clusterfuck is pretty funny.
https://www.emptywheel.net/wp-content/uploads/2016/07/Logo-Web.png
0
0
emptywheel
https://www.emptywheel.net/wp-content/uploads/2016/07/Logo-Web.png
emptywheel
2013-04-17 16:56:26
2013-04-17 17:24:27
The Downside of Losing Blabby Brennan as Homeland Security Czar