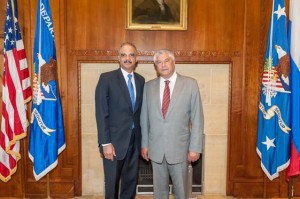 It's not until the 17th and 18th paragraph of this Moscow Times article on Russian Interior Minister Vladimir Alexandrovich Kolokoltsev's discussion with Attorney General Eric Holder about sharing more law enforcement information that it reminds readers that just three days before the Boston Marathon attack, Russia and the US were exchanging blacklists of people prohibited from travel to their respective country.
The Interior Ministry won a court ruling to authorize Browder's arrest and place him on an international arrest warrant shortly after the U.S. released its so-called Magnitsky list of 18 Russians banned from entry into the country. Among those on the list are Artyom Kuznetsov and Pavel Karpov, Interior Ministry investigators who put Magnitsky behind bars.

The blacklist, published April 12, provoked a storm of protest from Moscow and a tit-for-tat release of a blacklist of U.S. officials. But the Boston bombing occurred just three days later, causing the two sides to tone down their rhetoric and take a second look at relations.
The Russian blacklist not only includes torturers like John Yoo, but people involved in Viktor Bout's prosecution.
And it makes no mention of the complaints that Russia has been slow to share information since.
Details on tensions surrounding Magnitsky come long after the details on information sharing in the article: Robert Mueller promises to open up some FBI files to the Russians in anticipation of the 2014 Winter Olympics, and we've exchanged 827 documents this year.
FBI director Robert Mueller promised Kolokoltsev in Washington late last week to open some FBI data to the Russians, saying, "Such resources could be useful to Russian law enforcement agencies in view of the Sochi Olympics," the Interior Ministry said in a statement.

About 15,000 U.S. citizens could attend the Sochi Olympics, according to Mueller.

Mueller also thanked the Russian side for the help it provided in investigating the Boston Marathon bombing, which U.S. investigators believe was masterminded and carried out by brothers Tamerlan and Dzhokhar Tsarnaev, who have mixed Chechen-Dagestani origin.

[snip]

Kolokoltsev also met with U.S. Attorney General Eric Holder and suggested that the Interior Ministry sign a legal cooperation agreement with the U.S. Justice Department.

"Since the beginning of this year, we have exchanged 827 documents with U.S. law enforcement agencies," Kolokoltsev told reporters, noting that the U.S. is one of top five countries with which Russia cooperates within the framework of the Interpol.
So if you're planning on attending the Olympics in Russia next year, don't piss off the FBI before then!
Then there's the bit Russian Times doesn't mention, which happens to be one of the very few things included in the US Department of Justice statement on this meeting. The US plans to share not just counterterrorism information, but also transnational crime organization.
They also discussed law enforcement cooperation between the two countries in areas including counterterrorism, transnational organized crime and child pornography.
Recall, Russian mobsters are among the four organizations the Obama Administration listed among the Transnational Criminal Organizations we would use terrorism-like tactics to hunt down; we've focused on Central Asian mobsters in our specific sanctions. It's not clear that Russia has been particularly forthcoming with cooperation on this front in the past.
Let's see whether this buzz about information sharing changes that.
https://www.emptywheel.net/wp-content/uploads/2016/07/Logo-Web.png
0
0
emptywheel
https://www.emptywheel.net/wp-content/uploads/2016/07/Logo-Web.png
emptywheel
2013-05-27 07:42:29
2013-12-24 20:14:25
Putin: You Show Me Yours and … I Might Show You Mine