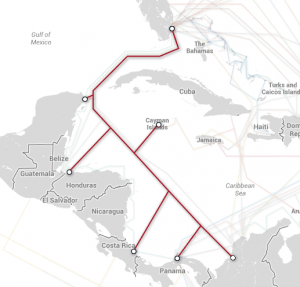 Apparently, the people at Treasury don't need to take advantage of the Black Friday sales. Instead, they're at work and announcing that the Cayman Islands (and Costa Rica) will share information on US taxpayers with the IRS. The move comes after the Brits rolled out a similar agreement earlier this month.
I assume we'll see other advanced countries demand similar agreements. But for the moment, just the NSA and GCHQ's home countries will be able to learn which of their citizens are stashing money in one of the world's most important tax havens (and one that has been important to Anglo-American financial dominance).
There are two submarine cables serving the Cayman Islands. One — Maya 1 — carries telecom traffic to Hollywood, FL. It is owned, in part, by NSA spy partners AT&T and Verizon. The other carries traffic to Jamaica. Another of the cables that serves Jamaica lands in Boca Raton. A third carries traffic to British Virgin Islands. From BVI, cables carry traffic directly to several other landing spots in the US, as well as — by way of Bermuda — Canada.
Earlier this year, someone leaked massive amounts of data on BVI's tax shelter clients and habits (though curiously, no US persons were identified among the most prominent culprits). As far as I know, no one has ever discovered how that data got leaked, and there seems little concern from the powers that be about this leaker who, after all, was as audacious as Chelsea Manning or Edward Snowden.
Now, I'm not saying that the US and UK were already stealing Cayman Islands' data. I'm only saying that doing so would be perfectly within the known practices of America and Britain's spy agencies.
https://www.emptywheel.net/wp-content/uploads/2016/07/Logo-Web.png
0
0
emptywheel
https://www.emptywheel.net/wp-content/uploads/2016/07/Logo-Web.png
emptywheel
2013-11-29 17:46:14
2013-11-29 19:08:51
The Cayman Islands Agrees to Share Tax Data with the Five Eyes Countries