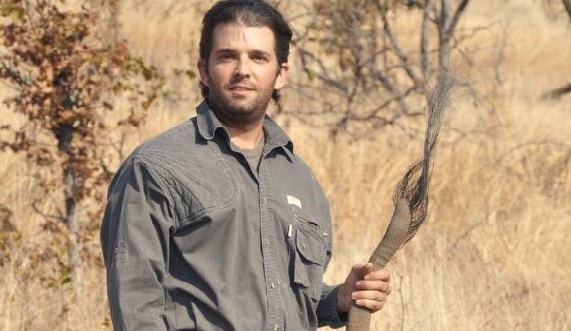 See update, below, which provides evidence that was not present when I wrote this post. 
The NYT has a new bombshell showing that Don Jr. was willing to meet with someone to get Russian dirt on Hillary. It is damning. But Democrats should be very careful about calling it collusion, yet.
On Saturday, the NYT reported that Don Jr, Paul Manafort, and Jared Kushner met on June 9 with Natalia Veselnitskaya, a Russian lawyer who has worked to overturn the Magnitsky sanctions. In Don Jr's first response to the NYT, he admitted to the meeting, but said it focused primarily on adoptions (which means it focused on the sanctions).
Then, yesterday, NYT reported that Don Jr took the meeting because he was promised Russia-related dirt on Hillary. With that new detail, Don Jr changed his story, admitting that's why he took the meeting, though he claimed that the information Veselnitskaya offered "made no sense."
In a statement on Sunday, Donald Trump Jr. said he had met with the Russian lawyer at the request of an acquaintance. "After pleasantries were exchanged," he said, "the woman stated that she had information that individuals connected to Russia were funding the Democratic National Committee and supporting Ms. Clinton. Her statements were vague, ambiguous and made no sense. No details or supporting information was provided or even offered. It quickly became clear that she had no meaningful information."

He said she then turned the conversation to adoption of Russian children and the Magnitsky Act, an American law that blacklists suspected Russian human rights abusers. The law so enraged President Vladimir V. Putin of Russia that he retaliated by halting American adoptions of Russian children.

"It became clear to me that this was the true agenda all along and that the claims of potentially helpful information were a pretext for the meeting," Mr. Trump said.
WaPo revealed that the meeting was set up by music publicist Rob Goldstone, and hints that he may have done so at the behest of Emin Agalarov (which Goldstone has since confirmed).
He did not name the acquaintance, but in an interview Sunday, Rob Goldstone, a music publicist who is friendly with Trump Jr., told The Washington Post that he had arranged the meeting at the request of a Russian client and had attended it along with Veselnitskaya.

Goldstone has been active with the Miss Universe pageant and works as a manager for Emin Agalarov, a Russian pop star whose father is a wealthy Moscow developer who sponsored the pageant in the Russian capital in 2013.
This news is damning for several reasons. Kushner failed to disclose it at first in his clearance application, and Don Jr didn't reveal it in past interviews about meeting with Russians. Everyone tried to hide this at first.
But thus far, it is not evidence of collusion, contrary to what a lot of people are saying.
That's true, most obviously, because we only have the implicit offer of a quid pro quo: dirt on Hillary — the source of which is unknown — in exchange for sanctions relief. We don't (yet) have evidence that Don Jr and his co-conspirators acted on that quid pro quo.
But it's also true because if that's the standard for collusion, then Hillary's campaign is in trouble for doing the same.
Remember: A supporter of Hillary Clinton paid an opposition research firm, Fusion GPS, to hire a British spy who in turn paid money to Russians — including people even closer to the Kremlin than Veselnitskaya — for Russia-related dirt on Don Jr's dad.
Yes, the Clinton campaign was full of adults, and so kept their Russian-paying oppo research far better removed from the key players on the campaign than Trump's campaign, which was run by incompetents. But if obtaining dirt from Russians — even paying Russians to obtain dirt — is collusion, then a whole bunch of people colluded with Russians (and a bunch of other foreign entities, I'm sure), including whatever Republican originally paid Fusion for dirt on Trump.
Breaking: Our political process is sleazy as fuck (but then, so are most of our politicians).
The claim that merely meeting with Veselnitskaya is collusion is all the more dangerous given that it invokes some weird details about the Fusion dossier. Most importantly, as Trump's lawyer's spox has pointed out (incoherently, at first), like whatever Clinton supporter retained the oppo research firm, Veselnitskaya also employed Fusion. An update to NYT's Friday story laid some of this out, in the form of Mark Corallo's more clever than you actually might think suggestion that the Democrats might have paid Fusion to set up this meeting.
In an interview, Mr. [Mark] Corallo explained that Ms. Veselnitskaya, in her anti-Magnitsky campaign, employs a private investigator whose firm, Fusion GPS, produced an intelligence dossier that contained unproven allegations against the president. In a statement, the firm said, "Fusion GPS learned about this meeting from news reports and had no prior knowledge of it. Any claim that Fusion GPS arranged or facilitated this meeting in any way is false."

[snip]

One of Ms. Veselnitskaya's clients is Denis Katsyv, the Russian owner of a Cyprus-based investment company called Prevezon Holdings. He is the son of Petr Katsyv, the vice president of the state-owned Russian Railways and a former deputy governor of the Moscow region. In a civil forfeiture case prosecuted by Mr. Bharara's office, the Justice Department alleged that Prevezon had helped launder money tied to a $230 million corruption scheme exposed by Mr. Magnitsky by parking it in New York real estate and bank accounts. As a result, the government froze $14 million of its assets. Prevezon recently settled the case for $6 million without admitting wrongdoing.

[snip]

Besides the private investigator whose firm produced the Trump dossier, the lobbying team included Rinat Akhmetshin, an émigré to the United States who once served as a Soviet military officer and who has been called a Russian political gun for hire.
Republicans have already pointed to Akhmetshin's work with Fusion as a way to discredit the Steele dossier. Now they are (or at least were, before the really damning bits came out) using it to attempt to discredit the most damning detail about Trump's ties to Russians.
But there in one other interesting detail.
The first report (that we have) reflecting Christopher Steele's work (and also the first report that some unknown Democrat paid for after earlier oppo research had been paid for by some Republican) is dated June 20.
The report, dated 11 days after the Veselnitskaya meeting, states that the Kremlin has a dossier on Clinton, but that it has not as yet been distributed abroad.

That claim is seemingly contradicted by the claims of Source A (a senior Russian Foreign Ministry figure) and Source D. Indeed, Source D appears to have claimed, in June, that dirt from Russia was helpful.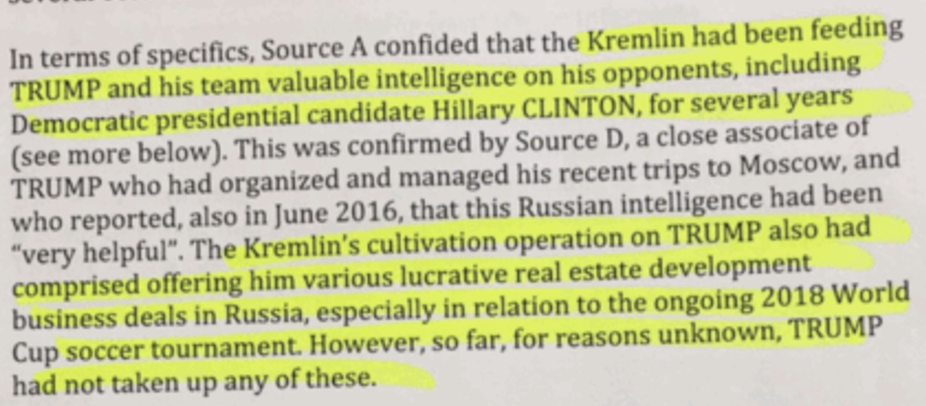 Ultimately, though, the memo seems to credit Source B, "a former top level Russian intelligence officer" and Source G, a senior Kremlin official, who said the dossier, attributed here to the FSB, had not yet been shared with Trump or anyone else in America.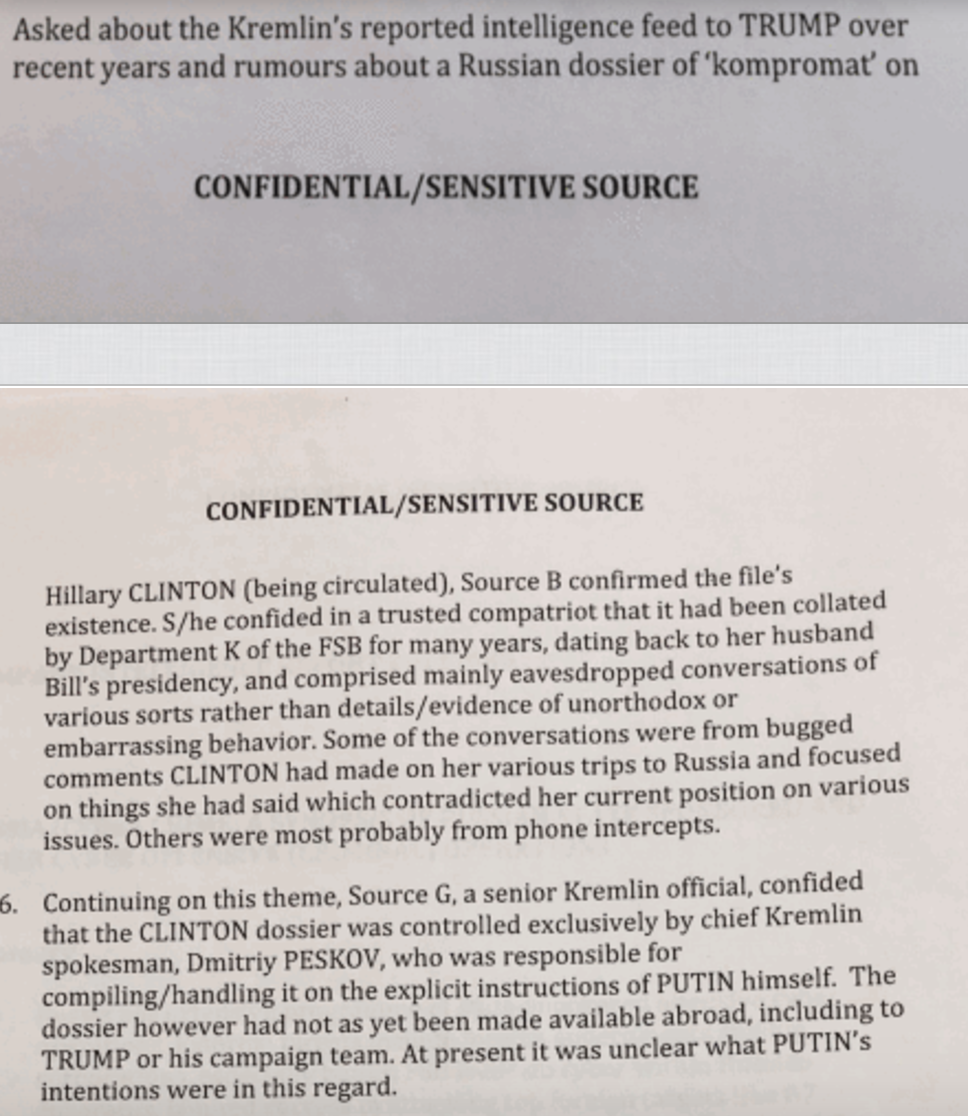 Consider: First, Akhmetshin himself qualifies as a former intelligence officer (though it's not clear how senior he was). He might have reason to deny that intelligence he tried to pass was the intelligence in question. And he'd likely be right, given that the Clinton dossier was purportedly a FSB, not a GRU, product. But it's even possible that he didn't want Hillary to know that he or a colleague was dealing dirt, however bad.
Nevertheless, the senior-most Russian quoted in the dossier compiled for Hillary Clinton claimed — and Steele appears to have believed — that Russia's dirt on Hillary Clinton had not yet been released.
Which doesn't really help the treatment of this as a scandal.
Don't get me wrong. I suspect there is more to this story. But I also note that Democrats should be really careful not to get too far ahead of this one, for fear of where it will lead.
Update: NYT's latest provides evidence that gets you far closer to collusion than the previous evidence.
Mr. Goldstone's message, as described to The New York Times by the three people, indicates that the Russian government was the source of the potentially damaging information. It does not elaborate on the wider effort by Moscow to help the Trump campaign. There is no evidence to suggest that the promised damaging information was related to Russian government computer hacking that led to the release of thousands of Democratic National Committee emails.
https://www.emptywheel.net/wp-content/uploads/2017/07/donald-trump-hunting-africa.jpg
331
571
emptywheel
https://www.emptywheel.net/wp-content/uploads/2016/07/Logo-Web.png
emptywheel
2017-07-10 15:32:35
2017-07-10 21:29:27
Be Careful How You Define Collusion: On the Veselnitskaya Bombshell and the Steele Dossier