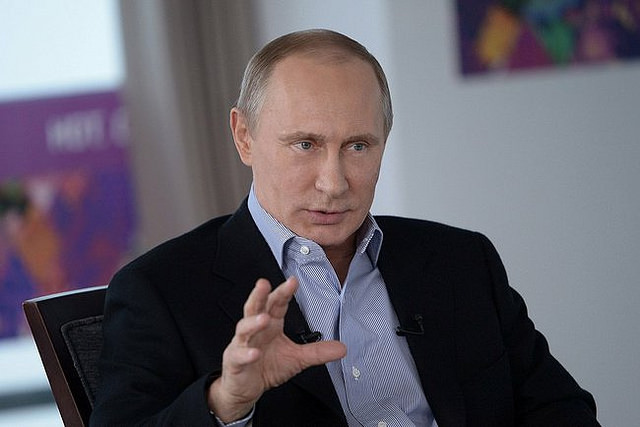 Michael Cohen Starts Not Recalling His Negotiations with Dmitry Peskov, "Main Protagonist" of Campaign Versus Hillary
In this post, I suggested the WaPo scoop about Felix Sater discussing a Trump Tower deal was Michael Cohen's attempt to pre-empt the real story, which would begin to come out after those particular emails got delivered to HPSCI.
Once they got delivered, we learned that Sater connected the Trump Tower plan (if there ever was one) with getting Trump elected.
Michael I arranged for Ivanka to sit in Putins [sic] private chair at his desk and office in the Kremlin. I will get Putin on this program and we will get Donald elected. We both know no one else knows how to pull this off without stupidity or greed getting in the way. I know how to play it and we will get this done. Buddy our boy can become President of the USA and we can engineer it. I will get Putins [sic] team to buy in on this, I will manage this process.
The immediate question at that point should have been why Sater would tie this alleged real estate deal to getting Trump elected, but instead the follow-up reporting has been about the alleged deal.
In response to the first release of that language, Cohen "rebutted" that focus on Sater by denying two things that don't address what the main focus should be.
Mr. Cohen suggested that Mr. Sater's comments were puffery. "He has sometimes used colorful language and has been prone to "salesmanship," Mr. Cohen said in a statement. "I ultimately determined that the proposal was not feasible and never agreed to make a trip to Russia."
Sater was just engaged in salesmanship. But for what? A tower or a presidency?
Cohen never went to Russia. But did he make the deal without leaving NYC?
Now, a second story based on the emails actually turned over reveals a far more interesting detail: Cohen may not have gone to Russia, but he did reach out to Dmitry Peskov.
Peskov, you may recall, was (per the Steele dossier) the "main protagonist" of the kompromat campaign against Hillary, which initially reportedly — but perhaps not credibly — started as sharing old dirt on Hillary with Trump's campaign, but by the end, consisted of deciding to leak the second batch of emails.
Russians do have further 'kompromat' on CLINTON (e-mails) and considering disseminating it after Duma (legislative elections) in late September. Presidential spokesman PESKOV continues to lead on this.
For his part, Cohen played the key role in brokering relations between Russia and the Trump team after Paul Manafort stepped down during the summer.
Speaking separately to the same compatriot in mid-October 2016, a Kremlin insider with direct access to the leadership confirmed that a key role in the secret TRUMP campaign/Kremlin was being played by the Republican candidates personal lawyer Michael COHEN
So any ongoing discussions between Cohen and Peskov would go to the heart of any coordination between Trump and Russia.
Which is why it is so interesting that Cohen has started to not recall whether there were ongoing conversations after that January email (note, NYT's Haberman says Cohen sent this to the mail press email for Peskov, not a private one).
"Over the past few months I have been working with a company based in Russia regarding the development of a Trump Tower – Moscow project in Moscow City," Cohen wrote Peskov, according to a person familiar with the email. "Without getting into lengthy specifics. the communication between our two sides has stalled."

"As this project is too important, I am hereby requesting your assistance. I respectfully request someone, preferably you, contact me so that I might discuss the specifics as well as arranging meetings with the appropriate individuals. I thank you in advance for your assistance and look forward to hearing from you soon," Cohen wrote.

[snip]

In the statement, obtained by the Washington Post, Cohen said Sater suggested the outreach because a massive Trump development in Moscow would require Russian government approval. He said he did not recall receiving a response from Peskov and the project was abandoned two weeks later. [my emphasis]
I wonder if Cohen can recall any more recent conversations with Peskov, such as in advance of the time, in February of this year, when he and Sater delivered a Ukrainian peace plan to Mike Flynn in the days before Trump's National Security Advisor was forced to quit?
Ah well. I'm sure a good lawyer like Cohen simply forgot these details, rather than giving the classic DC not recall answer that will provide him with another opportunity to tell a cover story the next time inconvenient emails get found.
Update: The WSJ gets into the act, with this report on how Cohen, when asked why he didn't tell Trump he was going to call Putin's top advisor for favors while Trump was running for President, did not respond.
In 2015, Mr. Cohen said, he informed the then-candidate that he was working on a licensing deal for a Trump Tower in Moscow. He subsequently asked for and received Mr. Trump's signature on a nonbinding letter of intent for the project in October 2015. And in January 2016, he said, he informed the then-candidate that he had killed the proposal. Mr. Cohen said each conversation was brief.

Mr. Cohen's communication with the president about the Moscow project may come under scrutiny because of a January 2016 email Mr. Cohen sent to Russian President Vladimir Putin's top press official to ask for "assistance" in arranging the deal. Mr. Cohen said he didn't inform Mr. Trump that he had sent the email to the press official, Dmitry Peskov. He didn't respond when asked why he hadn't done so.
So Cohen would have you believe he informed Trump at each stage of this process — except the one where he solicited help from a top official from a hostile nation-state.
https://www.emptywheel.net/wp-content/uploads/2016/10/Putin.jpg
427
640
emptywheel
https://www.emptywheel.net/wp-content/uploads/2016/07/Logo-Web.png
emptywheel
2017-08-28 15:10:08
2017-08-29 12:18:37
Michael Cohen Starts Not Recalling His Negotiations with Dmitry Peskov, "Main Protagonist" of Campaign Versus Hillary