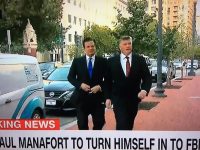 Even before this hilarious Zoe Tillman report on a hearing in Paul Manafort's civil suit against Robert Mueller, I was going to point to the things Manafort has learned that we haven't. But the report that Manafort's lawyers are trying to "Stop Bobby Three Sticks, before he indicts again!!!" makes the details all the more interesting.
In the hearing, Manafort's lawyers tried to rescue their desperate lawsuit arguing Mueller's appointment is improper by arguing they're only trying to prevent prospective actions with this lawsuit — that is, they're trying to prevent Mueller from larding on more charges.
During arguments Wednesday about whether Manafort's lawsuit challenging special counsel Robert Mueller's appointment could go forward, Manafort's lawyer said the case wasn't about getting the existing indictments tossed out — it was about stopping future prosecutions against Manafort by the special counsel's office.

Pressed by the judge about how Manafort could sue now if he was trying to stop activity by the special counsel's office that hadn't happened yet, Manafort's lead attorney Kevin Downing argued that the harm to Manafort was ongoing because the special counsel's investigation and the grand jury were still active.

Without an order from the court stopping Mueller's office from pursuing other charges in the future — based on an appointment order that Downing contends was unlawful — Manafort would have to "sit and wait" and keep chasing the special counsel's office wherever they decided to prosecute him next in order to challenge Mueller's appointment, Downing said. He didn't specify what other types of charges he thought the special counsel might be investigating against Manafort.

Manafort's civil lawsuit against the Justice Department and the special counsel's office, filed in January in the US District Court for the District of Columbia, asked the court to not only declare Mueller's original appointment in May invalid, but also to set "aside all actions taken against Mr. Manafort pursuant to the Appointment Order."

But Downing has since walked that back, saying that they're only asking for a forward-looking order that blocks future action.
As I noted, there are several apparently unrelated things that Mueller's team may have shown Manafort that they haven't shown us.
First, back on March 1, Mueller's team moved to unseal transcripts of some sidebar conferences from the status conferences on January 16 and February 14, as well as an ex parte discussion they had with the judge on February 14 (as well as discussions about why Manafort couldn't yet, and still can't, make bail from February 14).
The United States of America, by and through Special Counsel Robert S. Mueller, III, respectfully moves to unseal the sealed portion of the transcripts of sidebar/bench conferences that occurred during the status conferences held in this matter on January 16, 2018, and February 14, 2018. The transcripts of these bench conferences were sealed at the government's request. At the time, the government indicated that the cause for sealing was likely to be mooted in the near future and that the government had no objection to making the transcript available to the public once that happened. The government respectfully submits that unsealing is now appropriate. The government also submits that the transcript of an ex parte sidebar discussion between the government and the Court, conducted at the February 14, 2018, status conference should also be unsealed and made available to the public, the cause for sealing having been mooted. [my emphasis]
The cause for sealing that would soon be mooted might either be the larding on of new charges against Manafort related to his more recent money laundering between 2015 and 2017 (which took place on February 22), or Rick Gates' anticipated plea (which took place on February 23).
On March 7, Gates' team asked for more time to object to the unsealing, until five days after they got the transcripts, based on the fact that Tom Green had just joined the case and wasn't present at those hearings. On March 9, Manafort's team asked for the same five days after they got the transcripts. Judge Amy Berman Jackson granted both those requests. Since then, there's been no further developments on this unsealing reflected in the unsealed docket, though there are skips in the numbering (230 and 231, and 238). While it's possible those transcripts aren't ready yet, the original version of the January 16 transcript was ready in 7 days (there's no notice for the February 14 transcripts, though two hearings since that one have been docketed).
So it's quite possible Manafort now has the transcript of that ex parte sidebar from February 14, but has decided he doesn't want us to see it.
Then there's the minute notice from yesterday granting the government's request to seal an exhibit from its Monday filing.


Berman Jackson's approval notes that the government has already released a redacted version of the exhibit, meaning the exhibit in question must be the Rod Rosenstein memo. I suggested yesterday that the government was effectively providing Manafort a less redacted copy showing what else it was investigating Manafort for, which might well pertain to Oleg Deripaska, given that Mueller dropped an otherwise superfluous reference to Deripaska in Monday's motion.
But who knows? There are definitely possible investigative prongs that might be even more damaging for Manafort than just his well-known relationship with Deripaska.
Whatever it is, Manafort's team went from reading that memo to making a desperate bid to prevent Mueller from bringing any more indictments against Manafort.
That bid — as well as the bid to throw out the indictments — appears to be doomed. Based on Tillman's report, Berman Jackson seems to have already read Monday's filing, given that the doubts she raised in today's hearing all were all laid out in that.
US District Judge Amy Berman Jackson — who is also handling Manafort's criminal case in DC — expressed significant doubts on Wednesday about whether Manafort could pursue a civil lawsuit. She questioned whether there was a clear limit on how broad a special counsel's authority could be from the get-go; how Manafort had standing to sue over a possible future prosecution that hadn't yet happened; and why he should be able to bring a civil lawsuit when he could make the same arguments in the criminal cases, where he clearly had the right to challenge the indictments.

The judge noted that the Justice Department regulations Manafort cited explicitly said that they did not create rights that could be enforced in a civil lawsuit.
That she's raising objections from that motion suggests she finds them (unsurprisingly) persuasive.
Which means, absent some action from Trump or Rosenstein, Manafort will have to just sit there trying to negotiate bail and waiting for new charges until such time as he screams "uncle."
https://www.emptywheel.net/wp-content/uploads/2017/10/unnamed-e1509370597628.jpg
150
200
emptywheel
https://www.emptywheel.net/wp-content/uploads/2016/07/Logo-Web.png
emptywheel
2018-04-04 16:37:07
2018-04-05 05:11:58
Is Manafort Getting Close to Crying "Uncle"?