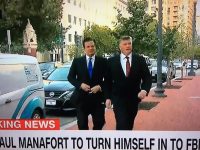 Among the most intriguing questions Robert Mueller wants to ask the President — as interpreted by Jay Sekulow — is a subset of the one asking about Trump's involvement in the statement about the June 9 meeting. In addition to asking about that, Mueller specifically wants to know whether Trump was involved in releasing Don Jr's emails with Rob Goldstone setting up the meeting. Here's how I wrote up that question in my series.
JULY 7, 2017: WHAT INVOLVEMENT DID YOU HAVE IN THE COMMUNICATION STRATEGY, INCLUDING THE RELEASE OF DONALD TRUMP JR.'S EMAILS?

I've laid out that I believe the evolving June 9 story is a limited hangout orchestrated by Agalarov lawyer Scott Balber. The strategy would have begun when Jared Kushner wrestled with the need to disclose the meeting, both in response to congressional investigations and for his clearance. Manafort, too, turned over emails backing the event about a month before the story came out publicly. This post talks about the response the weekend of the G-20 in Hamburg, including Ivanka sitting in on a meeting so Trump could strategize, and Hope Hicks suggesting the emails would never come out.

As a reminder, on the same day Trump had a second hour long meeting with Putin, he dictated Putin's propaganda line that the meeting pertained to adoptions. Importantly, he hid what I've suggested was the quo in the quid pro quo, sanctions relief. Mueller undoubtedly would like to know if Putin helped him come up with that message, which would be really damning.

Mueller also wants to know about the decision to leak Don Jr's emails. Bannon suspects that a Jared aide leaked the emails (his then lawyer Jamie Gorelick would cut back her work with him shortly thereafter). But remember: in a DM, Assange proposed that he give Wikileaks the email.

There's clearly far more back story to the leaked email we don't know yet.

If Trump's involvement here involves coordination with Russians (like the Agalrovs, to say nothing of Putin) or Assange, it would provide damning evidence not of obstruction, but of collusion, an effort to coordinate a story about a key meeting. Trump's lawyers have always suggested questions about Trump's role in this statement are improper, which is itself a telling indicator that they don't understand (or want to spin) the risk of the original June 9 meeting.
I've now done a first pass at all the Senate Judiciary Committee testimony released a few weeks back relating to the June 9 meeting and will update my limited hangout post hopefully over the weekend. Even assuming all witnesses were fully forthcoming (they weren't), the SJC materials provide abundant evidence that the White House worked with the other attendees of the June 9 meeting — including the Agalarov representatives, and through them, the Agalarov family itself — to minimize the damage of the meeting. And they did it over a longer period of time than previously known.
Of particular interest, however, is a detail revealed about the email that Don Jr released last summer. Effectively, the email thread setting up the meeting appears in two places in the exhibits introduced with Don Jr's testimony. The thread appearing at PDF 26 to 29 is for all intents and purposes the set he released over two tweets last July 11. That bears Bates stamp DJTJR 485 to 487, which designates that it was the version that Don Jr himself turned over. There's another version of that thread, though, bearing Bates stamp DJTFP 11895 to 11897, which appears at PDF 1 to 3 in Don Jr's exhibits (and is used for all the other witnesses). The Bates stamp abbreviation DJTFP, Donald J Trump for President, indicates that that's the version turned over by the campaign. The exhibit shows the same thread, only with this addition.

That is, after Don Jr informed Jared and Paul Manafort that the meeting would be at 4 instead of 3, Manafort responded, "See you then."
That — and the fact that Don Jr chose to suppress it when publicly releasing his email — is not by itself damning. Nor is the fact that Don Jr tried to suggest that both Jared and Manafort had no idea what the meeting was about in his public statement.
I told Rob that Jared Kushner and our newly hired campaign manager Paul Manafort would likely also attend . I then asked Jared and Paul if they could attend, but told them none of the substance or who was going to be there since I did not know myself. Because we were in the same building Paul, Jared, and I would routinely invite one another to attend meetings at a moment's notice.
When Democratic Chief Oversight Counsel Heather Sawyer asked Don Jr about which version he released publicly, Don Jr's (actually, the Trump Organization's) lawyer Alan Futerfas immediately butted in to offer an excuse about multiple custodians.
MR. FUTERFAS: Just so the record's clear, there were multiple custodians to this e-mail. So if the campaign  produced an e-mail the campaign may have because different custodians were being searched. We have found that there was — I think there was a few words that are additional to Exhibit 10, including the "See you then," and I think we also found earlier one there was another again, another similar kind of brief exchange, but I think that was a function of the different custodians that were participating in this little dialogue .
After which Sawyer first noted that that other change might be discussed off the record, then questioned the President's son about how he chose which email to release. Futerfas interrupted again to note that counsel had been involved.
BY MS . SAWYER: Q. We can talk off the record about the other change, but with regard to the document that was produced to the committee, Exhibit 10, to the best of your knowledge, is that the full exchange?

A . Well, whichever one is the longer I believe is the full exchange. I don't know, but I'm not aware of anything else.

Q. Has it been altered in any way?

A. No.

Q. Have any of the communications been removed by anyone?

A. Not that I'm aware of, no.

Q. You released a version of the e-mail by Twitter. How did you decide what version of the e-mail chain to release?

A. I don 't know. It's the version I pulled up.

Q. And did you consult with anyone in deciding to do that?

MR . FUTERFAS: Aside from counsel?

MS. SAWYER : Yes, aside from counsel.

BY THE WITNESS: A. All those conversations counsel was involved.
Interjection: note that Don Jr doesn't claim that only counsel was involved? Continuing …
Q. Okay. And did you seek their advice?

A. Counsel?

Q. Yes.

A. Yes.

Q. And who was representing you?

A. The two gentlemen here, Alan Garten and Alan Futerfas.

Q. And they were representing you personally?

A. Yes, I believe so.

MR. FUTERFAS: Yes .

BY MS . SAWYER: Q. And they were involved in all the conversations you had about release of that e-mail?

A. Yes, they were.
In other words, Don Jr and Futerfas suggested — Hope Hicks' publicly reported central role as a go-between notwithstanding — that any conversations he had about which version of the email to release were protected by Attorney-Client privilege.
Don Jr's decision, taken on the advice of his counsel, to withhold the Manafort email is why I find it very interesting that Don Jr twice testified that he only discussed the meeting with Jared and Manafort via email, and repeatedly denied talking to Manafort directly about it.
Q. You got an e-mail with a title "Russia- Clinton, private and confidential," you didn't mention that to Paul Manafort?

A . Other that I forwarded the e-mail to him to invite them to the meet ing, I didn't discuss it with him to my recollection, no.

Q. And you said you forwarded it. That was the only time you recall discussing it with him?

A . That's the only time I recall , yes.

Q. And Exhibit 1 which you reviewed with my colleagues indicates that you forwarded it on June 8, 201 6 . At that point there's just a reference to "Meeting got moved to 4:00 tomorrow at my office," Mr . Manafort responds " See you then." Had you not discussed the meeting with him before that time?

A. I don 't recall discussing it with him at that time, but I may have.

Q. How would he have known what this meeting was about i f you had not discussed it with him?

A. I don 't know.

Q. Did he ever ask you about it?

A. Not that I recall.

[snip]

Q. Did you tell Mr . Manafort [about the ultra-sensitive email]?

A. As I said, I don't recall telling him anything about it other than the exchange as it relates to setting up the meeting.
After having denied talking to Kushner and Manafort about the meeting (and forgetting another call from Emin Agalarov), Don Jr tried to play dumb about a phone call he had with Manafort on June 7, between the time he had that forgotten call with Agalarov and the time Rob Goldstone wrote to schedule the meeting at 4:20PM.
Q. The next unblocked — unredacted call is a call at 4:07 p.m., it says "Arlington , VA" and has a 703 number. You indicated to my colleagues you didn't recall who that was. Is that the case?

A. I don't know who it is now, no, I don't.

Q. Would you be surprised if I told you that a Google search shows that's Paul Manafort's number?

A. I don't know. It may be.

Q. You don't recall speaking with him on June 7th?

A. No, I don't recall that.

Q. You don't recall speaking to him that day about this meeting?

A. No, I don't.

Q. Or the e-mail from Mr. Goldstone ?

A. No. I spoke to Paul quite often.
Nor did Don Jr remember calls he had with Jared and Manafort on June 5, the day before he spoke with Emin about the meeting by phone.
Q. Then just to take you back a page on this same exhibit to [Bates stamp] 854, just go back one page.

A. Okay.

Q. You'll see "Sunday, 6/5" at the bottom of that page.

A. Yes.

Q. And as I indicated to you earlier, you got the e-mail from Mr. Goldstone on a Friday.

On Sunday there are two calls that have been unredacted. One's at 4:28 to Arlington, Virginia, same number, Mr. Manafort's number. Do you recall speaking to him on that Sunday?

A. I don't, no.

Q. Do you know if you spoke to him possibly on that Sunday about Mr. Goldstone's e-mail or that meeting?

A. No. I don't recall having those conversations.

Q. About 15 minutes later there's another call to New York, New York, 917. Do you know whose number that is?

A . I could probably find out, but I don't know off the top of my head.

Q. If I told you that a search of — a Google search of that indicates that it's Mr. Kushner's number, would that surprise you?

A . No.

Q. And do you recall speaking with him on that Sunday?

A. No, I don't.
As a reminder, Mueller's team raided Paul Manafort's house between the time he testified before the Senate Intelligence Committee and the day he was supposed to testify before SJC; the warrant for that raid covered materials about the June 9 meeting. The raid gave Manafort an excuse not to answer questions about whether he remembers the substance of those calls. Remember, too, that Manafort is trying to suppress the seizure of devices — like iPods — that can be used to record meetings.
And Robert Mueller wants to know whether the President was involved in the decision to hide Paul Manafort's enthusiasm for this meeting.
https://www.emptywheel.net/wp-content/uploads/2017/10/unnamed-e1509370597628.jpg
150
200
emptywheel
https://www.emptywheel.net/wp-content/uploads/2016/07/Logo-Web.png
emptywheel
2018-05-25 14:51:46
2018-07-27 13:03:37
The White House Hid Paul Manafort's Enthusiasm for the June 9 Meeting When Leaking Don Jr's Email