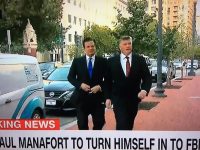 Back in January, I observed with some surprise that Paul Manafort was conducting his ongoing dalliance with Oleg Deripaska's flunkie Konstantin Kilimnik on a PRISM provider's server.

Which is why I find it so interesting that prosecutor Greg Andres emphasized Manafort and … he didn't say whom (at least per the two reports that covered this) were communicating using the "foldering" technique that terrorists and unfaithful CIA Directors have been known to use in the past. Here's how Josh Gerstein described the exchange:
"This was a sustained campaign over a five-week period," Andres declared, saying it involved "multiple" phone calls, texts and other messages.

[snip]

The two sides also squared off during the hearing about Manafort's use of technology. Andres raised a new allegation that Manafort engaged in a practice knows as "foldering," where two or more people trade messages through draft folders in an email account. The prosecutor provided few details but suggested it was part of "a history of deception on behalf of Mr. Manafort in this case."

Westling didn't address that issue, but said prosecutors were going too far in seeing cloak-and-dagger spycraft in Manafort's use of popular messaging apps, like WhatsApp, that encrypt their contents.
Here's how CNN's Marshall Cohen described it.
Prosecutors said Manafort used a method called "foldering" to covertly talk to people. It's not that complicated: He made an email account and shared the password. He wrote messages but saved them as drafts, never sending actual emails. Other guys open the draft, read it, delete.
For some time, Manafort has known Mueller had obtained a search warrant for this email in August (though I guess he didn't learn that before being caught emailing Kilimnik in November).
And while it's unclear, it seems likely, given the context and Andres' reference to "other messages," that Manafort adopted the foldering technique (stupidly, given that FBI has been able to catch people using it since David Petraeus got busted this way and CIA long before that) as a way to attempt to continue communications, and that they were used as part of Manafort and Kilimnik's efforts to reach out to Alan Friedman. Andres seems to have suggested at the hearing that Manafort continues to get new phones.
Here's the thing, though. While Mueller's repeated efforts to use Manafort's ongoing communications with Kilimnik against him have made for amusement. they also seem a good signal to Manafort about what else the government has collected, and not necessarily just with Kilimnik.
Ah well, Manafort now has time on his hands to reflect on what comms that means Mueller has obtained.
https://www.emptywheel.net/wp-content/uploads/2017/10/unnamed-e1509370597628.jpg
150
200
emptywheel
https://www.emptywheel.net/wp-content/uploads/2016/07/Logo-Web.png
emptywheel
2018-06-15 15:11:05
2018-06-15 15:40:33
Manafort and His Co-Conspirators Adopt the Communications Habits of David Petraeus and Paula Broadwell