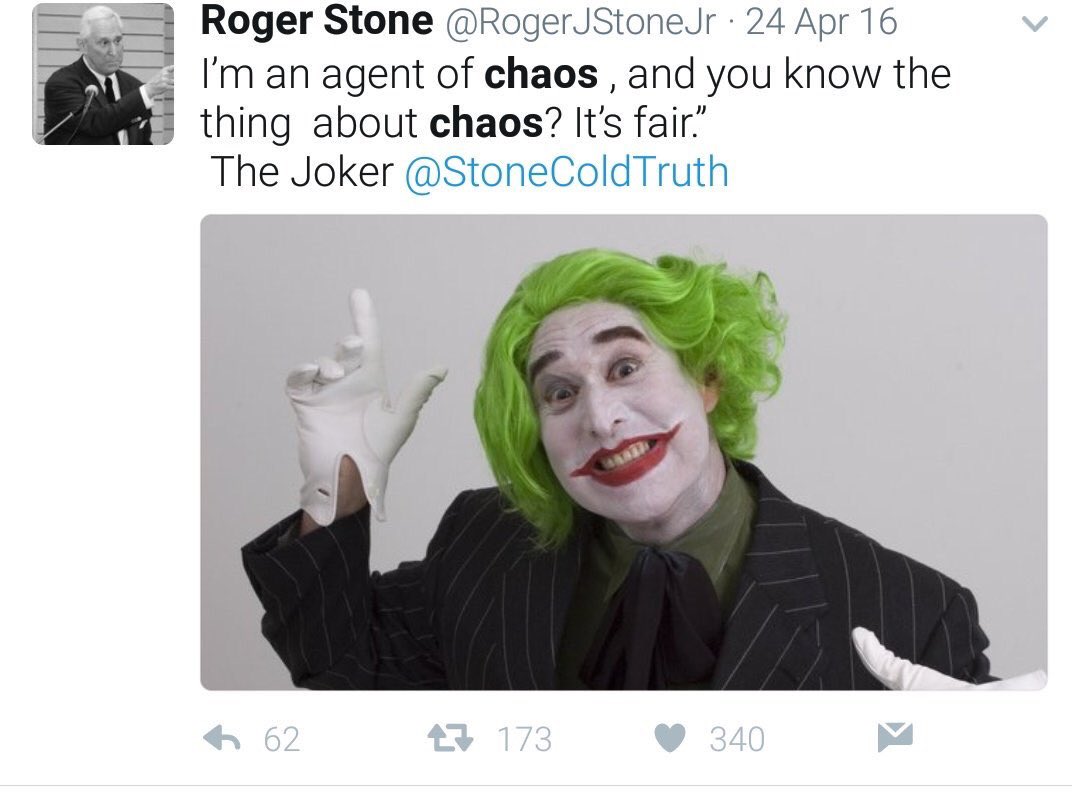 Yesterday, Roger Stone Answered, then Backtracked, on a Question Mueller Has Already Posed to Trump
As I laid out last week, I provided information to the FBI on issues related to the Mueller investigation, so I'm going to include disclosure statements on Mueller investigation posts from here on out. I will include the disclosure whether or not the stuff I shared with the FBI pertains to the subject of the post. 
Contrary to Trump's squeals about the hack indictment yesterday, it's utterly damning for him. It shows:
Russian hackers responded to his plea for more Hillary emails by targeting her office that same day
Trump's lifelong political advisor, Roger Stone, was described directly communicating with a GRU-run persona
Stone's own advisor on these matters, then Breitbart and current Sputnik journalist Lee Stranahan, asked for and obtained files from the same GRU-run persona
GRU stole Hillary's analytics in September, the heart of the general election, and did … the indictment doesn't say what GRU did with the data
The same GRU persona made available information helping some of Trump's most vocal defenders in Congress, ones he has discussed pushback strategies with on Air Force One
Like my own testimony, because this investigation started in Pittsburgh, and only later got moved under Mueller sometime last fall (I know one key witness who was about to speak to prosecutors when I saw him in October), it minimally overlaps with Peter Strzok's involvement in the case, if at all.
In this post, I want to look at the second bullet: Roger Stone.
Since Stone got described in an indictment of those who helped Trump win the election, he has  (as is his habit) provided conflicting explanations, first suggesting it wasn't him, then suggesting it couldn't be him because he wasn't "a person who was in regular contact with senior members of the presidential campaign of Donald J. Trump," as the indictment described.
My contact with the campaign in 2016 was Donald Trump. I was not in regular contact with campaign officials.
Only, this morning (as Ryan Goodman noted), Stone has changed his tune, admitting that he did talk to Trump campaign officials and probably is the person described in the indictment who said all the things he said in his DMs to Guccifer 2.0.
I certainly acknowledge that I was in touch with Trump campaign officials.
Here's why Stone's changing story about whether he only spoke with Trump or in fact spoke with other campaign officials. Among the questions (as interpreted by Jay Sekulow) that Mueller has already posed to Trump is this one:
What did you know about communication between Roger Stone, his associates, Julian Assange or Wikileaks?
Mueller wants to know how much of Stone's discussions with election operation participants Trump knew about. And Stone's first instinct when seeing himself mentioned in an indictment of those participants was to say he only spoke to Trump.
I guess it's clear why he's backtracking from that.
https://www.emptywheel.net/wp-content/uploads/2018/06/Stone-Agent-of-Chaos.jpg
797
1072
emptywheel
https://www.emptywheel.net/wp-content/uploads/2016/07/Logo-Web.png
emptywheel
2018-07-14 09:45:22
2018-07-14 10:06:08
Yesterday, Roger Stone Answered, then Backtracked, on a Question Mueller Has Already Posed to Trump