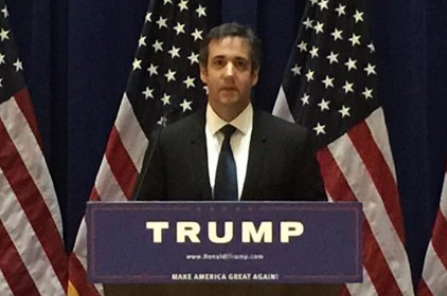 In the wake of yesterday's twin guilty verdicts, the punditocracy has asserted, based on an assumption that Michael Cohen knows everything Trump did, that his guilty plea poses a bigger problem for Trump than Paul Manafort's guilty verdict right now.
I'm not convinced. Indeed, I have real questions about whether Cohen faces anything other than his own charges in the Russian conspiracy case.
Trump has seen everything Cohen has on him
I'll have more in a bit about the Cohen-Trump challenge to SDNY's use of a clean team to sort out privileged materials. It was undoubtedly the right decision on Kimba Wood's part for the legitimacy of the Cohen prosecution. But what it did for Cohen is make him (or Trump) spend a lot of money to give Trump a view of every piece of dirt he had on him.
The people who believe Cohen is a bigger threat to Trump than Manafort are premising that on four month old statements from Trump's lawyers who have, in the interim, not only reviewed everything SDNY seized from Cohen, but also proven they underestimate the scope of Trump's risk in the Russia investigation, and not just from Don McGahn.
Trump may have pre-empted what risk Cohen has
On TV this morning, Lanny Davis claimed that Trump's lawyers already admitted to Mueller that he directed Cohen to pay off Karen McDougal and Stormy Daniels.
There is no dispute that Donald Trump committed a crime. No dispute because his own lawyers said to the Special Counsel in a letter that he directed — that's the word they used — Michael Cohen to do these payments.
It's unclear what this letter is. It's unclear why Trump's lawyers would address it to Mueller rather than SDNY (aside from the fact that the Trump team never quite understood that under Rod Rosenstein's supervision, Mueller referred the hush payments to SDNY, or perhaps the fact that suggesting Trump's second conspiracy to cheat to get elected must be part of the investigation into Trump's first conspiracy to cheat to get elected).
But if it is true that Trump's team already admitted this to DOJ, regardless of who at DOJ, then it really undermines any value of having Cohen say so as part of a plea deal with regards to the hush payments. Trump's a vindictive fuck, and depriving Cohen any value for turning on him would be the kind of thing he would do on "principle."
Davis' televised proffers don't hold up to scrutiny
Since yesterday, Davis has publicly claimed Cohen has the goods on Trump's charity (probably true) and the Russian hack. [Update: AP reports NYS has subpoenaed Cohen with regards to Trump's foundation.]
In response to the latter claims, Richard Burr and Mark Warner issued a statement noting that that claim conflicts with Cohen's past testimony.
We have obviously followed today's reporting about Michael Cohen with great interest. He appears to be pleading guilty to very serious charges, however, we have no insight into any agreements he and his legal team have allegedly reached with prosecutors in New York.

What we can say is that we recently reengaged with Mr. Cohen and his team following press reports that suggested he had advance knowledge of the June 2016 meeting between campaign officials and Russian lawyers at Trump Tower. Mr. Cohen had testified before the Committee that he was not aware of the meeting prior to its disclosure in the press last summer. As such, the Committee inquired of Mr. Cohen's legal team as to whether Mr. Cohen stood by his testimony. They responded that he did stand by his testimony.

We hope that today's developments and Mr. Cohen's plea agreement will not preclude his appearance before our Committee as needed for our ongoing investigation.
The truth is probably that Cohen had knowledge that Trump knew about some release — like the July release to Wikileaks — before it happened. But Mueller already has testimony to that effect, including from Omarosa, who as far as we know didn't say it in an attempt to get out of criminal exposure herself.
And Cohen's definitely not getting a cooperation agreement by working the press
Even SDNY hates when potential cooperating witnesses play the press; Michael Avenatti got in trouble for scheduling a press appearance around testimony. But that's all the more true of Mueller. Indeed, a central part of Mueller's argument that Papadopoulos offered no cooperation to prosecutors is that he took part in a NYT story in December.
Following the proffer sessions in August and September 2017, the government arranged to meet again with the defendant to ask further questions in late December 2017. However, upon learning that the defendant had participated in a media interview with a national publication concerning his case, the government canceled that meeting. (PSR ¶ 50). The government is aware that the defendant and his spouse have participated in several additional media interviews concerning his case.
Cohen has been all over the media since before they first proffered testimony (which as I understand it was some time ago). Having done that, there was little chance Mueller was going to buy what Cohen was offering publicly.
Mueller may intend to indict Cohen for his own role in the conspiracy
This part is speculative. But I think Mueller may be at the point where he's preserving the maximal criminal liability of key conspirators. Already, he has limited the protection offered to cooperating witnesses aside from Rick Gates. Of particular note, Mike Flynn (whose latest sentencing continuation just got extended 24 days, to the date Manafort's next trial starts) is only protected for the lies he told FBI and a FARA filing; he's still exposed for his own role in the Russia conspiracy.
So it may well be that Mueller won't give Cohen a cooperation agreement because he believes he can get to Cohen's exposure on the Russia conspiracy (via witnesses like Felix Sater, who has been "cooperating' for some time) with the evidence he has, and so sees no reason to limit that exposure for evidence he also already has from other witnesses.
As I disclosed last month, I provided information to the FBI on issues related to the Mueller investigation, so I'm going to include disclosure statements on Mueller investigation posts from here on out. I will include the disclosure whether or not the stuff I shared with the FBI pertains to the subject of the post. 
https://www.emptywheel.net/wp-content/uploads/2018/04/Screen-Shot-2018-04-15-at-2.41.39-PM.png
296
447
emptywheel
https://www.emptywheel.net/wp-content/uploads/2016/07/Logo-Web.png
emptywheel
2018-08-22 10:45:02
2018-08-22 15:57:17
Cohen May Be Shopping a Cooperation Agreement; It's Not Clear Anyone Is Buying