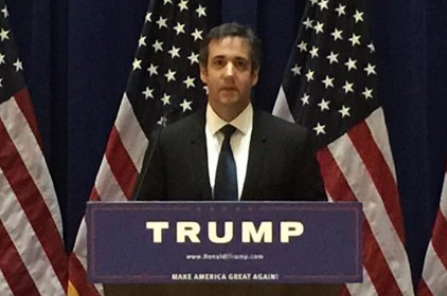 Don't get me wrong. I think Trump is in a whole heap of trouble (though remember that, wielded in the hands of a competent man or similarly competent advisors, the power of the presidency is an awesome force). I think the SDNY's investigation of Trump Organization's involvement in illegal hush payments and NYS's investigation of the Trump Foundation pose the additional risk that the Trump business empire will collapse as people scrutinize both its legal shenanigans and its debt. And I think that risk will bring Trump to fear US law enforcement as much as he fears Russia (which I suspect could also bankrupt Trump Org if a few key oligarchs put their mind to it).
But I think people are getting slightly ahead of the story when they predict that "The significance of [what they call Weisselberg's] flip, paired with Cohen's recent plea deal, cannot be overstated." That's true, in part, because Weisselberg got only limited immunity tied to grand jury testimony implicating Michael Cohen.
The person briefed on the deal said that it was narrow in scope, protecting Mr. Weisselberg from self-incrimination in sharing information with prosecutors about Mr. Cohen, Mr. Trump's former personal lawyer, who pleaded guilty on Tuesday to tax and campaign finance charges. The latter charges stemmed from payments during the campaign to two women who said they had affairs with Mr. Trump. It was not, the person said, a blanket immunity extending beyond the information he shared, and Mr. Weisselberg remains in his job at the Trump Organization.
While his testimony will be damaging to the Trump Org and, probably even more directly, Don Jr, Weisselberg in no way "flipped" on Trump. Indeed, there's good reason to believe his cooperation may be an attempt to limit the fallout of the investigation of Cohen.
At the risk of proving my most recent post (in which I argued that the push for a Special Master didn't gain the Trump camp very much) wrong, consider this detail. On July 23, Special Master Barbara Jones informed Judge Kimba Wood that "the parties" had withdrawn their privileged designation for 12 audio files, which she then released to the government.
On July 20, 2018, the parties withdrew their designations of "privileged" as to 12 audio items that were under consideration by the Special Master. Based upon those de-designations, the Special Master released the 12 items to the Government that day.
Those tapes are understood to include the tapes Cohen made in which he discussed the hush payments with Trump.
Two days later after that notice, Michael Cohen released a truncated version of the tape of him telling Trump he had spoken to Weisselberg about buying the rights of the Karen McDougal story, which unsurprisingly immediately preceded the news that prosecutors wanted to speak with Weisselberg.
Now, it may be that Cohen and Trump voluntarily waived privilege on those tapes to provide something to the press to get the titillated by the sex story and distracted from real financial graft. Or it may be that someone has a different plan of hanging out Cohen on the hush payments, limiting damage to Trump Jr and the organization, all in a bid to undercut Cohen's value in a larger cooperation deal.
Or there may be some other explanation.
That being said, as of right now, the Trump camp is, as far as we know, dealing with three still separate investigations: SDNY, NYS, and Mueller. Don Jr is implicated directly in all of them and they have the possibility to collapse into one (with the added benefit of limiting the value of a Trump pardon of his son). Indeed, according to Vanity Fair, Mueller is very actively putting the squeeze on Junior in the more dangerous of those investigations.
Another theory for what's motivating Trump's increasingly unhinged tweets is that Mueller may be closing in on his son Don Jr. "A lot of what Trump is doing is based on the fact [that] Mueller is going after Don Jr.," a person close to the Trump family told me. "They're squeezing Don Jr. right now."

Don Jr.'s lawyer said, "I'm not going to comment." Another person briefed on the investigation disputed the term "squeeze," but said the Mueller team continues to ask for documents.
Mueller may not wait for Junior to implicate Dad before he indicts the spawn (certainly, Senior and Rudy G have been laying the groundwork to exonerate Junior for his conspiring with Russians for at least three weeks, so they clearly expect that possibility). And to the extent that Don Jr gets in real legal trouble — something beyond a tax problem they can restate and a campaign finance violation that might be manageable — then Dad might be in real trouble.
But it's quite possible Weisselberg and the Trump Org found a way to limit the damage of the Cohen investigation, for now, to things that don't affect the core corruption of the Trump Organization business model, or the conspiracy with Russia to win the election, and along the way limited the damage to Don Jr.
The thing about Trump is there are so many bodies, it may actually take three or four people who know where the different kinds of bodies are buried — Weisselberg plus several others — to bring him down. And thus far, Weisselberg is not telling about most of those bodies.
Update: I'd like to add a point I meant to include before I went to yoga. One thing that's going on with the hush payment story — one I've even seen reporters admit — is that it pertains to issues that reporters can understand. Sex! Scandal! Tax cheats!
Add in the fact that sources are talking here, whereas all the Mueller investigation sources, save those associated with Roger Stone and his band of rat-fuckers, have gone silent (and they were all defense witness sources anyway, and so unlikely to provide the full picture).
There's nothing wrong with the possibility that reporters will make more of a story that they have sources for and can understand and sell to readers easily. For that reason, too, it may have more immediate impact on Congress, even while I highly doubt Republicans are going to ditch Trump for some hush payments (at least not until he becomes significantly more wounded). But it's worth noting that some of that may be going on.
And if the focus on these hush payments buys Mueller some times — shifts Trump's ire from Mueller to Sessions — that's probably a benefit too.
https://www.emptywheel.net/wp-content/uploads/2018/04/Screen-Shot-2018-04-15-at-2.41.39-PM.png
296
447
emptywheel
https://www.emptywheel.net/wp-content/uploads/2016/07/Logo-Web.png
emptywheel
2018-08-25 10:55:45
2018-08-25 14:10:35
On Use Immunity, Predictions of Doom for the Presidency, and the Voluntary Waiver of Privilege on the Hush Payment Tape