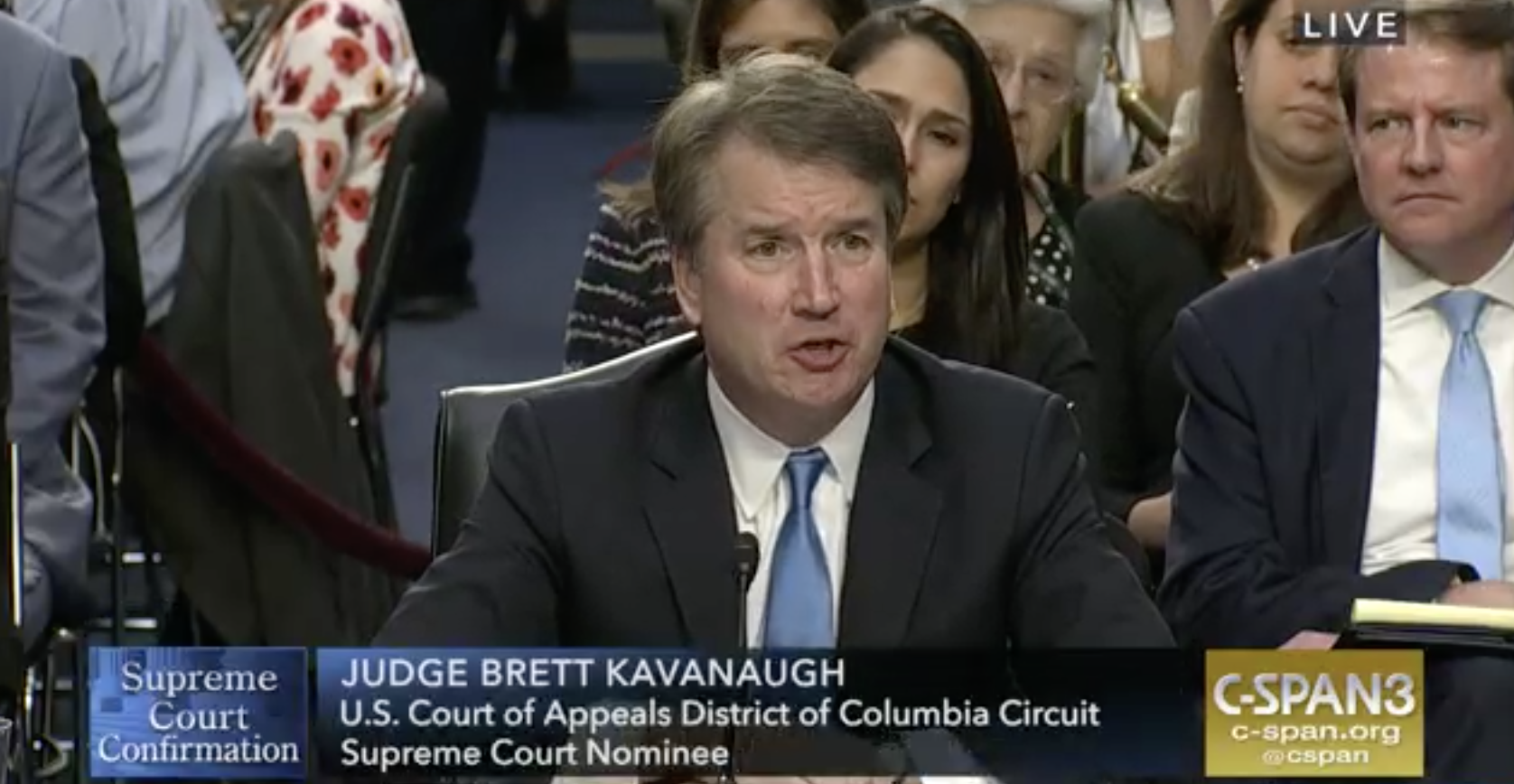 There's something that is missing from the debates back and forth about whether Brett Kavanaugh lied during any or all of the three Senate confirmation processes he has undergone. I'm of the opinion Kavanaugh lied skillfully, but because he's a lawyer he managed to do so without committing perjury.
But on one issue — Kavanaugh's use of emails stolen from Democrats — we don't need to determine whether he lied or not, because he irrefutably did something that should make him unacceptable to be confirmed.
Even those that argue Kavanaugh didn't lie and those that argue that, because Manny Miranda wasn't prosecuted (during a GOP Administration and benefitting from speech and debate protection) or because it wasn't a technical hack but rather a permissions violation, these emails weren't "stolen," do agree that using them was wrong. Here's David Lat, for example, who wrote most of a book's worth of Twitter threads defending Kavanaugh this week, admitting that using the emails was "unethical and wrong."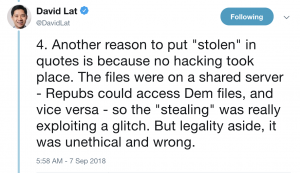 And whatever you believe about whether Kavanaugh lied in any of these confirmation processes, what is irrefutable is that last week he was told, from the people involved, that he had, in fact, received and used stolen emails. For example, Patrick Leahy told him, repeatedly, that a document of his that got forwarded in draft form, that the document was not public at the time Kavanaugh received it.
Given such a circumstance, there is one natural, decent response. You apologize. Upon learning, allegedly for the first time, that you had indeed used stolen emails, you apologize to the people they were stolen from. "Gosh, I'm sorry. I had no idea. I'm sorry." That's what you say when you discover you used emails stolen from someone.
Brett Kavanaugh didn't do that. He sat in front of his entire Catholic school girl's basketball team, and instead of apologizing, he defended himself.
So no matter whether he was lying, one thing is crystal clear: he doesn't think it was wrong to use stolen emails. He had no moral or ethical regret upon learning, definitively, that he had used stolen emails.
There may be several reasons that explain his lack of remorse for using stolen emails.
Obviously, he's trying very hard not to offend the guy who appointed him before he's confirmed, and pointing out that it is unethical to use stolen emails might be a sore subject for Donald Trump, who got elected by exploiting stolen emails.
Perhaps, too, he's just an unethical person, the kind of guy whose Catholicism serves as a sanctimonious self-justification to engage in really unholy behavior.
But the biggest reason why Brett Kavanaugh might be reluctant to apologize for a clear ethical injury, even if he claims it was unwitting, is that it would taint his actions confirming judges. That is, it would make it clear he cheated — even if unwittingly — to push lifetime appointments through Congress. Those judges were confirmed illegitimately. And Kavanaugh, bidding for the third of three lifetime appointments, doesn't want to do anything to highlight that illegitimately confirmed judges are, themselves, tainted.
https://www.emptywheel.net/wp-content/uploads/2018/09/Screen-Shot-2018-09-05-at-12.06.46-PM.png
868
1676
emptywheel
https://www.emptywheel.net/wp-content/uploads/2016/07/Logo-Web.png
emptywheel
2018-09-08 19:24:45
2018-09-08 21:06:37
Brett Kavanaugh Thinks Using Stolen Emails Is Acceptable Behavior