The Psy-Group Proposal: A Way to Measure the Value that Russian Hackers Provided the Trump Campaign
On April 15, 2016, Russian hackers searched in DCCC and DNC networks for information on (among other things) Ted Cruz and the Democrats' field plan.
The Conspirators searched for and identified computers within the DCCC and DNC networks that stored information related to the 2016 U.S. presidential election. For example, on or about April 15, 2016, the Conspirators searched one hacked DCCC computer for terms that included "hillary," "cruz," and "trump." The Conspirators also copied select DCCC folders, including "Benghazi Investigations." The Conspirators targeted computers containing information such as opposition research and field operation plans for the 2016 elections.
That's an important detail with which to assess the recent NYT story that, in March, Rick Gates asked Israeli intelligence firm Psy-Group for a proposal on influence operations targeting both Ted Cruz and Hillary Clinton. As the NYT story notes, Gates wasn't actually all that interested in the Psy-Group proposal and there's no indication anyone in the Trump camp was either.
There is no evidence that the Trump campaign acted on the proposals, and Mr. Gates ultimately was uninterested in Psy-Group's work, a person with knowledge of the discussions said, in part because other campaign aides were developing a social media strategy.
But he was interested in the services Psy-Group offered, including intelligence gathering and influence operations.
According to Mr. Birnbaum, Mr. Gates expressed interest during that meeting in using social media influence and manipulation as a campaign tool, most immediately to try to sway Republican delegates toward Mr. Trump.

"He was interested in finding the technology to achieve what they were looking for," Mr. Birnbaum said in an interview. Through a lawyer, Mr. Gates declined to comment.

[snip]

The proposal to gather information about Mrs. Clinton and her aides has elements of traditional opposition research, but it also contains cryptic language that suggests using clandestine means to build "intelligence dossiers." [I've switched the order of these passages]
So aside from context for the meeting Psy-Group owner Joel Zamel had with Don Jr (and any downstream arrangement the two had), it's not clear what the report itself means for Mueller's investigation, with regards to Psy-Group, particularly given claims that the group closely vetted their programs for legal compliance (though NYT was unable to learn whether Covington & Burling had given a green light for this campaign).
But the report that Gates was seeking proposals in March 2016 and the guts of the report are interesting for what they say about the mindset that Gates and Manafort brought to, first, the Convention and after that managing the entire campaign.
The materials Psy-Group provided in response to a Gates request provide at least three things that may be useful for a Mueller prosecution. First, they show that the Russian hackers were working on the same schedule that Gates and Manafort were, with initial data collection slotted for April.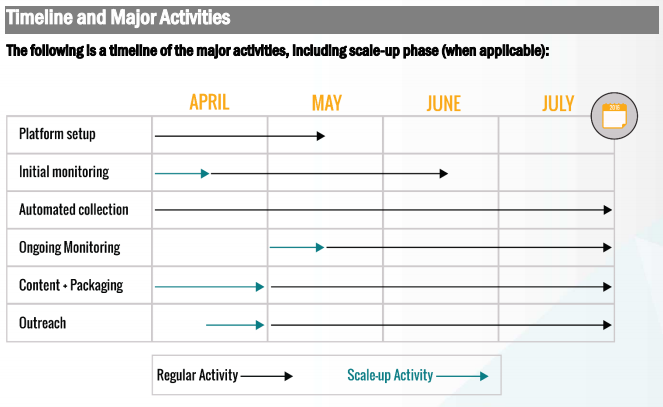 The report also shows what kind of targets the Trump team knew would be resistant to messaging directly from Trump, and so should be targeted by unaffiliated online assets, including fictional avatars.

These groups — especially minority and swing voters — were precisely the groups that Russian trolls and Cambridge Analytica's dark marketing targeted.
Likewise, Russian hackers may well have shared what amounted to intelligence dossiers with Trump.
Finally, the Psy-Group proposal also provides a dollar figure for the value of these kinds of services. That provides Mueller with a way to show the kind of financial benefit Trump received from both the Russian efforts and whatever efforts Cambridge Analytica gave to Trump for free (or coordinated on illegally): $3.31 million dollars.
The above proposed activity will cost $3,210,000. This does not include the cost of media, which will be billed at cost + 20% management fee and pre-approved with the client in advance prior to committing and spending. We estimate media cost at around $100,000 at this point (mostly social / online media).
One charge we know (from Manafort's warrant applications) that Mueller is considering is receiving a thing of value from a foreigner. This proposal measures what kind of value Trump's campaign received from the Russians.
It may be that Psy-Group poses a risk to Trump's people directly, perhaps as a way to understand Israel's role as a cut-out for Russia, or as a way to prove that Don Jr lied under oath about his willingness to accept gifts from foreigners. But even without that, the Psy-Group proposal provides a real time measure of how Trump's campaign under Manafort planned to run their campaign.
 As I said in July, I provided information to the FBI on issues related to the Mueller investigation, so I'm going to include disclosure statements on Mueller investigation posts from here on out. I will include the disclosure whether or not the stuff I shared with the FBI pertains to the subject of the post. 
https://www.emptywheel.net/wp-content/uploads/2017/01/Screen-Shot-2017-01-01-at-2.51.44-PM.png
91
149
emptywheel
https://www.emptywheel.net/wp-content/uploads/2016/07/Logo-Web.png
emptywheel
2018-10-10 05:37:26
2018-10-11 07:16:03
The Psy-Group Proposal: A Way to Measure the Value that Russian Hackers Provided the Trump Campaign