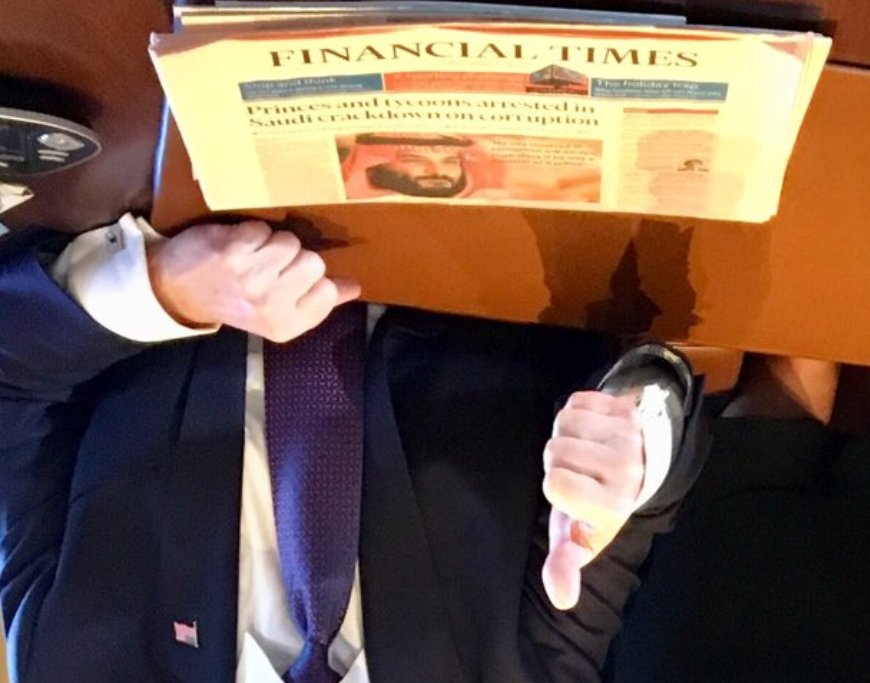 There are a number of stories suggesting that the Trump administration will do nothing in response to the evidence that Mohammed bin Salman lured journalist Jamal Khashoggi to the Saudi consulate in Turkey to have him murdered and dismembered.
Trump has made a show of pretending to get to the bottom of things, while saying doing anything about it would hurt US-Saudi relations (meaning arms sales).
As outrage started to grow, MBS called Jared Kushner, with whom he has a close relationship sealed over all night conversations.
The White House said Wednesday that the powerful Saudi crown prince, Mohammed bin Salman, had spoken about Khashoggi the previous day with White House national security adviser John Bolton and Trump's son-in-law and senior adviser Jared Kushner. Kushner and the crown prince, who is commonly referred to as MBS, are known to be close.

A former administration official told POLITICO that MBS had demanded the call earlier in the week after the top official at the U.S. Embassy in Riyadh asked MBS directly about the Khashoggi case. The crown prince denied any wrongdoing in his conversation with that embassy official, the former official said.

Neither the White House nor the State Department would comment on the Saudi crown prince's demand or most other aspects of this story. But the former official said the crown prince's insistence on talking directly to the White House indicates he is hoping to leverage his close ties with Kushner and others in Trump's inner circle to avoid repercussions.
And the business community — including close Trump allies — seem prepared to head for an investors conference in Saudi Arabia in spite of the assassination.
But if it becomes clear that the prince ordered the assassination of Mr. Khashoggi or was connected to it in some way, it will provoke an outcry on Capitol Hill; embarrass American executives, dozens of whom are flocking to Riyadh for a conference next week where the crown prince is scheduled to speak; and put Mr. Kushner, who was once himself a newspaper publisher, in an extremely awkward position.

Among the prominent figures scheduled to take part are Jamie Dimon, the chief executive of JPMorgan Chase; Stephen A. Schwarzman, the chief executive of the Blackstone Group; and Dara Khosrowshahi, the chief executive of Uber.

Two other scheduled attendees have ties to Mr. Trump: Thomas J. Barrack Jr., a financier who is a friend of the president's; and Dina H. Powell, a Goldman Sachs executive and former deputy national security adviser who worked closely with Mr. Kushner on Saudi Arabia and is a leading candidate to replace Nikki R. Haley as ambassador to the United Nations.

The Treasury Department said Mr. Mnuchin was still planning to attend.
While Congress has responded to this assassination by leveraging the Magnitsky Act, it seems the Administration would just like attention to the killing to fade.
Which really shouldn't be a surprise.
The Administration did nothing last year when MBS targeted an even more prominent western-connected Saudi, Alwaleed bin Talal. Alwaleed was detained for 83 days by MBS until such time as he agreed to some kind of deal with the government, which may have involved handing over a substantial part of his fortune and acceptance of greater involvement in his business decisions.
Did you have to pay the government any money, did you have to hand over any land, did you have to surrender any shares?

When I say it's a confidential and secret agreement, an arrangement based on a confirmed understanding between me and the government of Saudi Arabia, you have to respect that.

I'm a Saudi citizen. But I'm also a member of the royal family. The king is my uncle. Mohammed bin Salman is my cousin. So my interest is in maintaining the relationship between us and keeping it unscratched.
While Alwaleed is in no way a Saudi dissident, as Khashoggi was, he was a crucial cog not only in Saudi-US relations, but by virtue of his substantial investments in key US companies, in the US economy.
And western observers watched as MBS exerted some kind of influence over Alwaleed with only hushed complaints.
Far from criticizing the crackdown, Trump (and Jared, before the fact) appeared to sanction it.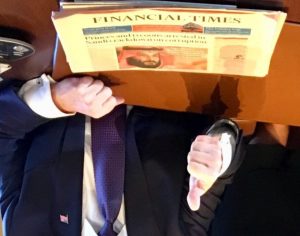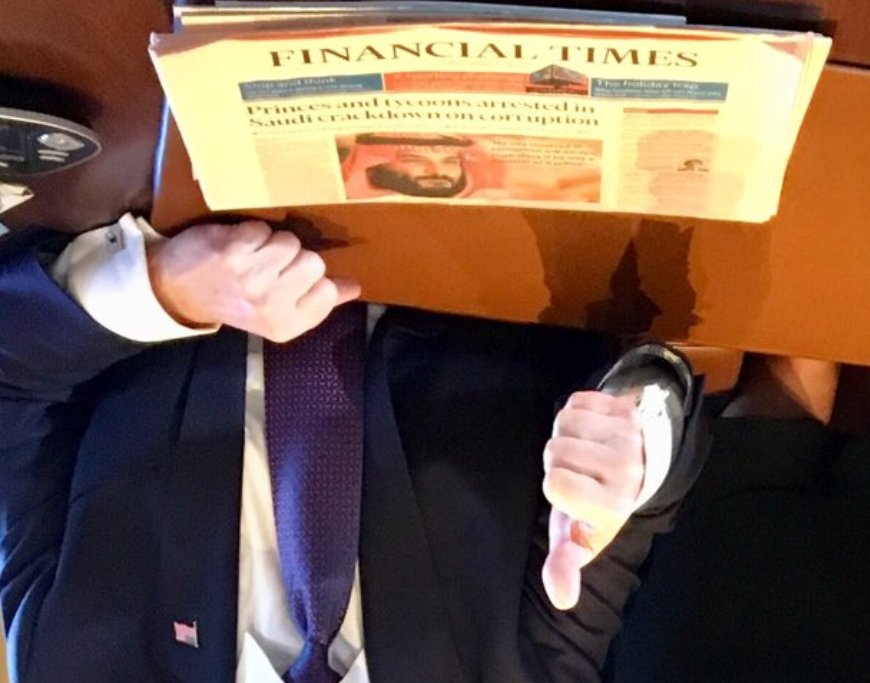 Trump might do so not just because he has a fondness for authoritarianism. Starting fairly early in his presidential campaign, Trump had responded to Alwaleed's criticisms of him with public mockery.
The Alwaleed-Trump tiff began in 2015, when candidate Trump called for curbing Muslim travel to the US in a bid to prevent terrorist attacks. Because of that, Alwaleed tweeted that the Republican front-runner was a "disgrace" and should bow out of the race. Mr. Trump responded that the prince was "dopey" and was seeking to "control our US politicians with daddy's money."

At one point, the future president tweeted a photo of Alwaleed alongside Megyn Kelly, then a Fox News correspondent who had clashed with Mr. Trump. It turned out that the image was a fake, and Mr. Trump falsely claimed that Alwaleed was "the co-owner of Fox News." In fact, the prince had a stake in Fox's (FOXA) sibling company, News Corp. (NWS), amounting to about 7 percent. He since has cut it drastically.

Alwaleed has countered Mr. Trump's attacks by pointing out that he helped bail out the New York developer when the highly indebted Trump empire teetered on collapse in the early 1990s. First, the prince bought Mr. Trump's 283-foot yacht for a bargain price of $18 million and with a partner bought out the Plaza, a storied New York hotel, which the Trump Organization owned.
Indeed, the Intercept reported that Jared provided intelligence from the Presidential Daily Brief to MBS on people he deemed disloyal to the regime.
In late October, Jared Kushner made an unannounced trip to Riyadh, catching some intelligence officials off guard. "The two princes are said to have stayed up until nearly 4 a.m. several nights, swapping stories and planning strategy," the Washington Post's David Ignatius reported at the time.

What exactly Kushner and the Saudi royal talked about in Riyadh may be known only to them, but after the meeting, Crown Prince Mohammed told confidants that Kushner had discussed the names of Saudis disloyal to the crown prince, according to three sources who have been in contact with members of the Saudi and Emirati royal families since the crackdown. Kushner, through his attorney's spokesperson, denies having done so.

"Some questions by the media are so obviously false and ridiculous that they merit no response. This is one. The Intercept should know better," said Peter Mirijanian, a spokesperson for Kushner's lawyer Abbe Lowell.

On November 4, a week after Kushner returned to the U.S., the crown prince, known in official Washington by his initials MBS, launched what he called an anti-corruption crackdown. The Saudi government arrested dozens of members of the Saudi royal family and imprisoned them in the Ritz-Carlton Riyadh, which was first reported in English by The Intercept. The Saudi figures named in the President's Daily Brief were among those rounded up; at least one was reportedly tortured.
While that story line of Trump's response to the persecution was largely dropped as Alwaleed's detention drew on early this year, I don't doubt that Trump's personal animosity to Alwaleed made him, if anything, at least comfortable if not enthusiastic about MBS's power grab at Alwaleed's expense. If so, MBS would have played to Trump's own penchant for revenge to undercut what otherwise might have been more vocal criticism of the arbitrary treatment of a key international businessman (that said, the US made surprisingly little noise when MBS sidelined Mohammed bin Nayef, either).
And at that moment, MBS established that Trump would not interfere with any crackdown on opposition — because Trump has already bought into it.
https://www.emptywheel.net/wp-content/uploads/2017/11/Thumbs-Up1.jpg
683
870
emptywheel
https://www.emptywheel.net/wp-content/uploads/2016/07/Logo-Web.png
emptywheel
2018-10-11 06:28:25
2018-10-11 06:55:14
Before Trump Did Nothing When Mohammed bin Salman Went After Jamal Khashoggi, He Did Nothing When MBS Went After Alwaleed bin Talal