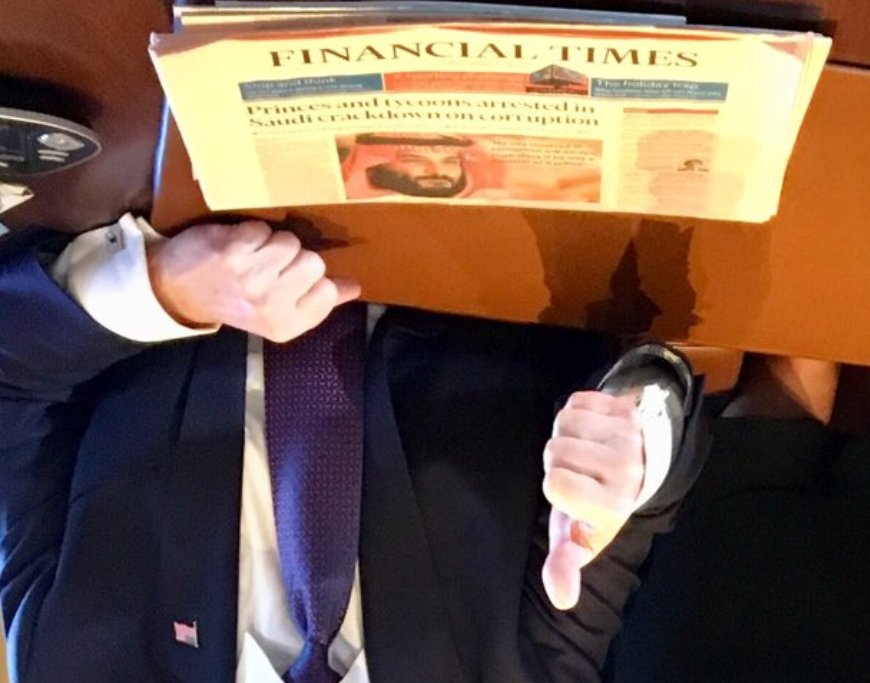 We Will Not Get Peace from the People Who Dismember Dissidents Alive
In the wake of Trump's announcement that the US will withdraw from Syria and James Mattis' subsequent resignation, Jeremy Scahill captured the ambivalence of the moment this way: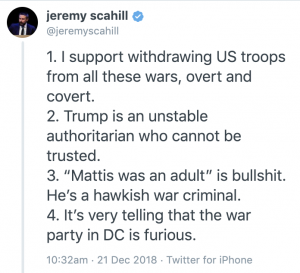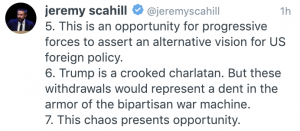 I agree with much of what Scahill says: I welcome withdrawing troops from overseas. We should never forget that Mattis earned his name, Mad Dog, nor that he got fired by Obama for being too belligerent. The panicked response of a bunch of warmongers is telling. Trump cannot be trusted.
But I think Scahill is too pat in saying "the chaos presents opportunity," in part because (as he suggests) there doesn't yet exist "an alternative vision for US foreign policy."
And while I appreciate that Scahill really does capture this ambivalence, far too many others welcoming a potential troop withdrawal are not recognizing the complexity of the moment.
While we don't yet fully understand the complex dynamics that led to it, Trump decided to withdraw from Syria during a phone call with a man who has spent two months embarrassing Trump, Trump's son-in-law, and the corrupt Saudi prince whose crackdown Trump has enthusiastically backed by releasing details of how that prince lulled an American resident dissident to a third country so he could be chopped up with a bone saw while still breathing. And even while Erdogan was embarrassing Trump with those details about Khashoggi's assassination, he was pressuring Trump to extend the same favor to him by extraditing Fethullah Gulen so he could be chopped up in some grisly fashion.
It is a mistake to think we will get peace from men who dismember dissidents alive.
All that said, Trump will do what he wants and unless the simmering revolt at DOD changes his mind, he will withdraw from Syria and drawdown in Afghanistan.
And if that happens those who would like peace had damn well be better prepared  for that "opportunity" than by simply hoping a future alternative US foreign policy arises. It will take immediate tactical actions to prevent any withdrawal from creating more chaos and misery both in the US and overseas. After all, Trump says he wants to bring troops home, but he has already come perilously close to violating posse comitatus by deploying troops domestically, and that was even with Mattis pushing back against that campaign stunt.
At a minimum, those who want peace need to answer some of the following questions immediately:
What person would both be willing to work for Trump and pursue a policy of peace?
I could not think of any person who could be confirmed by the Senate — even one where nutjobs like Marsha Blackburn have replaced people like Bob Corker — that would be willing to work for Donald Trump and might pursue some kind of alternative foreign policy.
In fact, the only person I could think of for the job (ruling out Erik Prince for a variety of reasons) would be Tom Cotton.
So job number one, for people who hope to use this as an opportunity, is to start coming up with names of people who could replace Mattis and anyone else who quits along with him.
How to prevent the refugee crisis from getting worse?
Multiple accounts of the events leading up to Trump's decision make it clear that Erdogan would like to use US withdrawal to massacre the Kurds. It's possible we'll see similar massacres in Assad-held Syria and Afghanistan as those left try to consolidate their victory.
For all the years the refugee crisis has been mostly a political prop here in the US, it has posed a real threat to the European Union (indeed, I went to several meetings with EUP members in the weeks before Trump's election where they said it was the greatest threat to the EU). So we need to start thinking seriously about how to prevent genocide and other massacres and the inevitable refugee crises that would result.
How to counter Trump's fondness for fossil fuels and arms sales?
No withdrawal is going to lead to "peace" or even a retreat of the US empire so long as Trump exacerbates an already unforgivable US addiction to fossil fuels and reliance on arms sales. Particularly with Saudi Arabia but also with Turkey, Trump has excused his fondness for authoritarianism by pointing to arms sales.
And on these issues, Trump actually agrees with the "war party in DC," which will make it far harder to counter them. Yes, many of the new Democrats entering Congress — most of all Alexandria Ocasio-Cortez — don't have these horrible habits. So what can you do to make sure her Green New Deal not only isn't squelched by party leadership, but is seen as the alternative to Trump by centrists?
Nukes. How to prevent Trump from using them?
It's not that Trump is opposed to violence. He's opposed to engagement and complexity and long term engagement.
Which means, particularly as more and more so-called adults leave, the chance he'll turn a tantrum into a nuclear strike skyrocket. Mattis won't be there to stop him.
How to balance accountability for the mistakes that got us here with accountability for Trump?
The movement that brands itself as "The Resistance" has long made a grave mistake of embracing whatever warmed over anti-Trump centrist wanted to loudly denounce the President.
As a result, the mistakes of many of those people — people like John Brennan and Jim Comey and David Frum and David Brooks — were ignored, even when those mistakes created the vacuum that Trump (and Vladimir Putin) have filled.
Trump would not be President if George Bush had not invaded Iraq, abetted by Frum's nifty tagline, Axis of Evil. Trump would not be President if the banks that crashed the economy in 2008 had been accountable by people like former Bridgewater Associates executive and HSBC board member then FBI Director Jim Comey.
Again, this is about complexity. But so long as those who would keep Trump accountable ignore what made Trump possible, we will make no progress.
How to preserve democracy long enough to pursue a new foreign policy?
Finally, an increasingly real challenge. Trump sides with Putin and Erdogan and Mohammed bin Salman and Abdel Fattah el-Sisi not because it serves US interests (which is the excuse American politicians usually offer for tolerating Saudi and Egyptian authoritarianism). He does so because he genuinely loves their authoritarianism.
And as Republicans in the Senate begin to push back against Trump, Democrats in the House try to hold him accountable, and the so-called adults leave his Administration, it raises the chances that Trump will embrace increasingly desperate measures to implement his policies. We can't just assume that Mueller and SDNY and NY State will prevent a Trump authoritarian power grab, particularly not as he continues to pack the courts.
While numerous State Attorneys General and NGOs are having reasonable success at constraining Trump, thus far, in the courts, eventually we're going to need a bipartisan commitment in DC to constraining Trump. Eventually we're going to need to convince a bunch of Republican Senators that Trump is doing permanent damage to this country. That's going to take building, not severing, relationships with some Republicans, even while finding some means to persuade them that Trump can no longer benefit them.
To some degree, we have no choice but to find answers to these questions, one way or another. It is especially incumbent on those celebrating a withdrawal to acknowledge, and try to answer, them.
https://www.emptywheel.net/wp-content/uploads/2017/11/Thumbs-Up1.jpg
683
870
emptywheel
https://www.emptywheel.net/wp-content/uploads/2016/07/Logo-Web.png
emptywheel
2018-12-21 14:09:25
2018-12-21 21:22:49
We Will Not Get Peace from the People Who Dismember Dissidents Alive