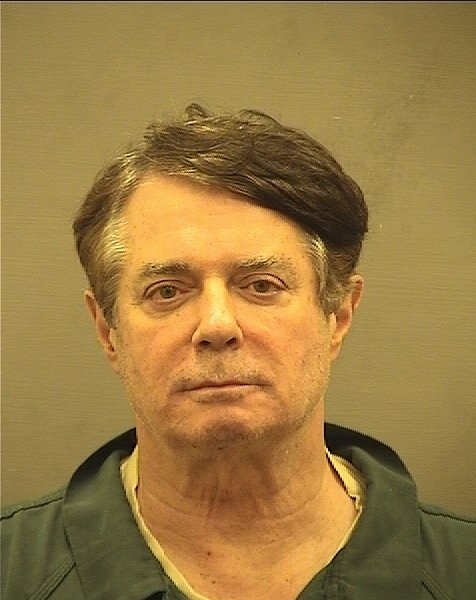 Recently, I got a new makeup artist for my TV appearances (which, of course, all have to do with the Russian investigation). She came to the US from Ukraine in the wake of Yanukovych's ouster. When I told her I was talking about the Manafort the first time I met her, she expressed her hope that he would pay a price, here, for what he helped Yanukovych do to her country.
I like to think today is for her. Amy Berman Jackson sentenced Paul Manafort to an additional 43 in months in prison on top of the 47 from EDVA for crimes were tied to Manafort's efforts to whitewash a brute, in Ukraine, Western Europe, and the US, and then hide the "blood money" (as his daughter called it) from tax authorities.
Immediately after the sentencing ended, Cy Vance announced a 16-count indictment in New York State, on charges that Trump cannot pardon. Whatever you think of Vance's grandstanding, the NY indictment immediately shifts Manafort's incentives for a pardon, because prison in NY State would be significantly less comfortable than FCI Cumberland, where Manafort will serve his federal charges. So any pardon might just hasten a move to less comfortable surroundings.
That means the entire strategy Manafort has pursued for the last 18 months, refusing to cooperate and then, when he did enter a plea deal, using it only to waste prosecutors' time and share information with Trump, will serve no purpose.
Which is why I think today can best be summed up by the contrast between two statements. In the middle of a long judgment that was not televised but was superbly livetweeted by Zoe Tillman, Andrew Prokop, Ryan Reilly, and others, ABJ observed the gravity of Manafort's FARA crimes by noting that, "If the people don't have the facts, democracy can't work."
Immediately after the sentencing, Kevin Downing — the Manafort lawyer who, more than the others, has been cultivating Manafort's pardon strategy — stepped out on the courtroom stairs and made a false statement that serves that pardon strategy (as he did last week) "Judge Jackson conceded that there was absolutely no evidence of Russian collusion in this case." Protestors immediately called him a liar, and noted that that's not what ABJ had said, hopefully to be picked up by every TV feed filming Downing.
Indeed, ABJ had just criticized that ploy in the courtroom.
During Wednesday's sentencing, Jackson slammed Manafort and his lawyers for their focus on the fact that he was not charged in connection with his work on the Trump campaign or accused of colluding with the Russian government. She said that the "non-collusion mantra was a non sequitor," unrelated to what sentence Manafort should receive, and that his lawyers made the "unsubstantiated" claim that Manafort was only charged with financial crimes predating his campaign work because Mueller's office couldn't charge him with anything to do with Russia.
The live-tweeting is what made it possible for protestors to spoil Downing's effort to perform as Trump wanted him to, undermining Downing's (and with it, Trump's) effort to spin this verdict as an exoneration in the case in chief.
Today's verdict was about Paul Manafort's efforts to prevent voters in both Ukraine and the US from obtaining real facts.
And it turns out that President Trump isn't going to be able to help Manafort avoid the consequences for that.
As I disclosed last July, I provided information to the FBI on issues related to the Mueller investigation, so I'm going to include disclosure statements on Mueller investigation posts from here on out. I will include the disclosure whether or not the stuff I shared with the FBI pertains to the subject of the post. 
https://www.emptywheel.net/wp-content/uploads/2018/07/Paulie.jpg
600
476
emptywheel
https://www.emptywheel.net/wp-content/uploads/2016/07/Logo-Web.png
emptywheel
2019-03-13 13:52:41
2019-03-13 14:15:51
Paulie's Very Bad Day: "If the People Don't Have the Facts, Democracy Can't Work."