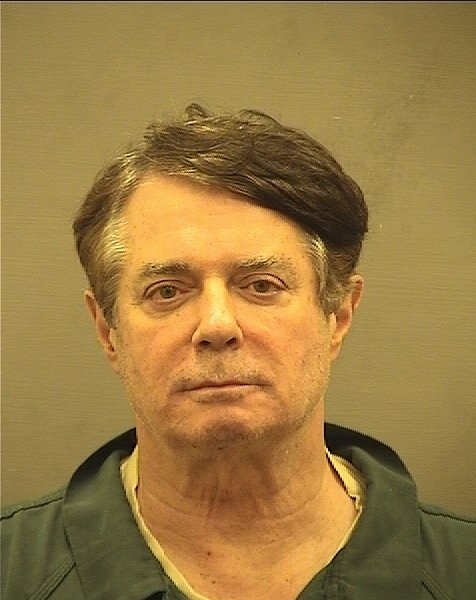 When Don Jr testified before the Senate Judiciary Committee, he defended accepting a meeting from a bunch of Russians offering dirt, in part, by noting that he took the meeting before there was such a focus on "Russian activities."
Nonetheless, at the time I thought I should listen to what Rob and his colleagues had to say. To the extent that they had information concerning the fitness, character, or qualifications of any presidential candidate, I believed that I should at least hear them out. Depending on what, if any, information that they had, I could then consult with counsel to make an informed decision as to whether to give it any further consideration. I also note at this time  there was no focus on Russian activities that there is today.
The guy who Mueller decided was too stupid to be charged with a campaign finance violation basically explained away doing so (as he has elsewhere): that because the public wasn't yet aware of the efforts Russia was making to get his dad elected — and the suspicious ties between key campaign figures and Russians — it was reasonable for him to take dirt from Russians.
And the Mueller Report actually does show that the campaign passed up offers from Russians they otherwise seemed to find attractive later in the summer, after the release of the DNC emails made Russia's intentions clear.
For example, after Sergei Millian reached out to George Papadopoulos promising to help him reach leaders of the Russian-American community, the "Coffee Boy" was instructed to decline the offer because too many stories were accurately telling voters how pro-Russian both the campaign and — especially — Paul Manafort was.
On July 31, 2016, following his first in-person meeting with Millian, Papadopoulos emailed Trump Campaign official Bo Denysyk to say that he had been contacted "by some leaders of Russian-American voters here in the US about their interest in voting for Mr. Trump," and to ask whether he should "put you in touch with their group (US-Russia chamber of commerce)."507 Denysyk thanked Papadopoulos "for taking the initiative," but asked him to "hold off with outreach to Russian-Americans" because "too many articles" had already portrayed the Campaign, then-campaign chairman Paul Manafort, and candidate Trump as "being pro-Russian."508
Similarly when, after JD Gordon twice emphasized with Sergei Kislyak at the Convention that he had meant what he said in his speech — that the US should have better relations with Russia (see pages 123-4) — Kislyak invited Gordon to breakfast at his residence. Gordon would have been happy to take the invite, according to an email he sent in response to the invitation. But he said he'd take a raincheck for when "things quiet down a bit."
On August 3, 2016, an official from the Embassy of the Russian Federation in the United States wrote to Gordon " [o]n behalf of' Ambassador Kislyak inviting Gordon "to have breakfast/tea with the Ambassador at his residence" in Washington, D.C. the following week.818 Gordon responded five days later to decline the invitation. He wrote, "[t]hese days are not optimal for us, as we are busily knocking down a constant stream of false media stories while also preparing for the first debate with HRC. Hope to take a raincheck for another time when things quiet down a bit. Please pass along my regards to the Ambassador." 819
While Gordon doesn't say the "false media stories" were explicitly about Russia, that is where the focus was at the time (indeed, the defeat of the Ukraine amendment in the platform that Gordon himself had carried out was one focus of that media attention). Update: In the obstruction section, the report confirms this was about Russia:
For example, in August 2016, foreign policy advisor J.D. Gordon declined an invitation to Russian Ambassador Sergey Kislyak's residence because the timing was "not optimal" in view of media reports about Russian interference.46

46 DJTFP00004953 (8/8/16 Email, Gordon to Pchelyakov) (stating that "[t]hese days are not optimal for us, as we are busily knocking down a stream of false media stories").
So it seems clear that in the wake of the DNC dump and revelations about the platform, Carter Page, and Manafort, the campaign did make a conscious effort to "take a raincheck" on any more approaches from Russia.
It's against that background that the August 2 meeting between Manafort, Rick Gates, and someone Gates believed was a Russian spy, Konstantin Kilimnik, is all the more remarkable.
As the report describes, at the same time other campaign staffers were being told to turn down approaches from Russia, the campaign manager set up a late night meeting with the same Russian employee who was involved in so much of the scandal (and to whom he had been sending internal polling data since the spring). At the meeting, the campaign manager discussed at least three things: how Trump planned to win the three states that would ultimately make the difference in the election — Pennsylvania, Wisconsin, and Michigan (along with Minnesota, which also was unexpectedly close), a plan that required Manafort and Trump's buy-off to give Russia part of Ukraine, and a way for Manafort (who was working for Trump for "free") to get paid by Ukrainian oligarchs and to get Oleg Deripaska to forgive a huge debt.
The events leading to the meeting are as follows. On July 28, 2016, Kilimnik flew from Kiev to Moscow.912 The next day, Kilimnik wrote to Manafort requesting that they meet, using coded language about a conversation he had that day.913 In an email with a subject line "Black Caviar," Kilimnik wrote:

I met today with the guy who gave you your biggest black caviar jar several years ago. We spent about 5 hours talking about his story, and I have several important messages from him to you. He asked me to go and brief you on our conversation. I said I have to run it by you first, but in principle I am prepared to do it. … It has to do about the future of his country, and is quite interesting.914

Manafort identified "the guy who gave you your biggest black caviar jar" as Yanukovych. He explained that, in 2010, he and Y anukovych had lunch to celebrate the recent presidential election. Yanukovych gave Manafort a large jar of black caviar that was worth approximately $30,000 to $40,000.915 Manafort's identification of Yanukovych as "the guy who gave you your biggest black caviar jar" is consistent with Kilimnik being in Moscow-where Yanukovych resided-when Kilimnik wrote "I met today with~ a December 2016 email in which Kilimnik referred to Yanukovych as "BG,"-916 Manafort replied to Kilimnik's July 29 email, "Tuesday [August 2] is best . .. Tues or weds in NYC."917

Three days later, on July 31, 2016, Kilimnik flew back to Kiev from Moscow, and on that same day, wrote to Manafort that he needed "about 2 hours" for their meeting "because it is a long caviar story to tell."918 Kilimnik wrote that he would arrive at JFK on August 2 at 7:30 p.m., and he and Manafort agreed to a late dinner that night.919 Documentary evidence- including flight, phone, and hotel records, and the timing of text messages exchanged920-confirms the dinner took place as planned on August 2.921

As to the contents of the meeting itself, the accounts of Manafort and Gates — who arrived late to the dinner — differ in certain respects. But their versions of events, when assessed alongside available documentary evidence and what Kilimnik told business associate Sam Patten, indicate that at least three principal topics were discussed.

First, Manafort and Kilimnik discussed a plan to resolve the ongoing political problems in Ukraine by creating an autonomous republic in its more industrialized eastern region of Donbas,922 and having Yanukovych, the Ukrainian President ousted in 2014, elected to head that republic.923 That plan, Manafort later acknowledged, constituted a "backdoor" means for Russia to control eastern Ukraine.924 Manafort initially said that, if he had not cut off the discussion, Kilimnik would have asked Manafort in the August 2 meeting to convince Trump to come out in favor of the peace plan, and Yanukovych would have expected Manafort to use his connections in Europe and Ukraine to support the plan.925 Manafort also initially told the Office that he had said to Kilimnik that the plan was crazy, that the discussion ended, and that he did not recall Kilimnik asking Manafort to reconsider the plan after their August 2 meeting.926 Manafort said [redacted] that he reacted negatively to Yanukovych sending — years later — an "urgent" request when Yanukovych needed him.927 When confronted with an email written by Kilimnik on or about December 8, 2016, however, Manafort acknowledged Kilimnik raised the peace plan again in that email.928 Manafort ultimately acknowled ed Kilimnik also raised the eace Ian in ~ary 2017 meetings with Manafort [grand jury redaction] 929

Second, Manafort briefed Kilimnik on the state of the Trump Campaign and Manafort's plan to win the election.930 That briefing encompassed the Campaign's messaging and its internal polling data. According to Gates, it also included discussion of "battleground" states, which Manafort identified as Michigan, Wisconsin, Pennsylvania, and Minnesota.931 Manafort did not refer explicitly to "battleground" states in his telling of the August 2 discussion, [grand jury redaction]

Third, according to Gates and what Kilimnik told Patten, Manafort and Kilimnik discussed two sets of financial disputes related to Manafort's previous work in the region. Those consisted of the unresolved Deripaska lawsuit and the funds that the Opposition Bloc owed to Manafort for his political consulting work and how Manafort might be able to obtain payment.933
Eight days after that meeting at which Manafort described how they might win Rust Belt swing states, where Kilimnik pitched a plan to break up Ukraine, and where Kilimnik also explained what Manafort would have to do to get paid by his Ukrainian paymasters, Manafort told his accountant to book that Ukrainian money, which he said would be paid in November.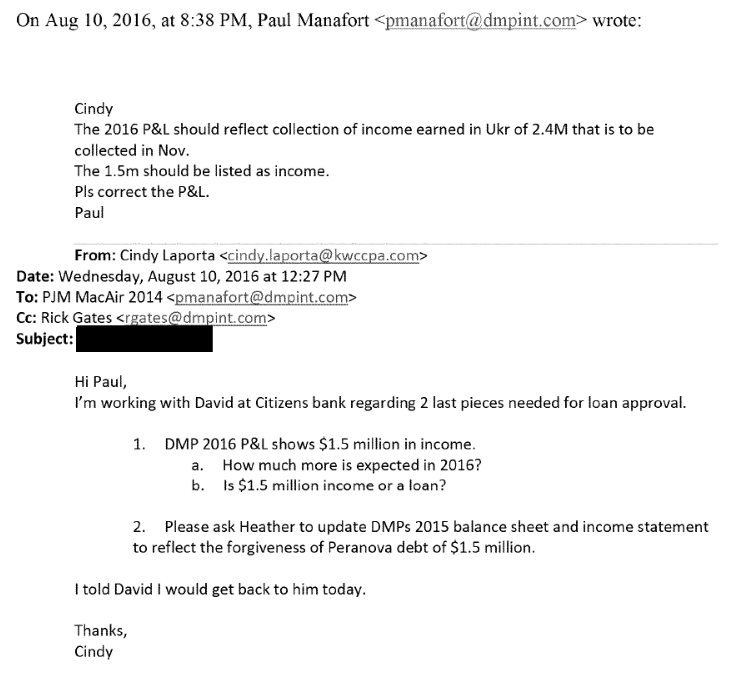 Here's the thing about this meeting, which Trump's campaign manager and his deputy attended even while the campaign was telling other associates to "take a rain check" on outreach from Russia. They, too, recognized the problem of being caught accepting such outreach. They just tried to avoid getting caught.
After the meeting, Gates and Manafort both. stated that they left separately from Kilimnik because they knew the media was tracking Manafort and wanted to avoid media reporting on his connections to Kilimnik.934
This is a point Amy Berman Jackson made when she ruled that Manafort had lied about this meeting (and the sharing of polling data).
If he was, as he told me, so single-mindedly focused on the campaign, then the meeting he took time to attend and had [redacted] had a purpose [redacted]. Or, if it was just part of his effort to [redacted], well, in that case he's not being straight with me about how single-minded he was. It's not good either way.

Plus, his asserted inability to remember rings hollow when the event we are discussing involving [redacted] not only [redacted] but he's [redacted] with a specific understanding and intent that [redacted] at a meeting in which the participants made it a point of leaving separate because of the media attention focused at that very time on Manafort' relationships with Ukraine.
Manafort had claimed he was so busy trying to win a campaign that he forgot the meeting at which he discussed carving up Ukraine in the same two hour discussion where he talked about the import of Pennsylvania, Michigan, and Wisconsin in winning that campaign. And to attend the meeting, he risked public scrutiny on precisely the Russian ties that every other member of the campaign was being told to discourage.
Update: This Amy Berman Jackson order reveals a little more about how Rick Gates' updated testimony changes the story. It sounds like when Gates heard that prosecutors used Manafort's order to Gates to print out polling data on August 2 to prove that he had shared it with Kilimnik, he contacted prosecutors and told them that they had, in fact, used it at the staff meeting that morning, which is the explanation Manafort gave for the order. He says he arrived late so doesn't know if Manafort shared that particular polling data with Kilimnik.
But ABJ refused Manafort's request for reconsideration of her judgment that he lied about that for several reasons:
He still lied about sharing polling data to be passed on to Ukrainian and Russian oligarchs
He still lied about the Ukraine "peace" deals
She still gave him credit for his plea
Given those details, the Manafort bid for reconsideration must just be an attempt to discredit what is one of the most damning details in the Mueller Report.
As I disclosed last July, I provided information to the FBI on issues related to the Mueller investigation, so I'm going to include disclosure statements on Mueller investigation posts from here on out. I will include the disclosure whether or not the stuff I shared with the FBI pertains to the subject of the post. 
https://www.emptywheel.net/wp-content/uploads/2018/07/Paulie.jpg
600
476
emptywheel
https://www.emptywheel.net/wp-content/uploads/2016/07/Logo-Web.png
emptywheel
2019-04-29 10:29:13
2019-04-30 17:10:19
Paul Manafort Violated Campaign Policy in Risking a Meeting with Konstantin Kilimnik on August 2, 2016