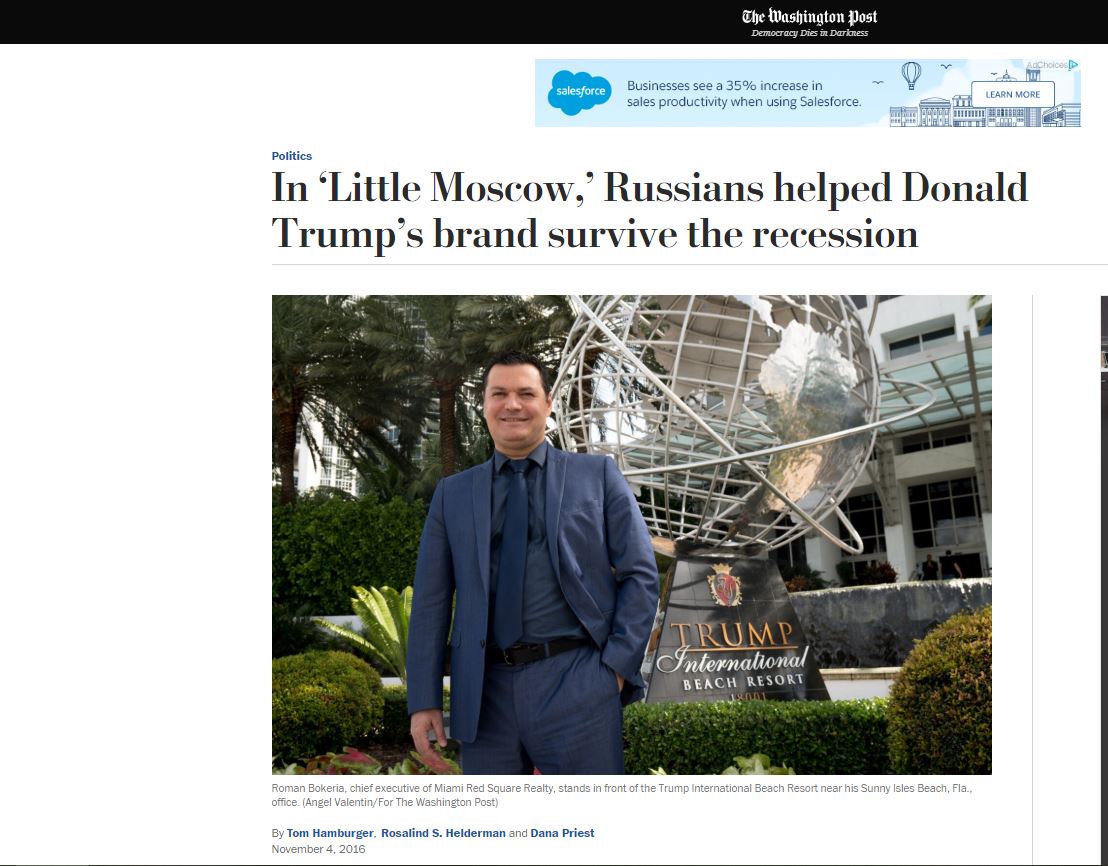 Jim again here. 
Yesterday's post about Fraud Guarantee, a company started by two of Rudy Guiliani's clients who were indicted, was so much fun that I decided to do more noodling around in Florida corporate records for Lev Parnas and David Corrieia. As I noted on Twitter this morning, there are many corporate entities associated with Lev Parnas, and yet none of them seem to have active status with the state, including Fraud Guarantee itself:
Searching the Florida Division of Corporations website, I find 26 entries associated with Lev Parnas. Not a single entity is in active corporate status. pic.twitter.com/w90dszgtYb

— Jim White (@JimWhiteGNV) October 11, 2019

One of these corporate entities stands out when looking at the names associated with it. Mendo Cali, LLC, near the middle of the list in the tweet, has this information on the state website:
Note the person listed along with Parnas and Correia: Inna Ponomareva. What an interesting-sounding name! When searching that name, especially with a South Florida preference, some interesting hits pop up: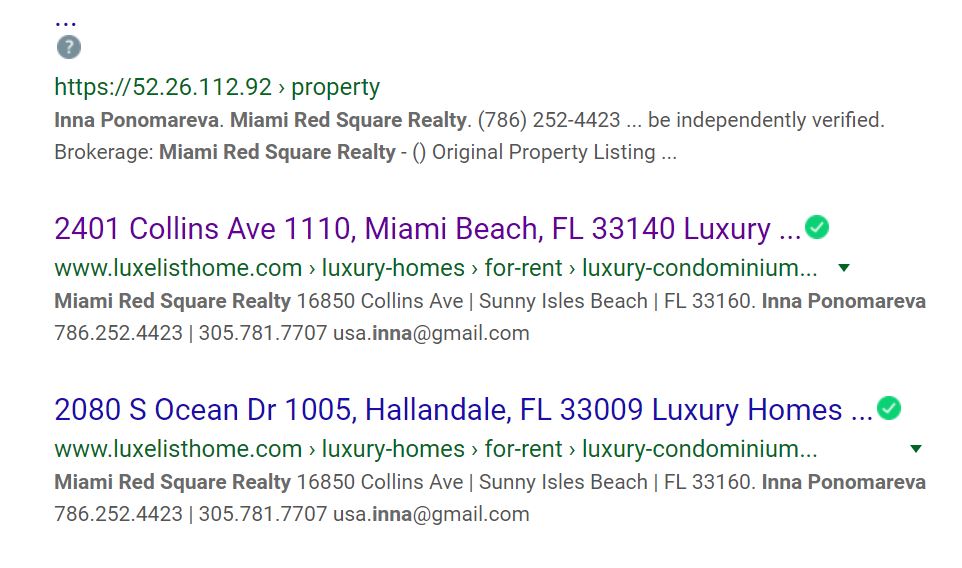 It appears that there is a person by the name of Inna Ponomareva who worked for Miami Red Square Realty. I say worked for because it appears that Miami Red Square also is no longer an active company. Clicking on these links reveals that the real estate listings are no longer active, but it is clear that Ponomareva was associated with listings for these properties with Red Square.
And this is where it gets really interesting. Miami Red Square Realty features prominently in this Washington Post article from just around the 2016 election:
SUNNY ISLES BEACH, Fla. — The first of three identical 45-story Trump-branded condo buildings opened in this oceanfront city at a seemingly terrible time, just as the recession was dawning and the real estate market was starting to crumble.

Many other projects in South Florida floundered in the lead-up to the national housing collapse of 2008. But the Trump buildings were among those that survived, in part because the developers were able to turn to another business source seemingly immune to the factors dragging down the U.S. market: wealthy Russians looking to move their money out of the volatile ­post-Soviet economy.
Hey, that's pretty interesting. There's more:
Roman Bokeria, the Georgian-born chief executive of Miami Red Square Realty, said that ­Russian-speaking investors have been attracted to the Trump buildings because they see the brand as a safe place for their money.

"They don't trust stocks or bonds," Bokeria said. "They want real estate, something they can see and touch and feel. And for Russians, where is the best real estate? It's Miami and South Florida. It's Trump. That is the dream."
Things get even more interesting from here. Note when Mendo Cali, LLC was incorporated: August of 2014. Just above the passage about Red Square in the Post article, we have this:
Trump does not own these buildings, but, like many Trump projects around the world, he licensed the use of his name and took a percentage of the profits from the initial sales of units. Real estate agents say there have been fewer Russian investors in Florida condos since U.S.-imposed sanctions on Russia took effect in 2014. They predict that the market will improve if Trump wins and reconsiders the sanctions.
Hmm. Things got difficult for Russians wanting to buy US properties in 2014 due to sanctions. But there's one other interesting development regarding the market for selling Trump properties in South Florida to Russians in 2014. Remember when
Reuters came out with their story
in 2017 about Russians owning Trump properties? Here are a few snippets:
During the 2016 presidential campaign, Donald J. Trump downplayed his business ties with Russia. And since taking office as president, he has been even more emphatic.

"I can tell you, speaking for myself, I own nothing in Russia," President Trump said at a news conference last month. "I have no loans in Russia. I don't have any deals in Russia."

But in the United States, members of the Russian elite have invested in Trump buildings. A Reuters review has found that at least 63 individuals with Russian passports or addresses have bought at least $98.4 million worth of property in seven Trump-branded luxury towers in southern Florida, according to public documents, interviews and corporate records.
The lede here is definitely buried:
The tally of investors from Russia may be conservative. The analysis found that at least 703 – or about one-third – of the owners of the 2044 units in the seven Trump buildings are limited liability companies, or LLCs, which have the ability to hide the identity of a property's true owner. And the nationality of many buyers could not be determined. Russian-Americans who did not use a Russian address or passport in their purchases were not included in the tally.
What a coincidence! Fully a third of the Trump properties are owned by LLCs so that the identities of the true owners may be obscured. And for the three years leading up to the Reuters analysis, sanctions curtailed ownership by Russians.
The Reuters article goes on to detail one person who was particularly active in the sales of these properties [The Dezer Corporation built the properties under a license from Trump]:
Dezer and Trump got help selling the condos from Elena Baronoff, who immigrated from the Soviet Union in the 1980s. Baronoff, who grew up in Uzbekistan, had been active in Soviet cultural associations. In Miami, she soon began bringing Russian tour groups to Miami.

Gil Dezer's father, Michael, recruited Baronoff to work alongside the Dezer corporation. She traveled to Moscow, St Petersburg, France and London to bring in Russian buyers, according to Dezer, selling apartments to them for between $1 million and $2 million. Baronoff was diagnosed with Leukemia in 2014 and died a year later.

"She was huge, she was big for them," Dezer said, referring to Russian buyers. "No one has filled her shoes."
Hmm. The primary mover and shaker for selling Trump properties in South Florida to Russians took ill in 2014. Although Dezer claims in the article that "No one has filled her shoes" the timing for the incorporation of Mendo Cali, LLC sure fits the window when this market opened up. And Mendo Cali, LLC just happened to have a person with a Russian name and an affiliation with Red Square Realty, which sold Trump properties to Russians. I'm sure this is just an innocent coincidence.
Update October 13
From a Washington Post article put Saturday evening, October 12:
Parnas, 47, was born in Ukraine but moved with his family to the United States as a child and grew up in Brooklyn. He told The Washington Post in an interview conducted before his arrest that he got his start in real estate, selling Trump condos for Donald Trump's father, Fred, then worked in shipping in the former Soviet Union before becoming a securities trader. He moved to Florida in the mid-1990s.
Isn't that interesting? We now have a connection between Parnas and the Trump family that started decades ago. And that connection is Parnas selling Trump-branded condos.
https://www.emptywheel.net/wp-content/uploads/2019/10/wapo-snip.jpg
866
1108
Jim White
https://www.emptywheel.net/wp-content/uploads/2016/07/Logo-Web.png
Jim White
2019-10-11 20:57:45
2019-10-13 08:51:55
Do Lev Parnas and David Correia Have A Connection To Sale Of Trump Properties To Russians In South Florida?