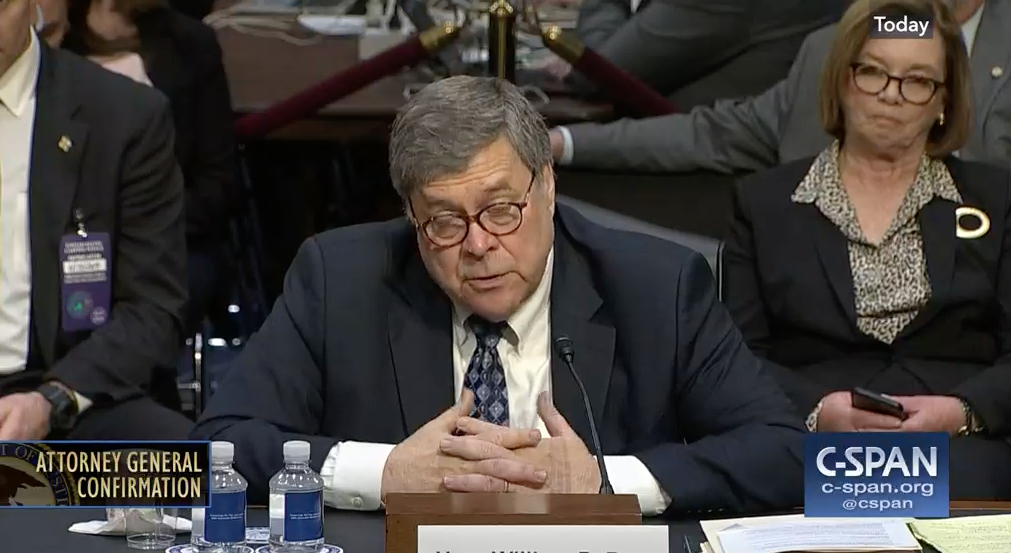 If the AG Is Involved in a Foreign Influence Operation, Does He Have to Register with Himself?
Way at the end of a CNN story on Rudy Giuliani's grifters, Lev Parnas and Igor Fruman, this bombshell appears:
Two weeks ago when they were arrested, Parnas and Fruman were preparing to fly to Vienna, Austria, to meet Giuliani and another key figure in the impeachment investigation, Ukraine's former prosecutor general Viktor Shokin, according to four sources familiar with their trip. Shokin is the same Ukrainian official who former Vice President Joe Biden — along with other Western leaders — had pushed to have removed over concerns he wasn't prosecuting corruption.

While questions in Washington swirl around Shokin's role in this controversy, Giuliani, Parnas, Fruman had specific plans for the former Ukrainian official up until the day of their arrest. According to those four sources, they told others they were headed to Vienna to help with a planned interview the next day: Shokin, they said, was scheduled to do an interview from the Austrian capital with Sean Hannity.

Through a spokesperson, Hannity said that "we never reveal our sources, potential sources, or persons they may or may not request to interview. Sean Hannity takes the first amendment seriously."
The bullshit about how the First Amendment is why he's not revealing his "potential source" who the TV star would have interviewed on TV got added overnight.
The news that Hannity was only saved from being a part of this influence operation by the arrest of two of its key players is news enough. But it dramatically changes the import of this news — that the night before this interview was scheduled, and after meeting with SDNY that same day, and probably after the grifters had been arrested as they tried to leave the country, the Attorney General of the United States had a meeting with Rupert Murdoch at the latter's home.
Attorney General William P. Barr met privately Wednesday evening with Rupert Murdoch, the media mogul who is one of President Trump's frequent confidants but whose Fox News is viewed by the president as more hostile toward him than it used to be.

The meeting was held at Mr. Murdoch's home in New York, according to someone familiar with it. It was unclear if anyone else attended or what was discussed. Aides to both Mr. Murdoch and Mr. Barr declined requests for comment on the meeting.
So the presumed schedule for the players looks like this:
Lunch: Rudy meets with the grifters across the street from DOJ

Before the arrest: Barr informed they would be arrested (he met with SDNY that day)

Roughly 6:30: SDNY has the grifters as they prepare to fly to Vienna using one way tickets

After the arrest: Barr meets privately with Sean Hannity's boss
This story from Parnas and Fruman's arraignment yesterday revealed that SDNY has been monitoring twelve different phone lines.
Assistant U.S. Attorney Rebekah Donaleski told Oetken that evidence in the case that will need to be turned over to the defense was "quite voluminous." She mentioned about 50 bank accounts and more than a dozen cell phones that were monitored in some fashion, as well as search warrants and subpoenas.
Admittedly, this number is across four different defendants (thus far), but twelve is a lot, and that word, "monitor" sure sounds like wiretapping. Which may be why Rudy is finally shopping for a defense attorney.
Wiretaps might be the kind of thing SDNY would brief Barr on if he met with prosecutors the day of the arrest. Prosecutors might also tell Barr what kind of high profile people had been caught up on the grifters' encrypted texts, as Hannity was with Paul Manafort. In either case, it is virtually certain that Hannity was caught in the surveillance of the grifters, even if contacts between him and Rudy weren't already obtained.
It looks bad, but given how much Barr has mainlined Fox propaganda over the last two decades, it wouldn't be surprising if Barr attempted to protect the propaganda channels' top entertainer.
All of which leads me back to something else: the Attorney General's very narrow denials that he was pursuing Ukrainian dirt in the wake of the release of the Trump-Zelensky call on September 25.
At the end of August, when two top intelligence officials asked a Justice Department lawyer whether a whistle-blower's complaint should be forwarded to Congress, they were told no, Attorney General William P. Barr and his department could handle the criminal referral against the president of the United States.

About four weeks later, the department rendered its judgment: President Trump had not violated campaign finance laws when he urged Ukraine's president to work with Mr. Barr to investigate a political rival, former Vice President Joseph R. Biden Jr.

[snip]

The rough transcript showed that Mr. Trump believes he has that man. In a single sentence during the call with Ukraine's leader, Mr. Trump said that he would have Rudolph W. Giuliani, his personal lawyer, and Mr. Barr reach out to help further an investigation of Mr. Biden and his younger son, Hunter Biden, who had served on the board of a Ukrainian corporation.

"I will have Mr. Giuliani give you a call, and I am also going to have Attorney General Barr call, and we will get to the bottom of it," Mr. Trump said.

A Justice Department official said that Mr. Barr had no knowledge of the call until the director of national intelligence and the intelligence community's inspector general sent the department the whistle-blower's criminal referral late last month, and that Mr. Trump has not spoken with the attorney general "about having Ukraine investigate anything relating to former Vice President Biden or his son."

Mr. Trump has not asked Mr. Barr to contact Ukraine for any reason, Mr. Barr has not communicated with Ukraine on any topic, and Mr. Barr has not spoken with Mr. Giuliani about the president's phone call "or anything relating to Ukraine," a Justice Department spokeswoman, Kerri Kupec, said in a statement.

[snip]

But Mr. Barr is also closely overseeing a review of the intelligence community's decision to start a counterintelligence investigation into the Trump campaign during the 2016 election, which is being led by John Durham, the United States attorney in Connecticut. As part of that review, Mr. Durham is exploring what role, if any, a number of countries including Ukraine played in the investigation of the Trump campaign.

"While the attorney general has yet to contact Ukraine in connection with this investigation, certain Ukrainians who are not members of the government have volunteered information to Mr. Durham, which he is evaluating," Ms. Kupec said.
According to DOJ, the following is true (or was true, as of September 25):
Barr had no knowledge of the call until Joseph Maguire sent the whistleblower complaint "late last month" (subsequent reporting probably moves that date back to when John Demers reviewed the transcript on August 15, and not knowing about the call is not the same thing as not knowing about the extortion attempt)
Trump has not spoken

to Barr "about having Ukraine investigate anything relating to former Vice President Biden or his son," which doesn't exclude Trump asking Barr to investigate 2016, which is what the transcript more directly references

Trump has not asked Mr. Barr to contact Ukraine for any reason, nor has Barr communicated with Ukraine (multiple reports have noted that Barr's wild goose chase has largely bypassed official legal request channels, which would present problems regarding the admissibility of any evidence he receives, but also would be consistent with the public reporting that he is pursuing Ukrainian dirt outside of official channels)

Barr has not spoken with Rudy about the call "or anything relating to Ukraine," which doesn't address whether he has addressed other sources of disinformation with Rudy, nor does it say whether Barr has communicated to Rudy via other channels or received a dossier of disinformation on Ukraine, sent by Rudy on White House stationary, as Pompeo did
"Certain Ukrainians who are not members of the government have volunteered information to Mr. Durham, which he is evaluating;" this does not exclude Barr speaking to these same Ukrainians, as Barr has been with so many other parts of his wild goose chase, nor does it exclude Barr learning of the Ukrainians when he took a meeting with Joseph DiGenova and Victoria Toensing to discuss the Ukrainian oligarch whose bid to beat a bribery charge involves disinformation created by Viktor Shokin, the guy Hannity was going to interview
Given this narrow denial, it would be more likely than not that Barr knew of Firtash's effort to use Shokin's claim that he was unfairly targeted and encouraged John Durham to reach out to Shokin, to say nothing of several other pieces of disinformation Rudy has been floating.
What is absolutely certain, though, is that DOJ's narrow denial in no way denies that Barr's wild goose chase has incorporated materials that Rudy obtained as a result of the extortion attempt with Ukraine.
Indeed, back in the halcyon days before the grifters were arrested, frothy right wingers — up to and including close Rudy associate Michael Mukasey — keyed on DOJ's confirmation that Durham was reviewing materials from Ukraine, as if that validated Rudy's efforts. Back before Parnas and Fruman were arrested, the frothy right boasted that Durham had received these Ukrainian "leads."
Which may be why Bill Barr's DOJ did two things — consider the call transcript, and not the full whistleblower complaint, as the referral, and not forward the complaint to FEC as required under a standing MOU — that prevented others from identifying the ties between Parnas and Fruman (whom DOJ has repeatedly said Barr knew were being investigated) and the President's July 25 call. To say nothing of the way his OLC treated his implication by the call as Top Secret, even though the White House itself considered it less classified.
Already, we have three solid pieces of evidence that Bill Barr's DOJ engaged in a cover-up in a failed attempt to prevent anyone from tying the Parnas and Fruman influence campaign, his own wild goose chase, and the President's extortion of Ukraine together.
But if Barr shared information learned about an ongoing investigation to prevent Hannity from embarrassment or even legal jeopardy, that would be a far more significant step.
Update: In the wake of Mick Mulvaney's confirmation that Trump withheld duly appropriated funding from Ukraine to coerce it to cooperate in the Durham investigation, three different outlets did articles on what Durham is up to (NYT, NBC, CNN). Although all three provided new details on the investigation generally, none provided details describing from which Ukrainians Durham has received information.
https://www.emptywheel.net/wp-content/uploads/2019/03/Screen-Shot-2019-03-26-at-2.35.58-PM.png
553
1011
emptywheel
https://www.emptywheel.net/wp-content/uploads/2016/07/Logo-Web.png
emptywheel
2019-10-24 09:34:00
2019-10-24 11:26:15
If the AG Is Involved in a Foreign Influence Operation, Does He Have to Register with Himself?