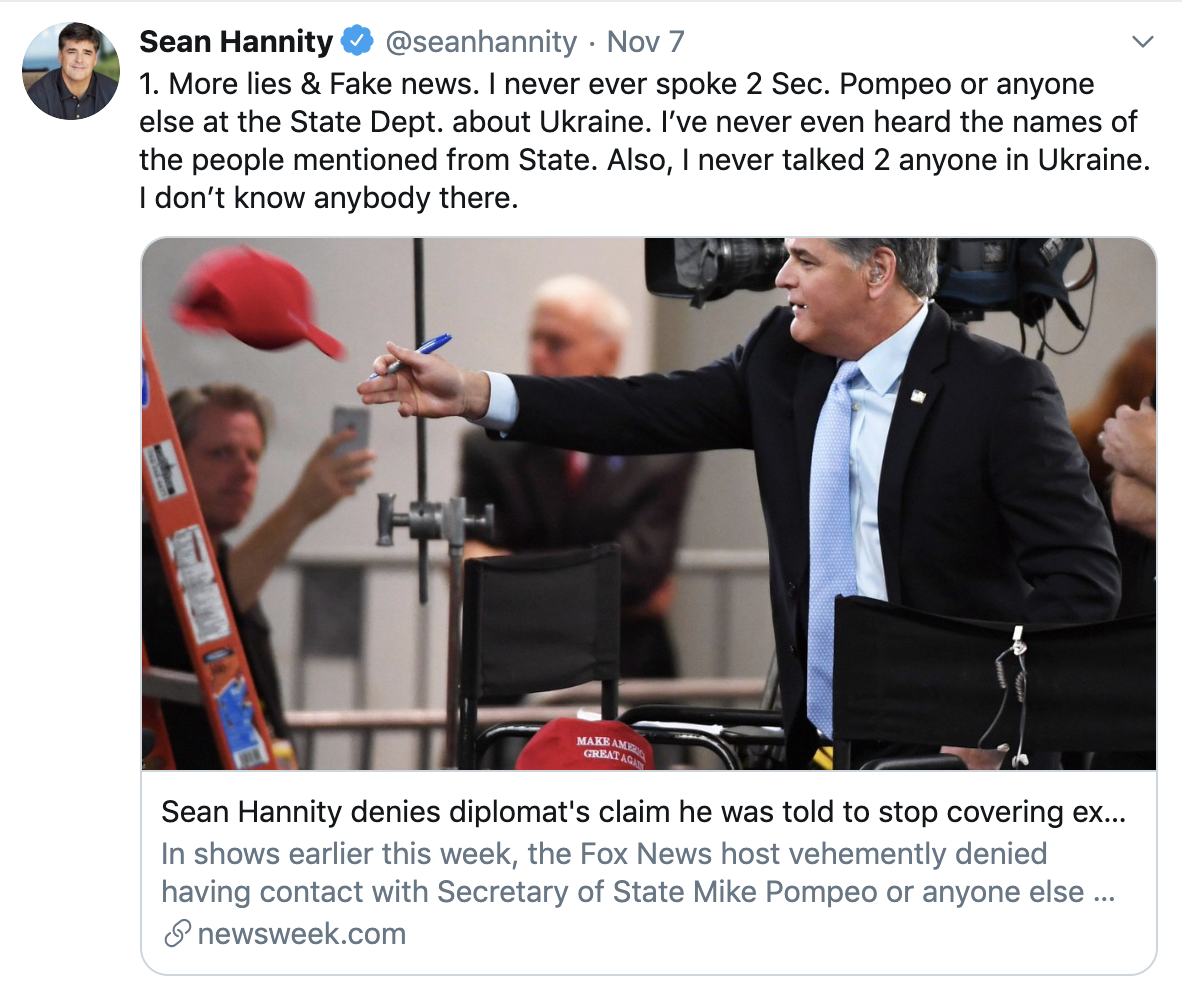 Why Won't Sean Hannity Defend Trump against Impeachment Under Oath?
Yesterday, the Republicans released their list of requested witnesses for the public impeachment hearings this week. The list includes:
Devon Archer, Hunter Biden's business partner
Hunter Biden
Alexandrea Chalupa, the DNC consultant who conducted oppo research on Manafort [corrected] via non-official sources
Undersecretary of State David Hale, who gave a private deposition the details of which have not yet leaked
Tim Morrison, the NSC staffer who was on the Trump call but has said (in part because saying anything else would implicate him criminally) nothing he heard was a problem
Nellie Ohr, whom Nunes falsely accuses of assisting with the Steele dossier, but who collected oppo research on Trump based off leads which were in turn based off open source research
Kurt Volker
The whistleblower
The whistleblower's sources
I'm amuses me they think Volker will help them, as it reflects their inability to process information as it has come in. In his testimony, Volker made a concerted effort to spin what happened in the least damaging way for Trump. He based much of that defense on the then-operative understanding that Trump had never mentioned Burisma in his conversation with Volodymyr Zelensky, thereby suggesting that that improper request never got beyond Rudy Giuliani to the President. But we now know that Trump did explicitly invoke Burisma in the call, but that it got redacted out by John Eisenberg and others. That is, precisely the detail that Volker used to exonerate the President has now been overtaken by events. Volker will likely spend part of his public testimony backtracking off the stances Republicans believe help the President.
While I assume Schiff will accept the request to call witnesses he himself has asked for depositions, Schiff has already ruled out calling Hunter Biden or the whistleblower.
Still, the most telling part of this list is that the most loyal defender of the President, Sean Hannity, is not on it.
It is now clear that Hannity is a key player in this information operation (unsurprisingly, given what we know about his efforts to coordinate Paul Manafort's defense). Unlike John Solomon, Hannity's personal implication in the slimy nest of legal conflicts that the President calls legal representation seem to have ended when Michael Cohen got busted. Unlike Rudy, Hannity's status as a journalist should protect him from legal liability.
So there's no reason — besides the fact he'd be under oath — why he shouldn't be willing to testify about the several key events he played a part in.
For example, Marie Yovanovitch testified that she understands during a period when Hannity was attacking her personally, someone close to Mike Pompeo called Hannity and asked him to either substantiate the charges or stop.
THE CHAIRMAN: And did you ever find out when, you know, the allegations were being made or the attacks were being made by Donald Trump, )r., or Rudy Giuliani, did you ever find out what the Secretary of State's position, whether the Secretary of State was going to defend you or not, apart from the refusal by the Secretary to issue a statement in your defense?

MS. YOVANOVITCH: What I was told by Phil Reeker was that the Secretary or perhaps somebody around hjm was going to place a call to Mr. Hannity on FOX News to say, you know, what is going on? I mean, do you have proof of these kinds of allegations or not? And if you have proof, you know, telI me, and if not, stop. And I understand that that call was made. I don't know whether it was the Secretary or somebody else in his inner circle. And for a time, you know, things kind of simmered down.

THE CHAIRMAN: I mean, does that seem extraordinary to you that the Secretary of State or some other high-ranking official would call a talk show host to figure out whether you should be retained as ambassador?

MS . YOVANOVITCH: Wet 1 , I 'm not sure that' s exactly what was being asked.

THE CHAIRMAN: Well , they were aski ng i f what basi s they was Hannity one of the people criticizing you?

MS. Y0VANOVITCH: Yes. THE CHAIRMAN: 5o some top administration official was going to him to find out what the basis of this FOX host was attacking you tor?

YOVANOVITCH: Uh- huh.

THE CHAIRMAN: And did you ever get any readout on what the result of that conversation was?

MS. YOVANOVITCH: No, I didn't, although I was told that it did take place.
Then later in the same deposition, Yovanovitch described how, in an appearance on Hannity's show, the President pivoted from a question about Russia to focus on Ukraine, which the Ambassador thought might also be targeted at her.
[Dan Goldman] Are you also aware that on the night of April 25th that President Trump went on Sean Hannity's show and discussed Ukraine?

A Yes. He was asked a question about Russia and he answered by responding about Ukraine.

Q And what was your reaction to that?

A Well, you know, I mean, I was concerned about what this would all mean.

Q In what way?

A Well, obviously, for me personally, not to make it all about me, but for me personally. But also, what does this mean for our policy? Where are we going?
In response, Hannity issued two angry denials on Twitter, not under oath, then linked to a (!!!) now debunked John Solomon piece, as if that did anything but confirm he was part of an information operation.

If Hannity wants to clear his name, surely he's willing to do so under oath? While there, he can also explain why he keeps bringing Solomon, Joe DiGenova, and Victoria Toensing on his show, and why he doesn't disclose that the latter two are working for mobbed up Ukrainian oligarch Dmitry Firtash.
Hannity has repeatedly hosted Joseph diGenova and Victoria Toensing, lawyers for Ukrainian oligarch Dmitry Firtash.

According to a Media Matters database, diGenova has appeared on Hannity's show at least 37 times in 2018 and 2019. His partner Toensing has appeared on Hannity's show at least 20 times during the same period.

Additionally, Hannity has hosted conservative writer John Solomon over 100 times in 2018 and 2019. Solomon, now a Fox News contributor, is also a client of Toensing and diGenova, and he coordinated with personal Trump lawyer Rudy Giuliani to inject his Ukraine disinformation into the media.
More importantly, when testifying under oath before the impeachment inquiry, Hannity can explain why Rudy's Ukrainian grifters, Lev Parnas and Igor Fruman, were setting up an interview between him and Ukrainian prosecutor Viktor Shokin in Vienna, where Firtash has been bankrolling this entire influence operation.
While questions in Washington swirl around Shokin's role in this controversy, Giuliani, Parnas, Fruman had specific plans for the former Ukrainian official up until the day of their arrest. According to those four sources, they told others they were headed to Vienna to help with a planned interview the next day: Shokin, they said, was scheduled to do an interview from the Austrian capital with Sean Hannity.

Through a spokesperson, Hannity said that "we never reveal our sources, potential sources, or persons they may or may not request to interview. Sean Hannity takes the first amendment seriously."
He might even be able to explain whether, in Attorney General Barr's visit to Rupert Murdoch's home the night the grifters got arrested trying to flee the country (and so the night before Hannity was supposed to interview Shokin), he tipped off Hannity not to get on any planes?
Sean Hannity is a far more central fact witness on events associated with the impeachment than Biden, Archer, Chalupa, or Ohr. He's one of Trump's most loyal fans, so if there's a defense of the President to be made, surely he's willing to make it … under oath.
And yet, either Republicans aren't willing to risk Hannity's reputation, or Hannity is unwilling to repeat his claims denying involvement under oath.
https://www.emptywheel.net/wp-content/uploads/2019/11/Screen-Shot-2019-11-10-at-2.14.19-PM.png
990
1182
emptywheel
https://www.emptywheel.net/wp-content/uploads/2016/07/Logo-Web.png
emptywheel
2019-11-10 14:34:49
2019-11-11 07:10:12
Why Won't Sean Hannity Defend Trump against Impeachment Under Oath?