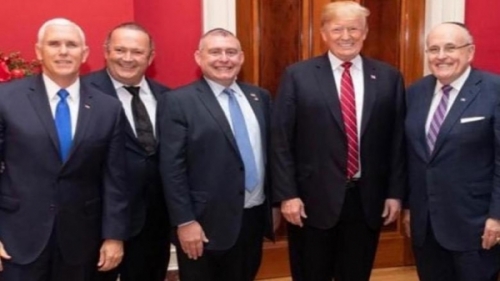 Jim here.
With so much attention focused on the dramatic impeachment hearings this week, it would be easy to overlook the announcement of an interesting set of subpoenas in the ongoing case against Lev Parnas and Igor Fruman. As the New York Times informed us on Wednesday:
Federal prosecutors in Manhattan issued subpoenas in recent weeks to several players in President Trump's fund-raising apparatus as part of an investigation into two associates of Rudolph W. Giuliani who have been charged with violating campaign finance laws, according to people familiar with the investigation.

The subpoenas went to a lobbying firm run by a top fund-raiser for Mr. Trump, Brian Ballard, and to two people who have helped raise money for America First Action, a super PAC created to support the president and allied candidates, the people said.

Mr. Ballard and the America First fund-raisers worked to varying extents with Mr. Giuliani's associates Lev Parnas and Igor Fruman, American citizens who helped Mr. Giuliani wage a pressure campaign on Ukraine that is now at the center of the impeachment inquiry into Mr. Trump.
Let's focus on the Ballard Partners part of the story. Further down in the article:
Mr. Giuliani met Mr. Parnas and Mr. Fruman as they became involved in the Republican major-donor circuit, and the recent activity by prosecutors suggests that they are interested in learning more about how the men gained entree into that world.

Mr. Parnas also developed a relationship through Republican donor politics with Mr. Ballard, whose firm, Ballard Partners, paid Mr. Parnas at least $22,500 for referring business from the Turkish government.

The Turkish government agreed to pay Ballard Partners $1.5 million over a year in May 2017, and renewed its contract for $750,000 a year later, according to lobbying records.
Isn't that interesting? The Times says that Giuliani and the Ukrainian grifters met through meetings of big Republican donors, but doesn't put a date on when they first got together. As you might recall, the curiously transferred funds from Charles Gucciardo on behalf of Parnas' Fraud Guarantee company to Giuliani Partners took place in September and October of 2018. But note that the contract for Ballard Partners that earned Parnas the finders' fee was signed in May of 2017.
This Tampa Bay Times article increases the payoff to $45,000, but puts Parnas in touch with Ballard back in 2016:
Ballard, who was introduced to Parnas at a South Florida Trump fundraiser in 2016, is one of the top lobbyists in Tallahassee and Washington and a prominent fundraiser for Trump. Ballard Partners paid Parnas a total of $45,000 for the referral of an international client, which Taylor now identifies as the Turkish government.
It's hard to see how Parnas and Fruman, as Ukrainian "businessmen" would have the contacts to refer the Turkish government to one of the most powerful lobbying firms in the world. It seems much more likely that the referral really came from Giuliani, who had been representing the Turkish government while he was at Greenberg Traurig:
Since 2014, Greenberg Traurig has registered as an agent of the Turkish government, and its former partner Rudy Giuliani represented gold trader Reza Zarrab, who spearheaded the Halkbank conspiracy. The firm insisted that it maintained an "ethical wall" between its legal representation and its lobbying, but critics found it difficult to discern a distinction between Giuliani's representation of Zarrab and political advocacy.

Never appearing in court, Giuliani shuttled between Washington and Turkey's capital of Ankara on Zarrab's behalf. He disclosed his meetings with Erdoğan and top U.S. and Turkish diplomats in court filings. Giuliani's Oval Office meeting with Trump to try to trade Zarrab for Brunson would come to light two years later, in news reports broken by Bloomberg and matched by The New York Times and Washington Post.
Giuliani officially severed his ties with Greenberg Traurig in May of 2018 to work solely for Trump, but actually began working for Trump a month earlier. So if Giuliani did hand Parnas the referral of the Turkish government to Ballard Partners, we have to wonder if he was already suspecting in the fall of 2017 that he would be leaving Greenberg Traurig to head to work for Trump.
But did Giuliani know Parnas and Fruman that long ago? This New Yorker article, based on interviews with Parnas and his son Aaron, says yes:
"I was really never heavy into politics, never really contributed," he said. Then, in June, 2015, Parnas's teen-age son, Aaron, called his father. "Dad, I think one of your friends is running for President," he joked. Aaron told me that, after Trump announced his candidacy, he called the Trump campaign to get passes to go with his father to a Trump rally in Florida.

Parnas soon became a regular at Trump's rallies and other gatherings. "I started donating. We started to help raise money," he said. Gradually, Parnas said that he got to know other Trump donors, including Tommy Hicks, Jr., a private-equity investor in Texas who is close to Donald Trump, Jr. (Hicks has since become the co-chair of the Republican National Committee.)"We became one big family," Parnas said. "You got to understand, he didn't have a real campaign, a traditional campaign. It was make-it-up, you know. Like him or not, you understand what it is. It was more, like, you know, we'd bump into each other constantly because it was all the same people, there were not that many of us." Parnas told me that he "bumped into" Trump "plenty of times" at events in New York over the years, but that they didn't get to know each other until the 2016 campaign.
The article continues:
On Election Night, Parnas, along with other donors, including the Blackwater founder Erik Prince, were invited to attend a gathering with Trump and his family. "We were all there," he recalled. "I will never forget that."
Wow, that's interesting. But just a bit farther along, we come to Giuliani:
Parnas said that he grew closer to Giuliani after the election. "We were good friends, he's also my counsel," he said. "We were looking to do business together." When Giuliani wanted to gather information in Ukraine to counter the findings of the special counsel Robert Mueller's Russia investigation, Parnas volunteered to help. "Because of my Ukrainian background and my contacts there, I became like Rudy's assistant, his investigator," he said. "I don't do anything on my own. I don't lobby people. I go get information. I set up a meeting. I make sure that the call went right. I make sure the translation is done right." Parnas echoed the claims of Trump and Giuliani that the Democrats had worked with Ukrainians to dig up dirt on Paul Manafort, Trump's former campaign manager, ahead of the 2016 vote, seeming to imply that what he and Giuliani were doing now was little different.
Note this timeline: Rod Rosenstein took over the Russia investigation on April 26, 2017. James Comey was fired on May 9. This article places the signing of the contract Ballard Partners and Turkey on May 11, 2017. Robert Mueller was appointed on May 17.  We can't help wondering if Giuliani handed Parnas the Ballard Partners referral so that the $45,000 finders' fee would act as payment for the work in Ukraine that Trump's defense would require. Also note that reports state Parnas didn't get his payoff from Ballard Partners until 2018, so we are also left to wonder if, in typical Rudy fashion, the finders' fee was arranged long after the client was found.
https://www.emptywheel.net/wp-content/uploads/2019/11/191010154229-trump-giuliani-associates-file-exlarge-169-e1574459435621.jpg
281
500
Jim White
https://www.emptywheel.net/wp-content/uploads/2016/07/Logo-Web.png
Jim White
2019-11-22 16:24:02
2019-11-22 16:50:54
Did Giuliani Give Parnas The Referral Of Turkey To Ballard Partners As Payment For Trump Defense Work In Ukraine?