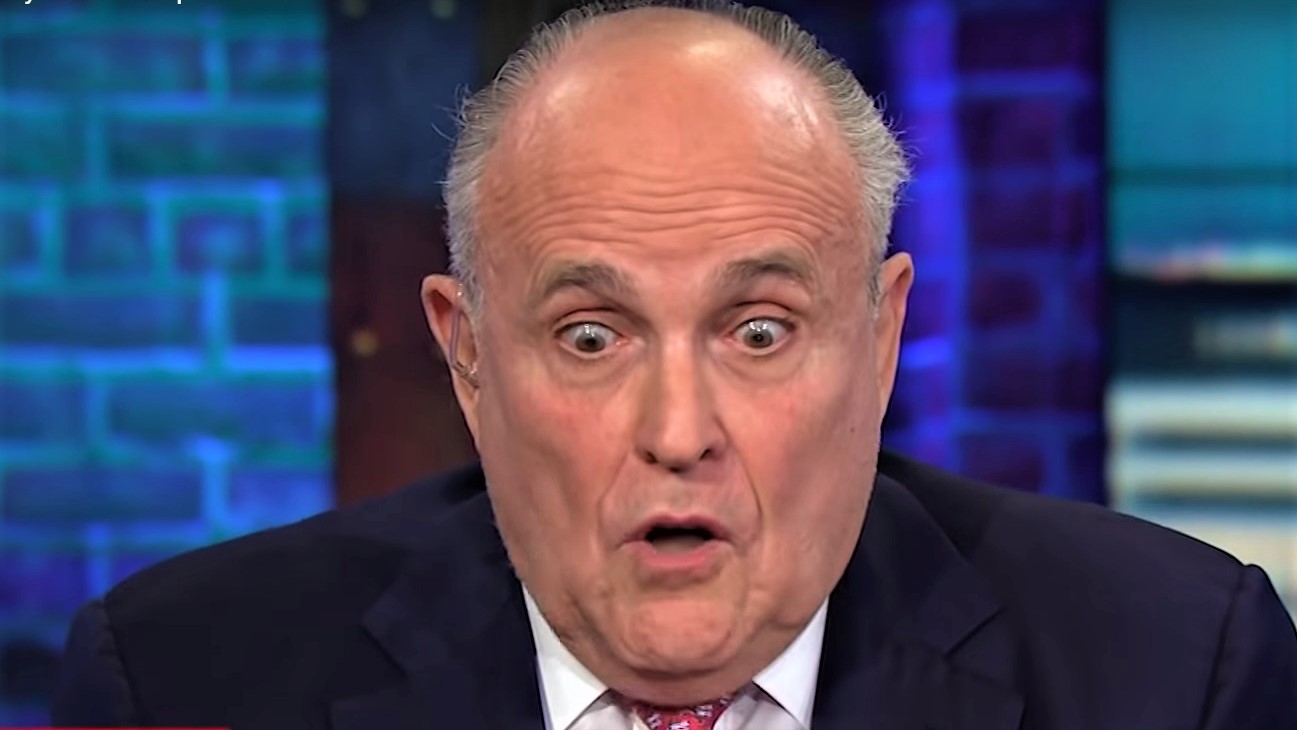 Just as the House Judiciary Committee impeachment hearing was getting underway today, Inside Defense published yet another debunking of one of the central Republican defenses of Trump's actions regarding Ukraine by pointing out that the Defense Department, back in May of this year, certified that Ukraine had made sufficient progress in fighting corruption so that the defense assistance funds designated for Ukraine could be released. Once they later learned that the White House had blocked the funding, they never got a good explanation:
The senior Pentagon official who certified in May that Ukraine should receive $250 million in U.S. military aid because it had made sufficient progress combating corruption said today he never got a "very clear explanation" from the White House as to why the funds were delayed over the summer.

"In the weeks after signing the certification I did become aware that the aid had been held," John Rood, the under secretary of defense for policy, told reporters this morning.

"I never received a very clear explanation other than there were concerns about corruption in Ukraine," he continued.
Rood was the person in charge of determining whether Ukraine had made sufficient progress:
Rood said he learned of the White House hold on the aid, which was part of a larger $400 million assistance package, "significantly after May," when he certified that Ukraine had made sufficient anti-corruption progress to receive the aid.

"It was a requirement under the law that we certify that and I was the person that certified it," he said.
Despite the fact that this has been widely known for months, Republicans continued to claim that Trump was very concerned about corruption in Ukraine and that was the only reason he withheld the aid.
And yet, also around the time the hearing started, we also learned of yet another foreign trip for Rudy Giuliani in his world tour aimed at protecting Trump against impeachment. As usual, Marcy was way ahead of this move, asking yesterday if Yuriy Lutsenko, Viktor Shokin, and Konstantin Kulyk were the three former Ukrainian prosecutors who had provided statements to John Durham in Bill Barr's "investigations" aimed at protecting Trump. In what can only be seen as confirmation of her suggestion, the New York Times told us this morning that Rudy met Lutsenko yesterday in Budapest and was in Kiev today to meet with Shokin and Kulyk:
Even as Democrats intensified their scrutiny this week of Rudolph W. Giuliani's role in the pressure campaign against the Ukrainian government that is at the heart of the impeachment inquiry, Mr. Giuliani has been in Europe continuing his efforts to shift the focus to purported wrongdoing by President Trump's political rivals.

Mr. Giuliani, the president's personal lawyer, met in Budapest on Tuesday with a former Ukrainian prosecutor, Yuriy Lutsenko, who has become a key figure in the impeachment inquiry. He then traveled to Kyiv on Wednesday seeking to meet with other former Ukrainian prosecutors whose claims have been embraced by Republicans, including Viktor Shokin and Kostiantyn H. Kulyk, according to people familiar with the effort.
Even Ken Vogel, who had the lead byline on this story, has to admit that these former prosecutors are corrupt:
The former prosecutors, who have faced allegations of corruption, all played some role in promoting claims about former Vice President Joseph R. Biden Jr., a former United States ambassador to Ukraine and Ukrainians who disseminated damaging information about Mr. Trump's campaign chairman, Paul Manafort, in 2016.
Isn't that interesting? We are being asked to believe that Trump withheld aid Ukraine desperately needed in its war with Russia because of his concerns about corruption. And yet, as Team Trump is doing its best to protect him, they feel that his best defense lies with some of the most corrupt of those Ukrainian officials who have been removed from office. They have provided statements that Bill Barr is likely depending on in his investigation and we learned in today's Times article that Rudy was also traveling with a team from a wingnut media organization to film a "documentary" providing a "Republican alternative to the impeachment hearings".
Let's take a look at just how corrupt these three OAN stars are. First, Lutsenko. USA Today reported on a criminal investigation of him on October 1:
Ukraine's State Bureau of Investigations (SBI) opened criminal proceedings against Yuriy Lutsenko over his possible abuse of power, the government agency said.

It said that Lutsenko and other former lawmakers may have conspired to "provide cover" for illegal gambling businesses in Ukraine. Lutsenko disputes the allegations.
And if that's not enough, it appears that Lutsenko was also involved in the ouster of former Ambassador Marie Yovanovitch:
The unnamed Ukrainian official referenced in a federal indictment as directing a plot to oust the then-U.S. ambassador is Ukraine's former chief prosecutor Yuriy Lutsenko, according to a U.S. official familiar with the events.

According to the source, Lutsenko is the Ukrainian official who prosecutors say urged two associates of Rudy Giuliani to push for the removal of Marie Yovanovitch, the former U.S. ambassador to Ukraine who was forced out in May.

The associates, Lev Parnas and Igor Fruman, were arrested Wednesday night as they prepared to board a one-way flight out of the country at Dulles Airport near Washington, D.C.
So Lutsenko helped the efforts to oust a very important ambassador who was doing good work and was so corrupt in general that he not only got fired but had a criminal case opened against him, and yet he's one of the prime targets of Team Trump when they are trying to mount their final defense against impeachment.
But Shokin is even more corrupt. Recall that the false Trump claim is that Shokin was fired for investigating Hunter Biden. The truth is pretty much the opposite:
At the heart of Congress' probe into the president's actions is his claim that former Vice President and 2020 Democratic frontrunner Joe Biden strong-armed the Ukrainian government to fire its top prosecutor in order to thwart an investigation into a company tied to his son, Hunter Biden.

But sources ranging from former Obama administration officials to an anti-corruption advocate in Ukraine say the official, Viktor Shokin, was ousted for the opposite reason Trump and his allies claim.

It wasn't because Shokin was investigating a natural gas company tied to Biden's son; it was because Shokin wasn't pursuing corruption among the country's politicians, according to a Ukrainian official and four former American officials who specialized in Ukraine and Europe.

Shokin's inaction prompted international calls for his ouster and ultimately resulted in his removal by Ukraine's parliament.
It comes as no surprise then, that Shokin's "depostion" was central to John Solomon's propaganda campaign in favor of Trump.
But what about Kulyk? It turns out that Kulyk is the first person mentioned in a Washington Post story that ran on Sunday informing us on the real progress Zelensky is making against corruption and that this progress comes at the risk of angering Trump:
By the end of this month, more than 500 Ukrainian prosecutors will be out of their jobs as part of sweeping professional reviews under Ukrainian President Volodymyr Zelensky. Among the prosecutors heading for the exit: a key Kyiv contact for Rudolph W. Giuliani.

/snip/

Now that Zelensky's reform push is underway, some of those Giuliani-linked officials are in the crosshairs.

A prosecutor named Kostiantyn H. Kulyk is one of the first.

Zelensky's new prosecutor general, Ruslan Ryaboshapka — "100 percent my person," Zelensky told Trump in July — last week gave a dismissal notice to Kulyk, a key player in the effort to provide Giuliani with political ammunition of dubious accuracy. Kulyk denies meeting Giuliani, but former associates say he prepared a seven-page dossier that his boss later passed along to the former New York mayor. Kulyk did not respond to a request for comment.
And so Team Trump has decided that in order to protect Trump in relation to actions that they claimed were part of a fight against corruption in Ukraine, corrupt Ukrainians are needed in order to produce a narrative that will exonerate him. The Post summed it up well:
Trump's views of Ukraine — and his demands to investigate the Biden family — were largely shaped by Giuliani, his personal lawyer. The theories and opinions that were passed to Giuliani came from some of the very officials whom Ukrainian activists claim are prime corruption culprits in their own system.
By relying on these corrupt Ukrainians to support their arguments, Trump, Giuliani and Barr are proving that under the Trump Administration, the US courts corruption in order to advance the personal and political future of its President, at great risk to the strategic interests of the US.
https://www.emptywheel.net/wp-content/uploads/2019/12/rudy-bug-eyes-3-2.jpg
730
1297
Jim White
https://www.emptywheel.net/wp-content/uploads/2016/07/Logo-Web.png
Jim White
2019-12-04 22:25:03
2019-12-04 22:25:03
Trump HJC Defenders Claim Ukraine Aid Withheld To Fight Corruption While Rudy Rounds Up Fired Corrupt Ukrainians To Help Trump