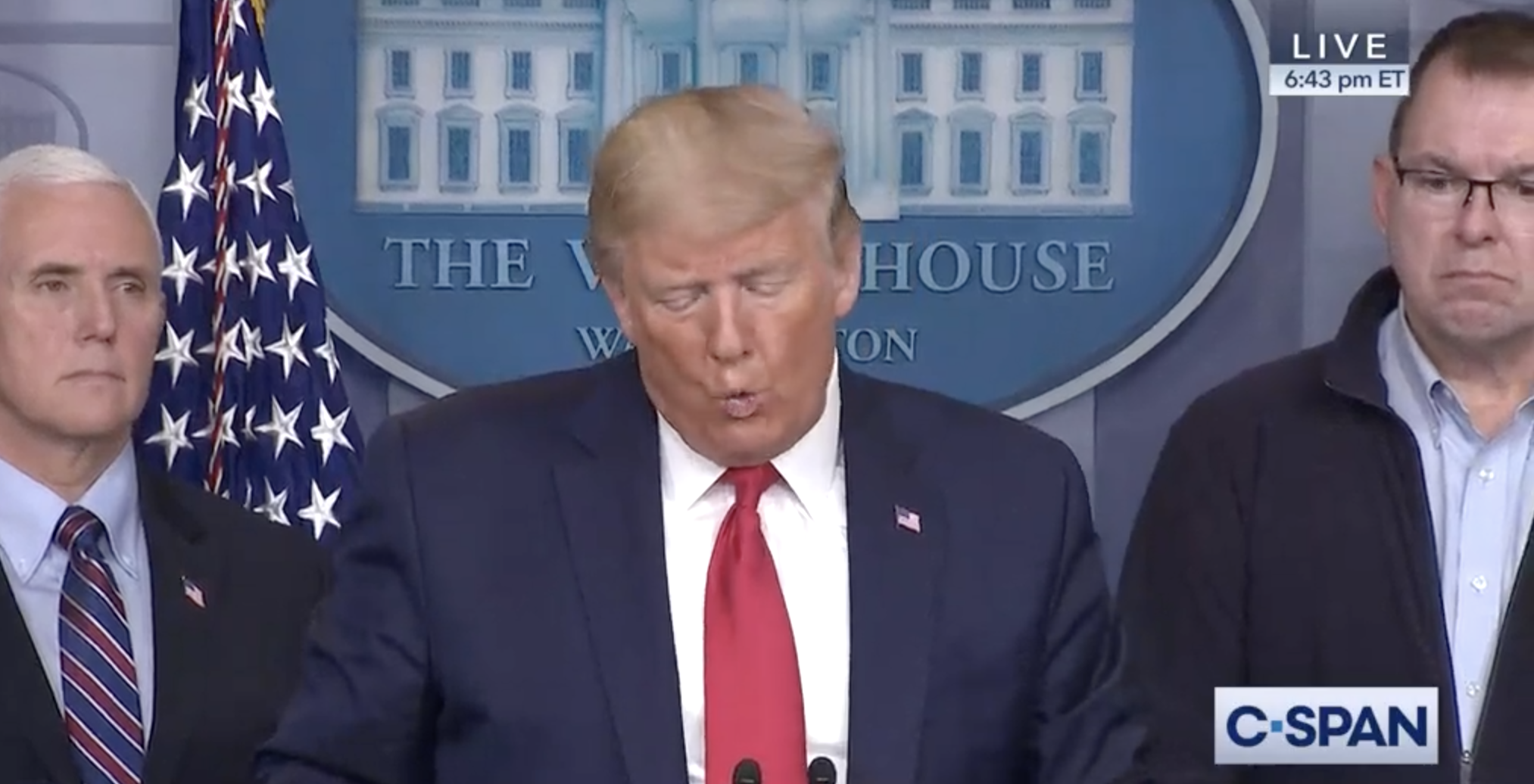 Yesterday, Trump sent remarkably mixed signals in his press conference. He was asked whether he was going to use the Defense Production Act to address the shortage in key medical supplies. He replied by suggesting that using DPA to push manufacturers to prioritize urgently needed supplies amounts to nationalization.
We're a country not based on nationalizing our business. Call a person over in Venezuela, ask them how did nationalization of their businesses work out? Not too well. The concept of nationalizing our business is not a good concept.
He went on to suggest his Administration doesn't know who could fill urgent needs, which sounds like a confession that he shouldn't have fired the pandemic experts.
Later however, Trump treated the socialization of big business losses — of his big business losses — as an acceptable step to save great businesses. After Seung Min Kim asked whether Trump would commit that none of the funds from a $500 billion bailout of big businesses would go to his company, he complained that he hasn't been thanked for things like taking no salary. He ultimately said he would see, the kind of deferral he often uses to avoid saying yes.
He returned to his complaints later in the presser. In response to a question about whether he had sold stock, he first lied, and claimed that he didn't own any. He rambled for minutes complaining about being booed. Ultimately, however, he complained about how much it cost rich people to run for office.
A big part of the reason the economy had to be shut down is because Trump did not respond in January when he was warned of the pandemic. And now he's treating taking steps to provide medical workers the equipment they need as some kind of socialism but bailing himself out as a necessity.
https://www.emptywheel.net/wp-content/uploads/2020/03/Screen-Shot-2020-03-23-at-1.24.56-PM.png
1036
2026
emptywheel
https://www.emptywheel.net/wp-content/uploads/2016/07/Logo-Web.png
emptywheel
2020-03-23 13:59:36
2020-03-23 15:43:40
Trump Considers Getting Hospitals Ventilators Nationalization But a Bailout for Him and His Rich Buddies Necessity