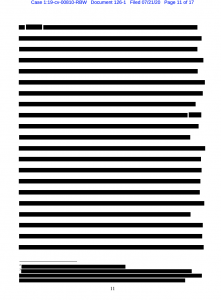 DOJ just filed their answers to Judge Reggie Walton's questions in the EPIC/BuzzFeed FOIA for the Mueller Report. While those are entirely sealed, a new declaration from Vanessa Brinkmann is available, albeit in heavily redacted form.
One thing that's not redacted, however, is the list of pending prosecutions pertaining to which information remains redacted. One of those is US v. Assange.
Information that is withheld pursuant to (b)(7)(A) and included in Exhibit A pertains to a number of pending law enforcement proceedings, including [US v. Internet] Research Agency LLC (Case No. 1:18-cr-32 (D.D.C.)), United States v. Khusyaynova (Case No. 1:18-mj-464 (E.D. Va.)), United States v. Netyksho (Case No. 1:18-cr-215 (D.D.C.)), United States v. Morenets (Case No. 2:18-cr-00263 (W.D. Pa.)), United States v. Assange (Case No. 1:18-cr-00111-CMH (E.D. Va.)), United States v. Kilimnik (Case No. 1:17-cr-201-3 (D.D.C.)), or ongoing law enforcement investigations conducted by the Department and the FBI.1
The first two of these are prosecutions of Yevgeniy Prigozhin's trolls, the third and fourth are GRU hackers (the second of those is the WADA hack).
Regarding Assange, it's possible that this is as simple as a description of how the FBI accessed communications coming into or going out of the Ecuadorian Embassy (one example of this is footnote 262). Or it could mean redacted sections on charging decisions implicate not just Roger Stone, but also Assange. The Stone warrants released earlier this spring described an ongoing 951 (foreign agent)/conspiracy investigation that also necessitated ongoing redactions.
Seven pages of the filing (out of 17) pertain to ongoing investigations, almost all of them entirely redacted.