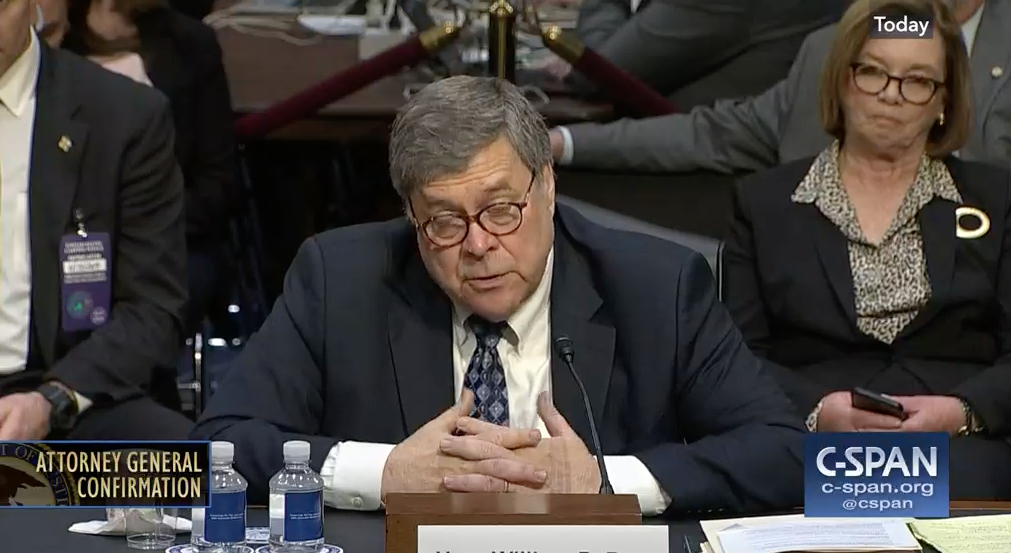 Unless he comes up with some new excuse, tomorrow Billy Barr will finally show up for an oversight hearing in the House Judiciary Committee.
There are a number of sets of questions that commentators have suggested for the hearing (a strategic set of four topics that will show how Barr is hurting the US, an updated set from JustSecurity, some questions about Geoffrey Berman's firing).
I could come up with similar lists. They'd be long and — by the time anyone executed them competently on the Democratic side — the big media outlets would have already filed their story on the hearing.
One thing that should be included, however, is the letter that Sidney Powell sent Barr and Jeffrey Rosen in June 2019 and Bill Barr's actions to deliver on her demands in the subsequent year, actions that DOJ itself admits would do irreparable harm if DOJ had to explain.
The letter was effectively a road map of demands, many of them based off hoaxes, almost all of them unrelated to Flynn's prosecution or false. It later became the Brady demand that Judge Emmet Sullivan rejected in a meticulous opinion last December. In it, Powell demanded that DOJ conduct a review of the prosecution and then dismiss the prosecution.
At the end of this internal review, we believe there will be ample justification for the Department to follow the precedent of the Ted Stevens case and move to dismiss the prosecution in the interest of justice — whether it be we ink a simple joint motion or sua sponte by the Department.
NYT wrote about this letter in June, calling it "little noticed" but predictably not crediting me, who did noticed it and wrote about it repeatedly.
HJC should raise this letter with Billy Barr for several reasons. First, little in the letter turned out to be true. Indeed, DOJ has asserted in court filings that even where documents Powell asked for existed, none of it was Brady material (and in fact, in spite of Timothy Shea's claim that these materials were new, that was false, meaning DOJ has no justification for flip-flopping on its call for prison time for Flynn from earlier this year). Powell should have gotten none of it, and yet Barr invented an unprecedented process to give it to her and then use it to self-sabotage the case.
More importantly, the way in which Barr has rolled out the release of these documents has served, in part, to hide the shoddiness of Timothy Shea's motion to dismiss. Based off a misrepresentation of Bill Priestap's notes, Shea pretended that the interview with Flynn focused exclusively on the Logan Act. That wasn't even an accurate reading of Priestap's own notes. Since then, DOJ has released several more documents that make it clear FBI's focus was on whether Flynn was a foreign agent (and also provide more evidence that the Flynn 302s track the Agents' description of the interview), documents that undermine their own motion to dismiss. They've either withheld a Bill Priestap 302 explaining what happened or Powell has decided it doesn't help her. And there are more records that they are sitting on that undermine the claims in their motion to dismiss.
Importantly, while DOJ was making claims that Flynn's lies were not material, John Ratcliffe was releasing documents that explained why they were.  Of particular note, on February 14, 2017 — weeks after all the meetings DOJ has been focused on, Peter Strzok, in an annotation that made it clear he did not have it in for Trump or his flunkies, also made it clear that FBI didn't have any phone records yet.
We have very few call logs. NSLs have been issued for Manafort, Page, and Flynn, many of which have not yet been returned.
On February 25, notes from Tashina Gauhar make clear, Strzok and Joe Pientka believed Flynn didn't believe he had been lying. They also judged — not having phone records or much else yet — that they did not think he was an agent, but they needed to verify that.

That got translated into a later draft summary into a conclusion that Flynn wasn't a foreign agent.
But as FBI would get first call logs (which would reveal Flynn had also lied about being in contact with Mar-a-Lag0) and then his texts (which would make it clear Flynn knew well about the sanctions Obama had imposed), that would dramatically change the import of his lies. By the time he started cooperating, Flynn made it clear that he and KT McFarland had immediately set about trying to cover up the response Sergey Kislyak gave to Flynn's request.
After the briefing, Flynn and McFarland spoke over the phone. 1258 Flynn reported on the substance of his call with Kislyak, including their discussion of the sanctions. 1259 According to McFarland, Flynn mentioned that the Russian response to the sanctions was not going to be escalatory because they wanted a good relationship with the incoming Administration.1260 McFarland also gave Flynn a summary of her recent briefing with President-Elect Trump. 1261

The next day, December 30, 2016, Russian Foreign Minister Sergey Lavrov remarked that Russia would respond in kind to the sanctions. 1262 Putin superseded that comment two hours later, releasing a statement that Russia would not take retaliatory measures in response to the sanctions at that time. 1263 Hours later President-Elect Trump tweeted, "Great move on delay (by V. Putin)." 1264 Shortly thereafter, Flynn sent a text message to McFarland summarizing his call with Kislyak from the day before, which she emailed to Kushner, Bannon, Priebus, and other Transition Team members. 1265 The text message and email did not include sanctions as one of the topics discussed with Kislyak. 1266 Flynn told the Office that he did not document his discussion of sanctions because it could be perceived as getting in the way of the Obama Administration's foreign policy.1267 [my emphasis]
KT McFarland's 302s would show she told the same untruths that Flynn had told, even after he got fired for telling them. More recently, it became clear that the White House scripted Bannon to deny discussing sanctions as well.
Meanwhile, the government is still withholding the first (known) post-election transcript between Flynn and Kislyak, where he first started this game of deal-making with the country that just attacked us.
All these details may not amount to Flynn acting as an Agent of Russia.
Rather, they amount to a concerted cover-up of the White House role in this sanction discussion. That's a topic that a sentencing memorandum approved by top people in Bill Barr's DOJ argued was significant and material, because a concerted effort to undermine sanctions on Russia, "could have been evidence of links or coordination between the Trump Campaign and Russia."
The defendant's false statements to the FBI were significant. When it interviewed the defendant, the FBI did not know the totality of what had occurred between the defendant and the Russians. Any effort to undermine the recently imposed sanctions, which were enacted to punish the Russian government for interfering in the 2016 election, could have been evidence of links or coordination between the Trump Campaign and Russia.
The concerted effort to hide the extensive coordination on sanctions — involving at least Flynn, McFarland, and Bannon — was designed hide whether the Trump response to Obama's sanctions amounted to the kind of quid pro quo Mueller was appointed to investigate. A question on sanctions relief is the single one that Trump totally blew off in his responses to Mueller.
DOJ wants to claim that Flynn's conversations with Sergey Kislyak were totally normal. But not only are they still hiding at least one of them, but they were utterly material to the Mueller investigation.
But then there's the final reason why HJC should question Barr about the letter from Sidney Powell that he apparently delivered on a year after she demanded: DOJ itself admitted that explaining DOJ's actions here would do irreparable harm.
The more interesting argument came from Wall. He argued, repeatedly, that DOJ will be irreparably harmed if Sullivan is permitted to hold a hearing on DOJ's motion to dismiss. In particular, he seemed horrified that Sullivan might require sworn declarations of affidavits.

As Beth Wilkinson, arguing for Sullivan, mentioned, neither Sullivan nor Amicus John Gleeson has called for such a thing. Both are simply moving towards a hearing scheduled for July 16. Wilkinson also noted that District courts hold such hearings all the time. (And they predictably will have to in another case where DOJ has moved to end a prosecution recently, in which — unlike this case — there appears to have been prosecutorial misconduct, Ali Sadr Hashemi Nejad, which I'll return to).

Wall is literally arguing that DOJ will be permanently damaged if it has to show up and answer for its actions in this case (in particular, to explain why the prosecutors in this case didn't sign the motion to dismiss).

That Wall argued so forcibly as to the injury that DOJ would suffer if it had to show up and defend its motion to dismiss is all the crazier given that they didn't file the petition. The only harm that matters here procedurally is any harm to Flynn, not DOJ, and Powell really made no such case.
Indeed, that's the reason why the DC Circuit granted mandamus in the Flynn case — not because of any injury that Flynn might face from having Sullivan scrutinize the case, but because having to answer for what Barr did here would — simply having to show up to the kind of hearing that DOJ shows up to every day and answer questions under oath — would do grave damage to DOJ.
HJC should take DOJ at its word. DOJ has confessed their actions can't withstand the least amount of scrutiny. HJC should demand to know why.
https://www.emptywheel.net/wp-content/uploads/2019/03/Screen-Shot-2019-03-26-at-2.35.58-PM.png
553
1011
emptywheel
https://www.emptywheel.net/wp-content/uploads/2016/07/Logo-Web.png
emptywheel
2020-07-27 13:27:55
2020-07-27 13:42:00
HJC Should Ask Bill Barr Why It Would Do Irreparable Harm if He Had to Explain His Actions in the Flynn Case