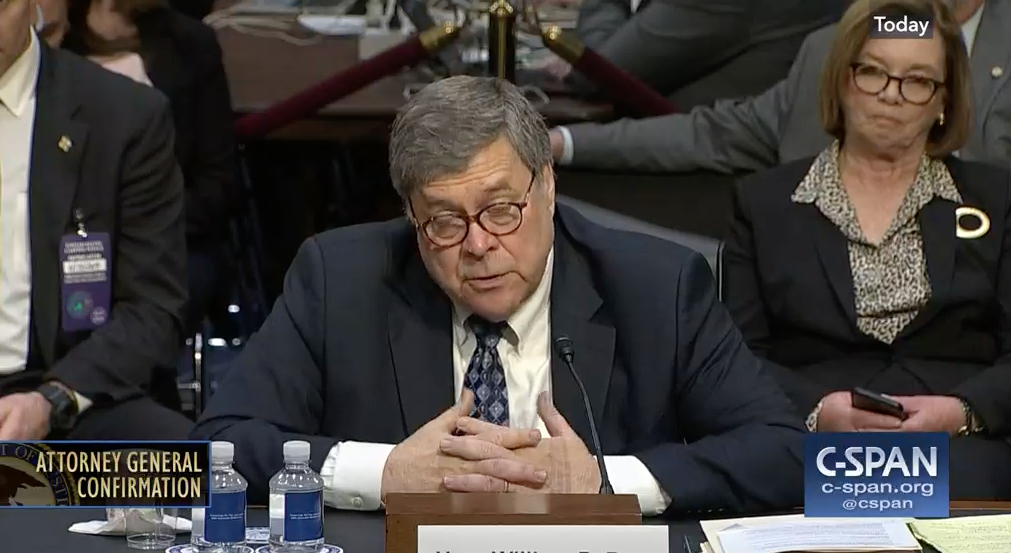 Yesterday, Billy Barr had his DOJ intervene in E Jean Carroll's defamation lawsuit against Donald Trump.
In a filing submitted under the name of Director of DOJ's Torts Branch, James Touhey, Jr., DOJ claimed that when President Trump accused Carroll last year of making up the rape to sell books and help Democrats, accused other men of rape, and called Carroll unattractive, he was acting in his official capacity as President of the United States.
6. James G. Touhey, Jr., the Director of the Torts Branch within the Civil Division of the Department of Justice, certified that the defendant employee,President Trump, was acting within the scope of his office or employment at the time of the incident out of which the claim arose. The claim asserts defamation based on a written statement issued to the press and two statements the President made in interviews in June 2019 in which the President vehemently denied accusations made in Plaintiff's then-forthcoming book. The President explained that these accusations were false and that the incident she alleged never happened. Acting pursuant to 28 C.F.R. § 15.4(a),the Attorney General's delegate certified that President Trump was acting within the scope of his office as President of the United States when he publicly denied as false the allegations made by Plaintiff.
As with other corrupt interventions by Barr's DOJ, no SDNY attorney signed the filing.
If the move to replace Donald Trump with the US government as defendant succeeds, the entire suit will be dismissed, because the US government cannot be sued for defamation.
The move comes one month after the judge in the case, Verna Saunders, ruled Trump could not delay a deposition and DNA test in the lawsuit.
As I contemplated Barr's decision to claim that accusing a credible alleged rape victim was all part of Trump's job as President, I thought briefly about what it says of Bill Barr's faith, that he would make it official DOJ policy to condone attacks on claimed rape victims like this.
But then I remembered that Bill Barr is of the generation of Catholics where that is the job of the official bureaucracy, to throw all the institutional weight of the Church into protecting alleged rapists and suppressing credible accusations, even to the point of attacking the victims.
And so Bill Barr will further degrade an institution that's supposed to guard the interests of the less powerful in society, and instead use the power of the institution to corruptly hide how depraved those leading the institution really are.
https://www.emptywheel.net/wp-content/uploads/2019/03/Screen-Shot-2019-03-26-at-2.35.58-PM.png
553
1011
emptywheel
https://www.emptywheel.net/wp-content/uploads/2016/07/Logo-Web.png
emptywheel
2020-09-09 04:48:12
2020-09-09 04:48:12
Devout Catholic Bill Barr Stakes the Credibility of His Institution on Shielding an Accused Rapist