As I wrote back in April, the available evidence indicates that Roger Stone reached out to WikiLeaks lawyer Margaret Kunstler just seven days after the election. Randy Credico testified in Stone's trial that "some time" after the election, Stone reached out and said he needed to talk to Kunstler about a pardon.
A. Well, sometime after the election, he wanted me to contact Mrs. Kunstler. He called me up and said that he had spoken to Judge Napolitano about getting Julian Assange a pardon and needed to talk to Mrs. Kunstler about it. So I said, Okay. And I sat on it. And I told her — I told her — she didn't act on it. And then, eventually, she did, and they had a conversation.
A warrant affidavit released in April reveals that on November 15, 2016, Stone texted Kunstler with a link to use to download Signal. Kunstler responded,  saying she would call Stone.
Additionally, text messages recovered from Stone's iCloud account revealed that on or about November 15, 2016, Stone sent an attorney with the ability to contact Julian Assange a link to download the Signal application. 15 Approximately fifteen minutes after sending the link, Stone texted the attorney, "I'm on signal just dial my number." The attorney responded, "I'll call you."

15 This attorney was a close friend of Credico's and was the same friend Credico emailed on or about September 20, 2016 to pass along Stone's request to Assange for emails connected to the allegations against then-candidate Clinton related to her service as Secretary of State.
These stories are somewhat inconsistent (when Credico first explained the timing of this to me, he said Stone's call happened before the end of 2016). Credico says that first he "sat on it." And then, after he told Kunstler that Stone wanted to talk to her, "she didn't act on it." Only after Credico sat on it for some time and Kunstler also didn't act immediately, "eventually, she did" act on it.
There's not a whole lot of time for Credico to sit on a Stone request and Kunstler to not act on it after Credico passed it on in the seven day span between the time Donald Trump got elected and this affidavit says Stone and Kunstler first spoke.
One way to explain the discrepancy, though, is if Roger Stone called Randy Credico the day after the election to start talking about a pardon. That'd leave time for Credico to "sit on it," and Kunstler to not act on it before, "eventually, she did."
Of course, that would mean that on the same day that the WikiLeaks account DMed Roger Stone (having chastised him three weeks earlier for reaching out), and said, "Happy? We are now more free to communicate," Stone called (or texted) Credico and said he wanted to approach Margaret Kunstler about a pardon. In any case, it had to have happened shortly thereafter.
It would mean that hours after Trump won the election, with help from Julian Assange, the WikiLeaks Twitter account wrote Stone and said they were more free to communicate, which would mean (if this indeed happened the same day), Stone immediately reached out to Credico, saying he wanted to talk to Kunstler about a pardon.
Randy Credico and I just got into a bit of a Twitter spat because I quoted something else he said at Stone's trial. That led me to ask him for more details about this pardon dangle, the first (known) one. After Credico said he did not recant on his testimony and said he had nothing to hide, he then dodged and dodged and dodged, refusing to answer either of two questions: 1) when Stone first called him or 2) whether it was on November 9.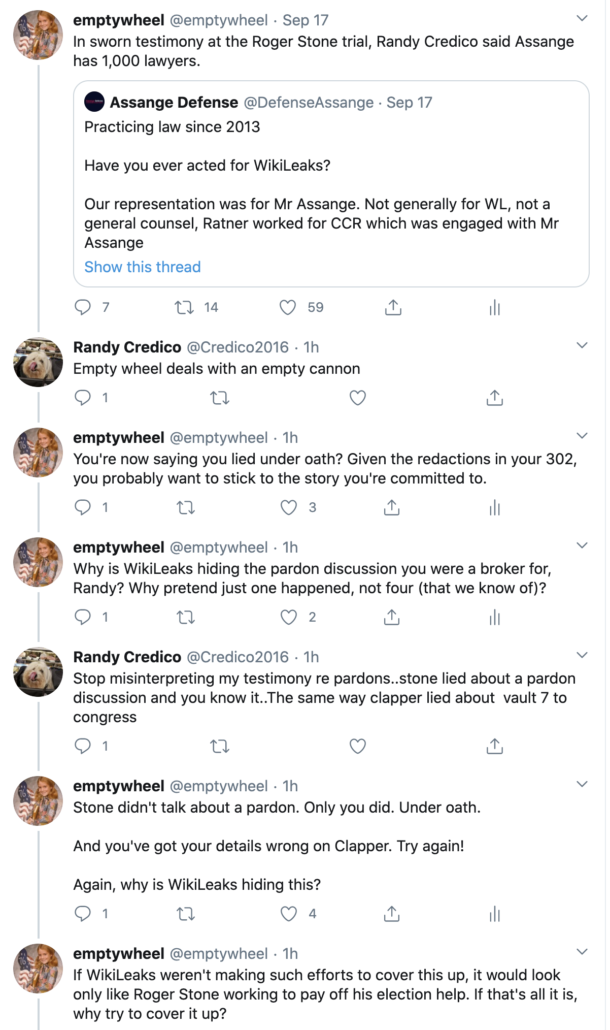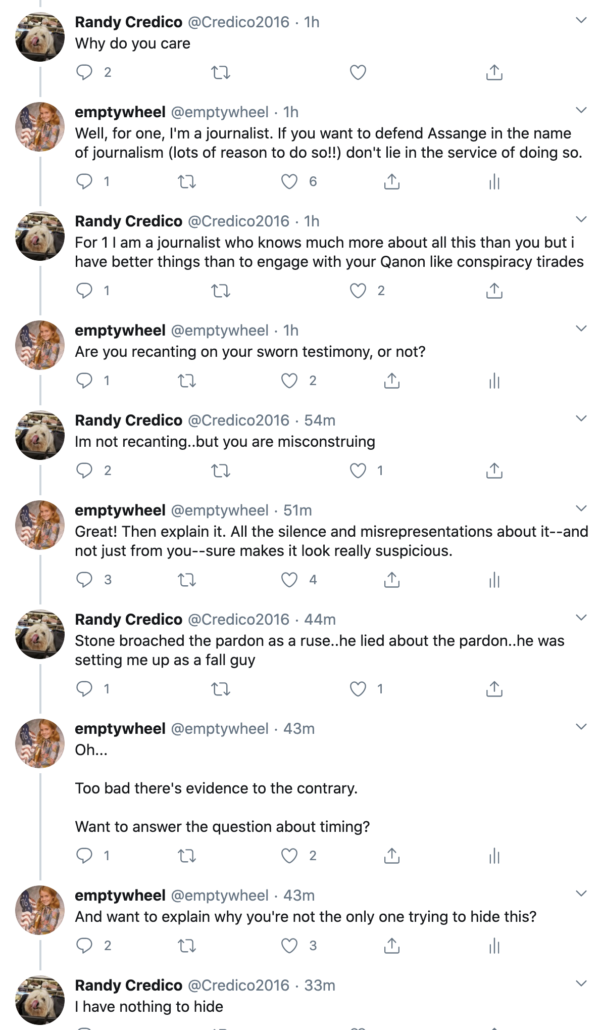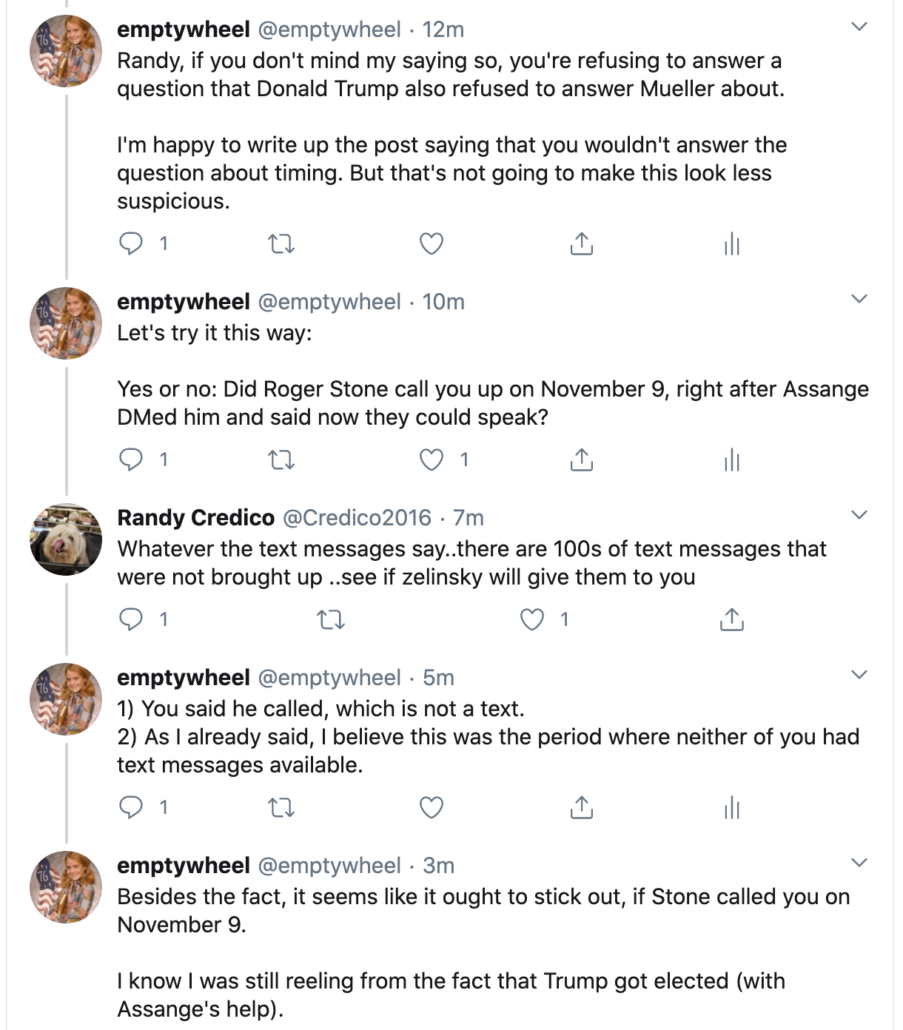 So in spite of my persistence, Randy Credico refused to answer basic questions about something that Trump also refused to answer about–pardon dangles during the transition period (though Trump also professed memory failure going back into the election).
Whatever date Stone actually called Credico, by all appearances Julian Assange gave the President's rat-fucker a green light to reach out and Stone immediately set about pursuing a pardon for Assange.
And WikiLeaks would like to distract you with the pardon dangle from the suspected Russian asset, instead.
Trump's rat-fucker started paying off Assange's election assistance immediately after the election, and Donald Trump won't deny that that started before votes were even cast.