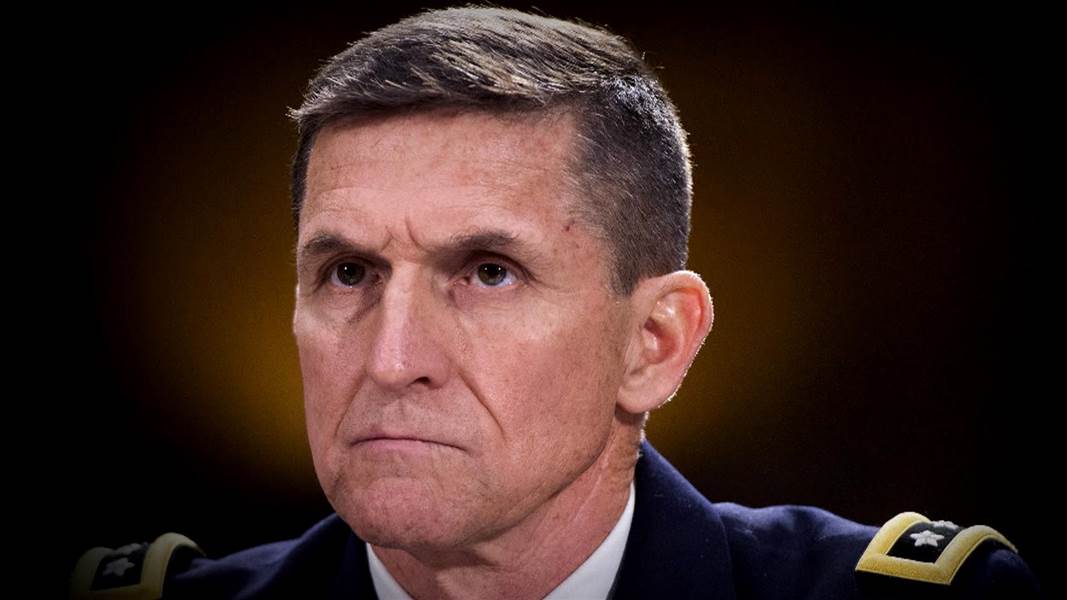 On a Key Issue in Mike Flynn's Case — which FBI Agent to Believe — DOJ Argued against DOJ
The epic five hour hearing in the Mike Flynn case just wrapped up.
The most notable events, one which may utterly sway Judge Sullivan's opinion, were two details that would give Sullivan reason to say this is the exceptional case where he should not grant the motion to dismiss.
The first was Sidney Powell's admission that she has spoken to the President about this case, and also spoken with Trump's campaign lawyer, Jenna Ellis, about it, the latter apparently more than once. Powell tried to claim Executive Privilege for her conversation(s) with the President about the case, until Sullivan pointed out the sheer absurdity of that. Powell was never asked why she was speaking to a lawyer, Ellis, whose job it is to make sure the President doesn't break any campaign finance laws about this case. Still, those admissions, handled with all the leaden aplomb that Powell exemplifies, will provide Sullivan ample basis (on top of Trump's tweets and everything else) to prove that this was all politicized by the President.
The other detail that might really sway Sullivan was the judge's mention of Aitan Goelman's letter informing Judge Sullivan that someone — and Goelman did not speculate on who might have done this — altered the notes of his client. Sullivan said he was "floored" when he read the letter.  Later on, Powell accused Strzok of being the dirtiest FBI agent of all time. Some other things make me wonder — though this would make the logistics rather interesting — whether Powell was the one who altered the notes. In any case, Sullivan ordered that someone authenticate the filings submitted to the court.
Judge Sullivan was already bugged by the letter Sidney Powell wrote to Billy Barr asking that he do all the things he subsequently did, notably appoint a lawyer to review the entirety of the prosecution. The confirmation that Powell has been personally lobbying Trump's (!!!) campaign lawyer for intervention seems to seal the proof that this is political.
Still, perhaps a more substantive problem with the pro-Flynn argument is that DOJ's two representatives (Ken Kohl for the DC US Attorney's Office) and the Solicitor General's counsel, Hashim Mooppan) contradicted each other on a key issue.
Mooppan repeatedly claimed, "what if it were true that this was a witch hunt"? He relied, significantly, on two things. First, Bill Priestap's notes clearly recording that FBI did the interview to figure out whether Mike Flynn would tell the truth.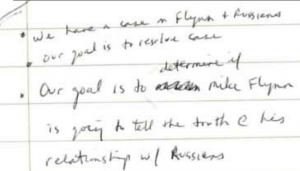 Rather than focusing on what Priestap and every witness confirmed in real time and since was the purpose of the interview, Mooppan instead focused on Priestap's notation of the debate before this, about whether they just wanted to get Flynn to lie. As John Gleeson pointed out, though, that would not make Flynn abnormal at all. That happens to defendants all the time. But in fact, Gleeson further noted, that's not what happened; Peter Strzok and Joe Pientka actually cued Flynn with his own words to make sure he had an opportunity to fix the record, and Flynn did not do so. Moreover, all other witnesses said the same thing Priestap did: the point of the interview was to see if Flynn would tell the truth.
Plus, there's a real problem with Mooppan's reliance on Priestap's notes. As the NYT reported, DOJ rushed to move to dismiss the case while Priestap's 302 was being finalized.
Priestap, the former head of F.B.I. counterintelligence, two days before making their extraordinary request to drop the case to Judge Emmet G. Sullivan. They did not tell Judge Sullivan about Mr. Priestap's interview. A Justice Department official said that they were in the process of writing up a report on the interview and that it would soon be filed with the court.

The department's motion referred to notes that Mr. Priestap wrote around the bureau's 2017 questioning of Mr. Flynn, who later pleaded guilty to lying to investigators during that interview. His lawyers said Mr. Priestap's notes — recently uncovered during a review of the case — suggested that the F.B.I. was trying to entrap Mr. Flynn, and Attorney General William P. Barr said investigators were trying to "lay a perjury trap."

That interpretation was wrong, Mr. Priestap told the prosecutors reviewing the case. He said that F.B.I. officials were trying to do the right thing in questioning Mr. Flynn and that he knew of no effort to set him up. Media reports about his notes misconstrued them, he said, according to the people familiar with the investigation.

The department's decision to exclude mention of Mr. Priestap's interview in the motion could trouble Judge Sullivan, who signaled late on Tuesday that he was skeptical of the department's arguments.
In spite of its ability to turn Bill Barnett's 302 around in a week, DOJ has never disclosed Priestap's 302 debunking this claim to Judge Sullivan. These notes don't say what Mooppan falsely claimed to Sullivan they did. And that may become more clear in days ahead.
The other thing Mooppan relied upon, repeatedly, was the claim that Pientka and Strzok didn't believe Flynn had lied after they interviewed him (he also relied on a Jim Comey comment, made without knowledge of all the evidence that FBI subsequently gathered, that corroborated the evidence that Flynn had lied). Except that's not what they said (and some of the texts that DOJ has released make this clear). They believed Flynn either believed what he said (though they'd get proof later he did not), or that he was just a very accomplished liar.
Meanwhile, Ken Kohl, who was named Acting Principal AUSA at around the same time as this motion to dismiss, and who seemed genuinely ignorant of key details of the case but nevertheless wanted to claim that DC USAO wasn't acting politically (Roger Stone's case did not come up), said a number of things that conflict with what DOJ has already said (including that any of this was Brady).
Significantly, however, he seemed really impressed with Bill Barnett's 302, perhaps because he doesn't know the case well enough to know how many glaring contradictions there are in the 302 (which makes me wonder whether he was a source for WaPo's supine treatment of the interview). Kohl talked about all the claims — belied by actual primary documents, basic logic, and gravity — Barnett made that don't hold up to scrutiny.
The question of whether Bill Barnett sent pro-Trump tweets on his FBI phone — making him the mirror image of Peter Strzok — never came up in today's hearing.
But John Gleeson did note that Barnett had none of the doubts that Mooppan claimed (falsely) that Strzok and Pinetka had.
That means, ultimately, DOJ was arguing against DOJ.
Mooppan claimed that Strzok and Pientka's alleged doubts that Flynn lied — refuted by documents already shared with Sullivan — proved DOJ had to dismiss the case. Kohl, meanwhile, claimed that Barnett's 302 — which showed he had absolutely no doubt that Flynn lied to the FBI — proved DOJ couldn't prosecute the case.
There's not actually a controversy here: At least Strzok and Barnett agree that Flynn lied, which should be all it takes. (Indeed, Barnett could testify that Flynn did lie, if DOJ needs an aggressively pro-Trump agent to put on the stand.)
But the Solicitor General's office relies on the agents who said that Flynn was a good liar and DC USAO sides with the agent who states clearly that Flynn lied.
John Gleeson has noted that DOJ can't keep its story straight from week to week. In today's hearing, they couldn't even keep their story straight from lawyer to lawyer.
https://www.emptywheel.net/wp-content/uploads/2016/11/Flynn.jpg
600
1067
emptywheel
https://www.emptywheel.net/wp-content/uploads/2016/07/Logo-Web.png
emptywheel
2020-09-29 17:19:56
2020-09-30 05:43:35
On a Key Issue in Mike Flynn's Case — which FBI Agent to Believe — DOJ Argued against DOJ