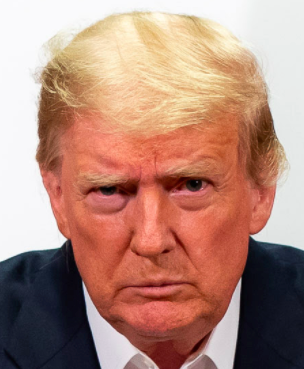 Jake Tapper tweeted that Jared Kushner and Rudy (both of whom have criminal exposure that Trump's loss might make imminent), along with Jason Miller, are entertaining Trump's demand that they hold rallies delegitimizing the election results. David Bossie (whom Jared reportedly brought in to play the role of respected elder, like Jim Baker played in the 2000 recount, which by itself is hilarious) and Mark Meadows are pushing Trump to concede.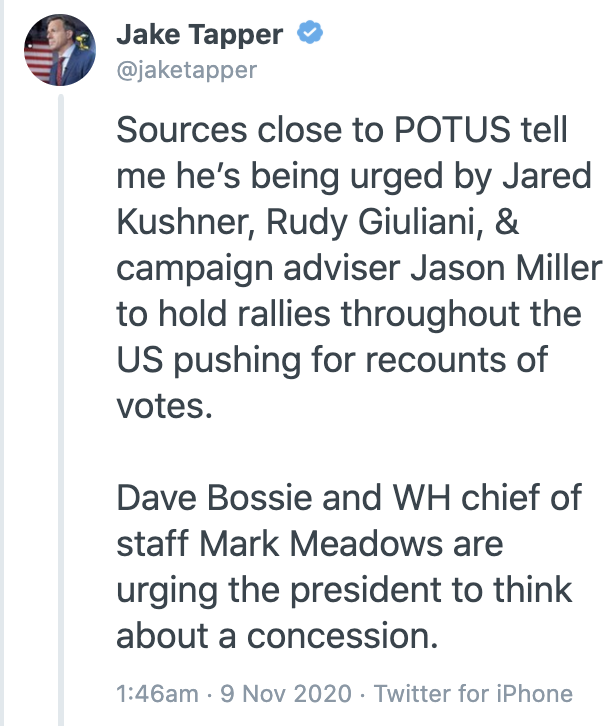 The AP reports that anonymous senior officials are telling themselves that helping Trump to delegitimize the results is really just a way to give the Narcissist-in-Chief an "off-ramp" to accept the loss that he can't grasp.
But senior officials, campaign aides and allies told The Associated Press that overwhelming evidence of fraud isn't really the point.

The strategy to wage a legal fight against the votes tallied for Biden in Pennsylvania and other places is more to provide Trump with an off-ramp for a loss he can't quite grasp and less about changing the election's outcome, the officials said. They spoke to AP on the condition of anonymity to discuss internal strategy.

Trump aides and allies also acknowledged privately the legal fights would — at best — forestall the inevitable, and some had deep reservations about the president's attempts to undermine faith in the vote. But they said Trump and a core group of loyalists were aiming to keep his base of supporters on his side even in defeat.
Meanwhile, Vladimir Putin is one of the few world leaders who has not congratulated President-Elect Biden, because — his spox says — there are still ongoing legal challenges. Thus, it is official policy of Russia to follow the strategy that Russia and its assets had planned in the eventuality of a 2016 loss, to discredit the outcome.
I get that Trump's closest advisors are calculating the best way for him to remain kingmaker. Ensuring that his frothers remain frothy even after Trump is exposed as a weak man that even Georgia rejected is a one way to do that.
But kidding themselves that this is about getting Trump to come to grips with his loss is a dangerous game. Whatever these rallies would do for Trump's damaged ego, they will serve to create a potentially violent insurgency, members of which have already tried, on repeated occasion, to engage in political violence in Trump's name.
No one should treat these excuses for discrediting a clearcut democratic result as serious. They're just rationalizations to repackage anti-American actions as something else.
https://www.emptywheel.net/wp-content/uploads/2020/10/COVID-Don.png
369
304
emptywheel
https://www.emptywheel.net/wp-content/uploads/2016/07/Logo-Web.png
emptywheel
2020-11-09 05:24:08
2020-11-09 05:24:08
Trump's Enablers Are Mistaking an Insurgency for an Off-Ramp