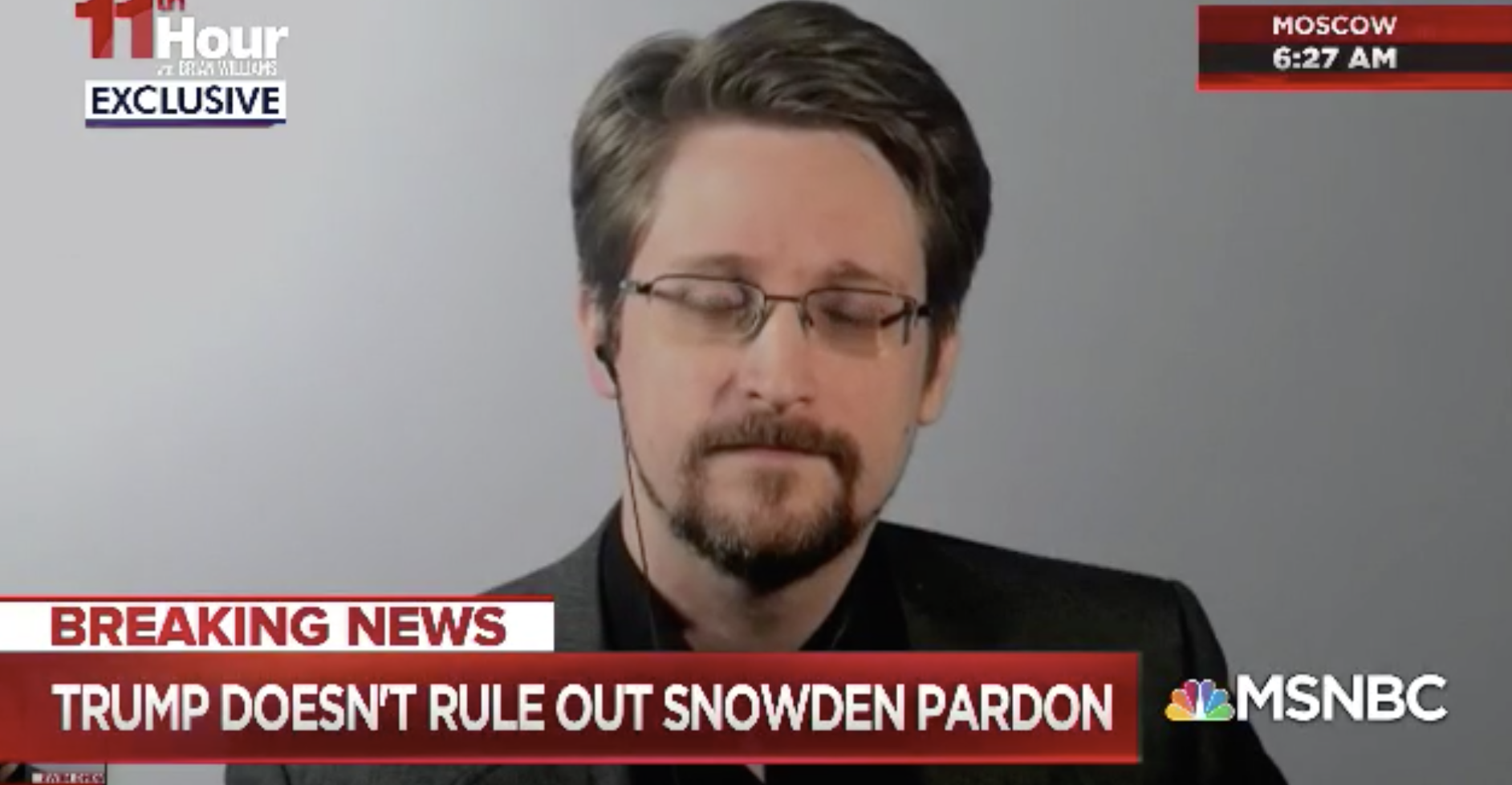 After being pardoned for his crime of lying to Congress last night, Roger Stone called for a pardon for Julian Assange and Edward Snowden.
Stone welcomed the pardon and complained he'd been subjected to a "Soviet-style show trial on politically-motivated charges."

The longtime political provocateur also urged the president to extend clemency to a key figure in the release of hacked emails during the 2016 campaign, Julian Assange, and to National Security Agency leaker Edward Snowden.

"Other good Americans have been victims of a corrupt system made to serve venal power-seekers,rewarding deceit and manipulation, rather than reason and justice. President Trump can be the purveyor of justice over the vile machinations of wicked pretenders to the mantle of public service," Stone wrote.
Unless Bill Barr shut it down in preparation for the pardons to come (a very good possibility), DOJ has an ongoing investigation into the circumstances under which Roger Stone started pursuing a pardon for Assange, one that ties a pardon for Assange to Stone's successful optimization of the release of the John Podesta files in October 2016. That might even make Stone's call a new overt act in a conspiracy that started in 2016.
What it also does, though, is tie a hypothetical Snowden pardon — one that otherwise would have nothing to do with Trump's crimes — to this quid pro quo.
Stone is not the first to do so in a corrupt way, of course. So did Glenn Greenwald, when he pitched such a dual pardon as a way for Trump to get back at The [American] Deep State on Tucker Carlson's show, back in September.
Glenn: Let's remember, Tucker, that the criminal investigation into Julian Assange began by the Obama Administration because in 2010 WikiLeaks published a slew of documents — none of which harmed anybody, not even the government claims that. That was very embarrassing to the Obama Administration. It revealed all kinds of abuses and lies that they were telling about these endless wars that the Pentagon and the CIA are determined to fight. They were embarrassing to Hillary Clinton, and so they conducted, they initiated a grand jury investigation to try and prosecute him for reporting to the public. He worked with the New York Times, the Guardian, to publish very embarrassing information about the endless war machine, about the Neocons who were working in the Obama Administration. To understand what's happening here, we can look at a very similar case which is one that President Trump recently raised is the prosecution by the Obama Administration, as well, of Edward Snowden for the same reason — that he exposed the lies that James Clapper told, he exposed how there's this massive spying system that the NSA and the CIA control, that they can use against American citizens. Obviously this isn't coming from President Trump! He praised WikiLeaks in 2016 for informing the public. He knows, firsthand, how these spying systems that Edward Snowden exposed can be abused and were abused in 2016. This is coming from people who work in the CIA, who work in the Pentagon, who insist on endless war, and who believe that they're a government unto themselves, more powerful than the President. I posted this weekend that there's a speech from Dwight Eisenhower warning that this military industrial complex — what we now call the Deep State — is becoming more powerful than the President. Chuck Schumer warned right before President Obama — President Trump — took office that President Trump challenging the CIA was foolish because they have many ways to get back at anybody who impedes them. That's what these cases are about Tucker, they're punishing Julian Assange and trying to punish Edward Snowden for informing the public about things that they have the right to know about the Obama Administration. They're basically saying to President Trump, "You don't run the country even though you were elected. We do!" And they're daring him to use his pardon power to put an end to these very abusive prosecutions. One which resulted in eight years of punishment for Julian Assange for telling the truth, the other which resulted in seven years of exile for Edward Snowden of being in Russia simply for informing the public and embarrassing political officials who are very powerful.
While there's abundant evidence (which press organizations and journalists who've been personally involved are dutifully ignoring) that Julian Assange has been something other than he has been claiming for years, I have always believed a Snowden pardon is an entirely different thing, something far more justified. But if these people who were running interference for Guccifer 2.0 back in 2016 and have continued to do so to this day keep linking a corruptly negotiated Assange with a Snowden one, it does raise questions about whether there's some closer tie.
https://www.emptywheel.net/wp-content/uploads/2020/09/Screen-Shot-2020-09-15-at-9.19.04-PM.png
978
1884
emptywheel
https://www.emptywheel.net/wp-content/uploads/2016/07/Logo-Web.png
emptywheel
2020-12-24 07:27:27
2020-12-24 07:30:35
Like Glenn Greenwald, Roger Stone Links a Pardon for Edward Snowden to a Corrupt Pardon for Julian Assange