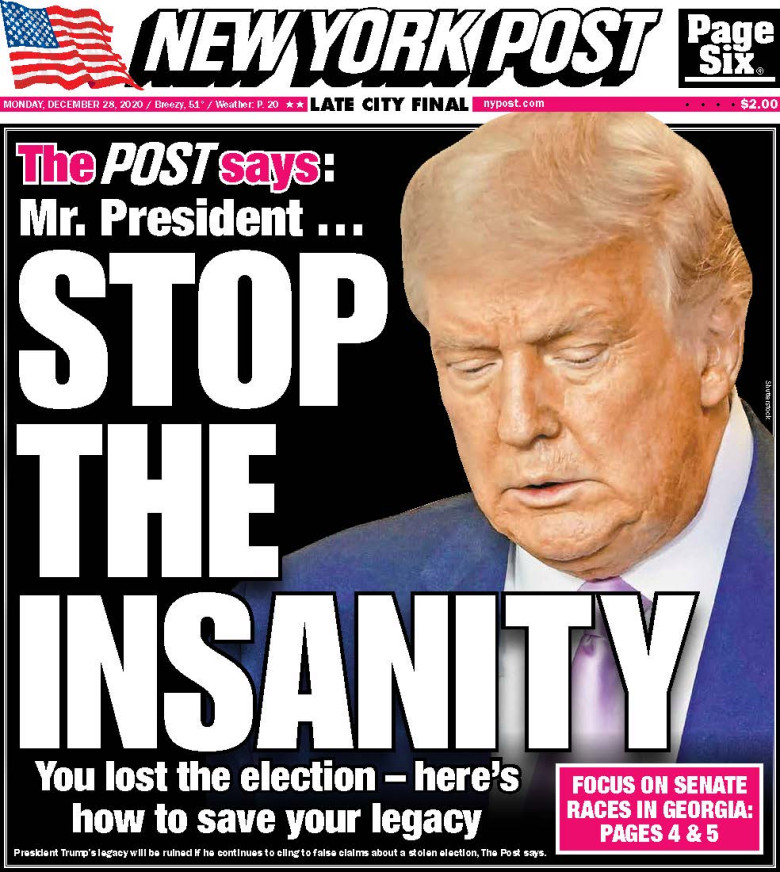 It will be the subject of extensive discussion going forward how plans for an insurrection made in plain sight on social media went from being viewed, by the FBI and DHS, as First Amendment protected speech to so dangerous that social media shut down key influencer accounts and Apple and Google kicked entire platforms out of their stores within days. But that's what happened.
On Thursday, a various law enforcement agencies tried to explain why they had allowed the Capitol to be overrun by terrorists, they claimed not to have seen the signs many of us were seeing of plans for violence.
Federal and local officials said Thursday they did not have intelligence suggesting any violent mob was preparing to attack the Capitol, even as demonstrators were publicly saying on social media they were not planning a typical protest.

Despite weeks of preparations, "obviously, what happened no one anticipated," Michael Sherwin, acting US Attorney for the District of Columbia, told reporters in a telephone press conference Thursday. "Things could have been done better."

[snip]

Police were caught flat-footed the next day. DC Police Chief Robert Contee told reporters Thursday there was no intelligence that suggested there would be a breach of the US Capitol on January 6. Three DHS sources, who usually receive such reports, were unaware of a threat assessment being shared from the DHS intelligence office ahead of Wednesday's siege.
But just over a day later, Apple announced that it was giving Parler 24 hours to come into compliance with its moderations guidelines; Google just removed Parler from its stores entirely. Twitter first removed various QAnon supporters, including Sidney Powell and Mike Flynn. Then, finally, after allowing him to Tweet twice after a short-term ban, Twitter announced it was removing Trump permanently and those social media platforms that hadn't already done so removed Trump as well.
Trump spent the night trying to find workarounds, using the POTUS account, attempting to have one of his sons tweet out his content, and having his social media staffer tweet on his own account. Unless the Tweet included a presidential message, the content was removed.
In response, Trump, his supporters, and the usual commentariat have decried a purportedly authoritarian "censorship" of Donald Trump. Indeed, most of the discussion since then has focused on whether Twitter and other social media platforms acted appropriately.
That has, as has happened so many times in the last four years, distracted from Trump's own refusal to act.
Here's Twitter's description of why it found that Trump had violated Twitter's Glorification of Violence prohibition.
Overview

On January 8, 2021, President Donald J. Trump tweeted:

"The 75,000,000 great American Patriots who voted for me, AMERICA FIRST, and MAKE AMERICA GREAT AGAIN, will have a GIANT VOICE long into the future. They will not be disrespected or treated unfairly in any way, shape or form!!!"

Shortly thereafter, the President tweeted:

"To all of those who have asked, I will not be going to the Inauguration on January 20th."

Due to the ongoing tensions in the United States, and an uptick in the global conversation in regards to the people who violently stormed the Capitol on January 6, 2021, these two Tweets must be read in the context of broader events in the country and the ways in which the President's statements can be mobilized by different audiences, including to incite violence, as well as in the context of the pattern of behavior from this account in recent weeks. After assessing the language in these Tweets against our Glorification of Violence policy, we have determined that these Tweets are in violation of the Glorification of Violence Policy and the user @realDonaldTrump should be immediately permanently suspended from the service.

Assessment

We assessed the two Tweets referenced above under our Glorification of Violence policy, which aims to prevent the glorification of violence that could inspire others to replicate violent acts and determined that they were highly likely to encourage and inspire people to replicate the criminal acts that took place at the U.S. Capitol on January 6, 2021.

This determination is based on a number of factors, including:

President Trump's statement that he will not be attending the Inauguration is being received by a number of his supporters as further confirmation that the election was not legitimate and is seen as him disavowing his previous claim made via two Tweets (1, 2) by his Deputy Chief of Staff, Dan Scavino, that there would be an "orderly transition" on January 20th.
The second Tweet may also serve as encouragement to those potentially considering violent acts that the Inauguration would be a "safe" target, as he will not be attending.
The use of the words "American Patriots" to describe some of his supporters is also being interpreted as support for those committing violent acts at the US Capitol.
The mention of his supporters having a "GIANT VOICE long into the future" and that "They will not be disrespected or treated unfairly in any way, shape or form!!!" is being interpreted as further indication that President Trump does not plan to facilitate an "orderly transition" and instead that he plans to continue to support, empower, and shield those who believe he won the election.
Plans for future armed protests have already begun proliferating on and off-Twitter, including a proposed secondary attack on the US Capitol and state capitol buildings on January 17, 2021.

As such, our determination is that the two Tweets above are likely to inspire others to replicate the violent acts that took place on January 6, 2021, and that there are multiple indicators that they are being received and understood as encouragement to do so.
Effectively, Twitter is saying that these Tweets have been exploited by the terrorists supporting Trump as support for further violence. It specifically described plans, being made both on and off Twitter, for a follow-on attack no January 17 (apparently because Q is the 17th letter in the alphabet).
Twitter is not actually arguing that Trump intended to incite violence. Rather, they're saying that his Tweets are being interpreted as encouragement of more violence that is already being actively planned, regardless of what Trump actually meant by it.
Now, maybe Trump didn't intend that to be the effect, though Twitter makes a fair point that both the reference to a "GIANT VOICE" in the future — one that may depend on further terrorism — and the formal announcement that the inauguration could be targeted without endangering Trump himself might be seen as inviting more violence.
But if he didn't mean to do so, the proper response of any marginally responsible adult would be to say, "Golly, I didn't realize how my own words were being used in ways I didn't intend. Let me take the next few weeks off to cool off, or better yet, let me find other ways to correct any misinterpretation that I supported violence." The appropriate response for the Commander in Chief would be to say, "Wow, that was a totally unprecedented attack on our Capitol the other day, I'm deploying all the resources of the Federal government to ensure these planned follow-up attacks will not take place."
Have you noticed that Trump hasn't actually said he has ordered the government to prevent further violence?
That's all the more alarming, given that US law enforcement agencies increasingly share intelligence with the social media platforms, which suggests that Twitter's reference to "a number of factors" doesn't rule out specific intelligence about follow-on plans that aren't visible on social media.
Twitter said, tucked away there in a fifth bullet, that one of the reasons they (and presumably Facebook and Apple and Google and everyone else) acted is because there are specific plans for future terrorist attacks.
And instead of talking about the fact that the man who remains President is doing nothing to prevent those follow-on attacks, we're talking about what a victim he is.
https://www.emptywheel.net/wp-content/uploads/2020/12/front-cover-1228.jpg
872
780
emptywheel
https://www.emptywheel.net/wp-content/uploads/2016/07/Logo-Web.png
emptywheel
2021-01-09 08:33:01
2021-01-09 09:23:53
Once Again Trump's Self-Victimhood Distracts from His Negligence