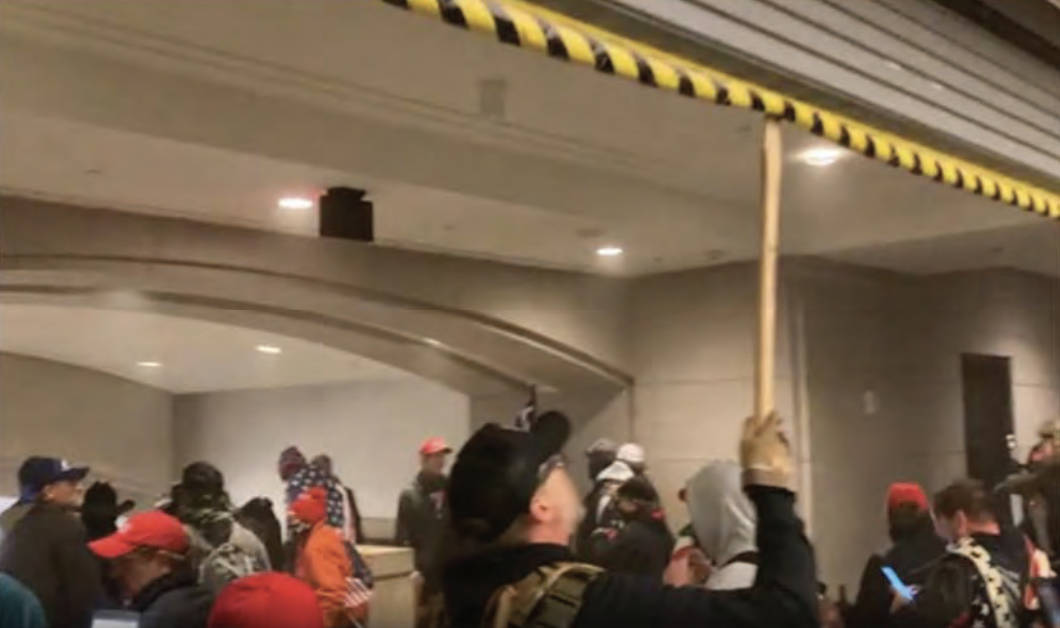 Proud Boys "Cell Leader" William Chrestman Says He's Not Organized Crime, Was Just Acting on Orders
I'm working towards posts on how DOJ is treating the different members of the Proud Boys charged with crimes relating to January 6 and how DOJ's past history with the group makes their failure to warn about January 6 all the more damning.
But first, I want to look at what William Chrestman's lawyers said in a memo arguing he should not be detained pre-trial.
As a reminder, Chrestman was charged with conspiring with four other people, all wearing orange tape, both to obstruct the counting of the electoral vote, and to impede law enforcement officers during a civil disorder. Of particular note, Chrestman and those with him physically prevented cops from shutting access to tunnels through which members of Congress had been evacuated.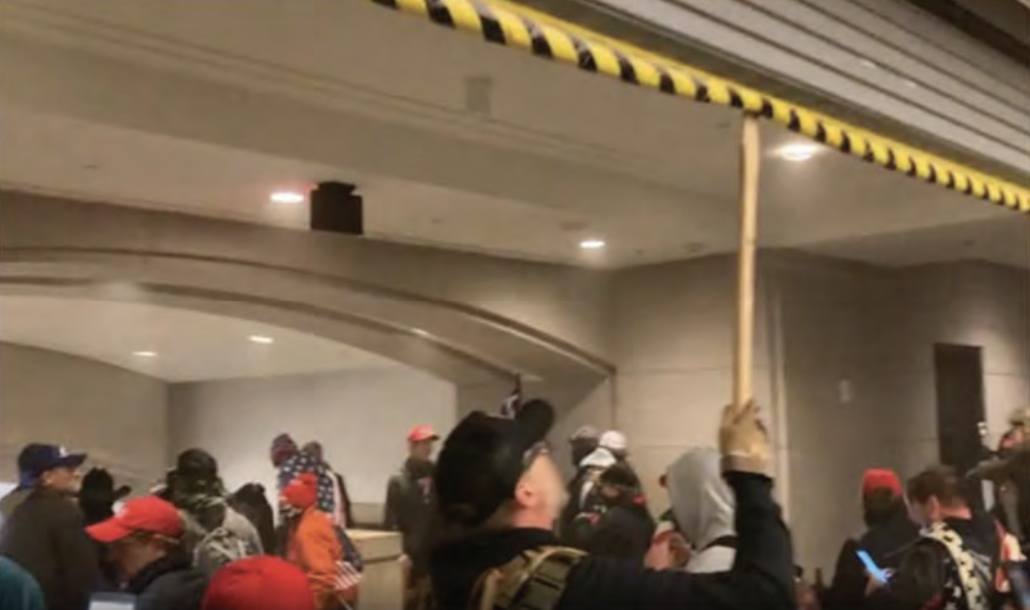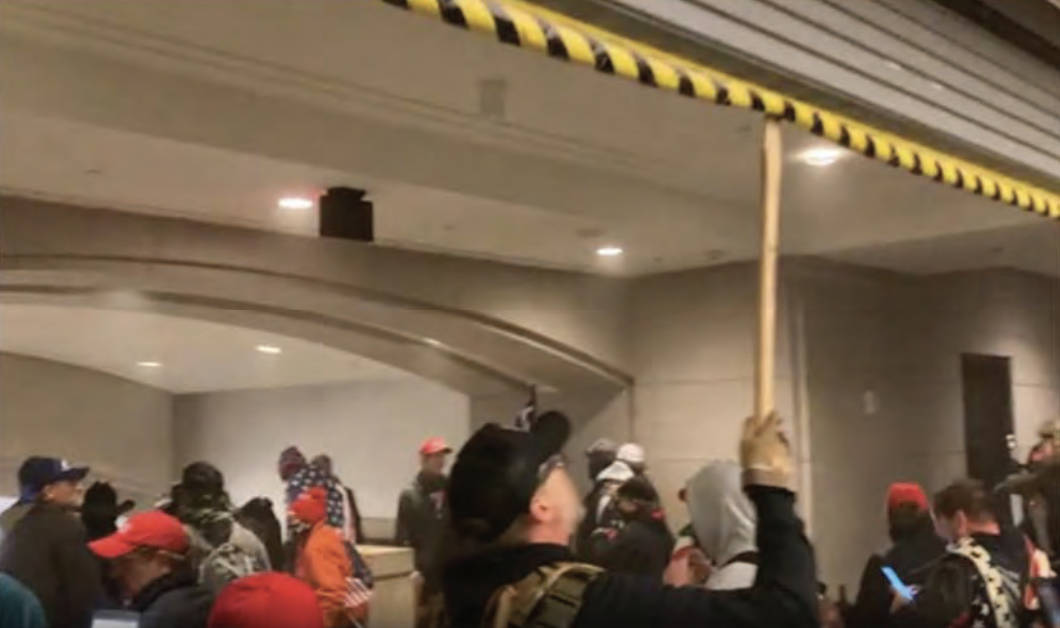 The government's detention memo calls Chrestman an "apparent leader of this particular cell" and describes that he recruited two people from Arizona (Felicia Konold, whom charging documents say the FBI interviewed, but from which interview they didn't quote, and her brother Cory) to take part in the riot.
Defendant Chrestman readily recruited two individuals from Arizona to join the group of Kansas City Proud Boys, who then participated in the crime spree on U.S. Capitol grounds.
As such, the action of a group led by Chrestman directly ensured the ongoing threat to members of Congress, to say nothing of the difficulties they caused police trying to limit the incursion of the rioters.
In the memo, Federal Public Defenders Kirk Redmond and Chekasha Ramsey offered a more extended version of an argument other defendants have made, arguing that Chrestman had good reason to believe not just his actions — but the Proud Boys' generally — must have been sanctioned by the President. [footnotes below replaced with links]
To prefigure how those offenses relate to the likelihood of Mr. Chrestman succeeding on pretrial release, we must start long before January 6.

It is an astounding thing to imagine storming the United States Capitol with sticks and flags and bear spray, arrayed against armed and highly trained law enforcement. Only someone who thought they had an official endorsement would even attempt such a thing. And a Proud Boy who had been paying attention would very much believe he did. They watched as their "pro-America, pro-capitalism and pro-Trump" rhetorical strategy "allowed the Proud Boys to gain entry into the Republican mainstream."11 They watched as law enforcement attacked Black Lives Matter and anti-fascism protestors, but escorted Proud Boys and their allies to safety.12 They watched as their leader, Enrique Tarrio, was named Florida state director of Latinos for Trump.13 They watched the Trump campaign, "well aware of the organized participation of Proud Boys rallies merging into Trump events. They don't care."14 They watched when then-President Trump, given an opportunity to disavow the Proud Boys, instead told them to "stand back and stand by."15 They understood that phrase as "a call to arms and preparedness. It suggests that these groups, who are eager to do violence in any case, have the implicit approval of the state."16 Having seen enough, the Proud Boys (and many others who heard the same message)17 acted on January 6.

Their calculations were wrong. The five weeks since January 6 have broken the fever dream. The Proud Boys are "radioactive now."18 Any "air of respectability is gone."19 The Proud Boys are in "disarray, as state chapters disavow the group's chairman and leaders bicker in public and in private about what direction to take the Proud Boys in."20 Their leader was arrested, then "outed as a longtime FBI informant, a role he has now admitted to."21 And not insubstantially, a number of their members have been arrested for their roles in the January 6 attack. [my emphasis]
The filing goes on to quote extensively from impeachment evidence and Mitch McConnell's post-acquittal statement, reiterating Trump's central role in all this.
Even before it gets there, though, the memo makes an argument I expect we'll see more of, one which very much resembles the argument Bill Barr's DOJ made to diminish prior threats from the Proud Boys.
Third, the government's evidence is a far cry from what courts have found constitutes sufficient evidence of a serious risk of obstruction justifying detention. Threatening to kill a witness,4 injure a witness,5 or manufacture false evidence6 is the kind of stuff that gets one detained under 18 U.S.C. § 3142(f)(2)(B). More similar to our facts is United States v. Demmler, 523 F.Supp.2d 677 (S.D. Ohio 2007). There, the "Government allege[d] that Demmler talked about enlisting other defendants in the underlying Poulsen case in his and Poulsen's scheme[.]"7 But whether the defendant "would have followed-up on these musings had he not been arrested, and whether he would do so now, are entirely speculative. It is just as likely, on this record, that Demmler's arrest on federal charges has chastened, rather than emboldened, him."8 So too here.

4 United States v. Fontanes-Olivo, 937 F.Supp.2d 198, 201 (D. P.R. 2012) (Authorizing detention based on potential obstruction where defendant told witness that "one of 'his people,' could 'get rid of you' based on a rumor that the UM was cooperating with authorities.").

5 United States v. Ploof, 851 F.2d 7, 11 (1st Cir. 1988) (When "defendant, if released, will attempt to injure or intimidate other prospective witnesses (and if the evidence supports said conclusion) then, too, detention is authorized").

6 United States v. Robertson, 608 F.Supp.2d 89, 92 (D. D.C. 2009) ("Given the extraordinary lengths that these defendants went to in their efforts to tamper with witnesses and manufacture utterly false, misleading evidence at trial—and in light of their proven success in achieving a hung jury in one trial already—this Court ultimately has no choice but to detain these defendants prior to trial.").

7 Demmler, 523 F.Supp.2d at 683.

8 Id.; See also United States v. Simon, 760 F.Supp. 495 (D. V.I. 1990) (Detention inappropriate even when defendant attempted to speak with a juror in his brother's murder trial; although "conduct is inexcusable, it is a far cry from the venality, corruption and violence of the sort common in organized-crime cases, designed to destroy the integrity of the criminal justice system.")
A year ago, Bill Barr's DOJ said threats from the Proud Boys might "technically" be obstruction, but such a sentencing enhancement, "typically applies in cases involving violent offenses, such as armed robbery." Almost exactly a year later, Chrestman's attorneys argue that threats from the Proud Boys and the threat of ongoing Proud Boys action, "is a far cry from the venality, corruption and violence of the sort common in organized-crime cases."
This passage is far less persuasive than those invoking Trump. After all, Chrestman threatened police he would, "take your fucking ass out," if they shot protestors, and further incited others to fight back.
Defendant Chrestman stood directly in front of Capitol Police officers who were attempting to guard the Capitol. Defendant Chrestman yelled at the Capitol Police officers, "You shoot and I'll take your fucking ass out!" At a different point, Capitol Police officers attempted to arrest one person from the crowd, and Defendant Chrestman encouraged other members of the crowd to stop the Capitol Police from arresting him. Among other things, Defendant Chrestman said to other members of the crowd, "Don't let them take him!"
Particularly backed — as Chrestman was — by mobs of thousands, that threat was every bit as serious as the one Chrestman's lawyers cite in Fontanes-Olivo. And the Proud Boys have long been considered an organized hate group, so the allusion to organized crime is actually on point.
More importantly, Chrestman's completed act — the success that he and others had at delaying the count of the electoral count vote — did grave damage to the integrity of our democracy, a point prosecutors made in their detention memo.
The nature and circumstances of the charged offenses weigh heavily in favor of detention. Defendant Chrestman, a member of a right-wing militia, knowingly and willfully participated in a riot that was designed to prevent the United States Congress from certifying the results of the 2020 Presidential election. Not only did Defendant Chrestman participate in the riot, he assumed a leadership role by shouting "Whose house is this?" and encouraging the crowd to "Take it!"

Words alone may never communicate the true nature of the crimes that were carried out on January 6. It is an event that cannot be measured in the number dead, injured, or wounded, but rather in the destabilizing effect that it has had on this country. This destabilizing effect is precisely what Defendant Chrestman envisioned when he decided to travel to the Capitol, helped lead others into the U.S. Capitol, and participated in the Proud Boys' participation in the riot at the Capitol building.
The problem is that not just Donald Trump but even his Department of Justice (to say nothing of the line law enforcement officers cited by Chrestman's lawyers) have long minimized the risk fo such a threat.
That said, the fact that Donald Trump got precisely the destabilizing blow to democracy and the terror he wanted is no reason to let Chrestman go free. Instead, Chrestman makes a great argument that Trump should be treated as a co-conspirator.
https://www.emptywheel.net/wp-content/uploads/2021/02/Screen-Shot-2021-02-18-at-12.17.28-PM.png
628
1060
emptywheel
https://www.emptywheel.net/wp-content/uploads/2016/07/Logo-Web.png
emptywheel
2021-02-18 08:40:04
2021-02-18 08:40:04
Proud Boys "Cell Leader" William Chrestman Says He's Not Organized Crime, Was Just Acting on Orders