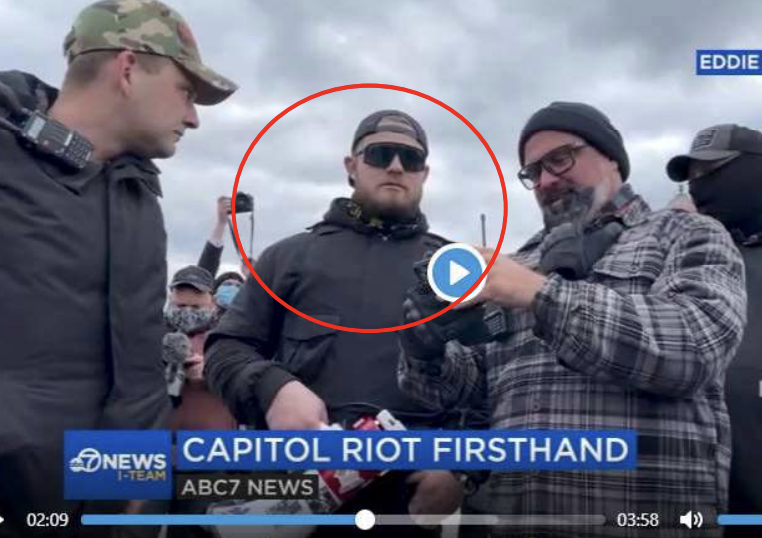 The government and Ethan Nordean are having a dispute that is, at least procedurally, about whether by giving Nordean the Telegram text messages he demanded in prioritized fashion, the government committed a Brady violation. Nordean started this dispute on April 29 with a filing admitting that the texts he received before his detention hearing were the ones he asked for specifically but still complaining that he didn't get all his texts at once.
Today, the government produced for the first time additional Telegram messages extracted from Nordean's phone. The government provided no explanation as to why they were produced after the hearing on its third detention motion and not beforehand.1 Like the Telegram chats it used to support detention, today's production was drawn from the same device (Nordean's phone), the same app (Telegram), and only postdate by some days the chats the government used to detain Nordean. In reviewing the following chats, the Court may recall that because the Telegram messages are encrypted and, according to the government, "designed to evade law enforcement," the government would have the Court believe the app users are speaking candidly in Telegram.

On March 25, Nordean requested that the government produce, at least by March 30, Telegram chats on Nordean's phone sent and received between 1/4/21 and 1/8/21. Nordean did not say that no other chats should be produced, nor did he waive any right to Brady material of which the government was aware. On March 9, Nordean served a discovery letter on the government seeking all of the defendant's statements and requesting that Brady material be produced according to the schedule in Rule 5.1.
The government response doesn't point out that they gave Nordean precisely what Nordean asked for. It does describe how they provided Nordean's Telegram chats in three waves, with the entire content of his phone provided by April 30.
On April 29, 2021, the government produced to defendant Nordean eleven (11) strings of text messages, totaling over 5,000 pages, that contained the terms "Ministry of Self-Defense" or "MOSD," and that were recovered from defendant Nordean's phone.

Thereafter, on April 30, 2021, a full copy of an extraction from defendant Nordean's phone was produced to Nordean's counsel. That production included approximately 1,172 Telegram message strings (totaling over 1.3 million messages). The extracted text of the Telegram messages in Nordean's phone runs over 204,000 pages when printed in .pdf format, which does not include any of the images, audio, or video files that are associated with the message strings. In addition to the Telegram messages, the phone contains hundreds of other communications using other platforms, including other encrypted platforms such as Signal and WhatsApp. The government's review of these message strings, hundreds of which contained communications between December 2020 and January 2021, is ongoing, and all of this information is in defendant Nordean's possession.
Nordean's reply doubles down on the accusations of misconduct, now claiming the government intentionally withheld substantiation of Nordean's claim to have disavowed rallies.
Nordean had presented an audio recording of himself in a conversation with members of his group in which he rejected political rallying. The recording shows him annoyed with how often he had to "repeat himself" on the point. The clip was recorded in February, shortly before his arrest. It is not "self-serving," as he was communicating with his in-group and through the medium that the government alleges was used "to evade detection."1 The Court found that the clip "does suggest that, at some point, [Nordean] agreed that the Proud Boys should stop rallying." Hr'g Trans., 4/19/21, p. 55:21. However, the Court also found that "without any further context there's no indication that that was some kind of permanent decision." Id., p. 55:22.

At the time of the hearing, there was "further context." The government knew it and did not inform the defense or the Court. Shortly after that hearing, on April 29, the government produced late January chats in which Nordean repeatedly discussed "bans on rallies"; in which Nordean said, "fuck politics, build communities and local economy" (Cf. the Court: "politics has not [passed]"); where Nordean endorses the doubly capital notion "THE PROUD BOYS ARE NOT MARCHING ON CAPITAL BUILDINGS"; and in which Nordean reacts dismissively, in real time, to the conspiracy charge supposedly predicating his detention. On its own, the government's late production of these chats is unequivocally a violation of the Due Process Protections Act and Local Criminal Rule 5.1. It is also a violation of Rule 3.8(e) of the D.C. Rules of Professional Conduct for prosecutors.2

2 "The prosecutor in a criminal case shall not . . . Intentionally fail to disclose to the defense, upon request and at a time when use by the defense is reasonably feasible, any evidence or information that the prosecutor knows or reasonably should know tends to negate the guilt of the accused or mitigate the offense." Rule 3.8(e) of the D.C. Rules of Professional Conduct.
In his reply Nordean asks a fair question — why the government didn't just keep screen-capping texts that were a "two-second scroll" down Nordean's phone from the chats the government had turned over in response to Nordean's specific request. It seems the government has a reasonable answer: because it was responding to a specific request, though they have yet to say that specifically.
Nevertheless, neither side is treating this as a dispute over misconduct. The government notes that his original motion asks for no relief.
Defendant Nordean's notice alleging a violation of those provisions (ECF 79) seeks no relief, and no relief or further action by the Court is necessary or appropriate.
Nordean's reply asks for no relief either. It instead says that he is "developing evidence," but once again asks for no relief.
The government concludes its response by saying Nordean's "notice seeks no relief because defendant is entitled to no relief." ECF No. 84, p. 12. The government is mistaken. The notice sought no relief because Nordean is developing further evidence of the government's misconduct in filing a series of misleading claims in this matter and in withholding evidence so that it cannot be timely used.
And Nordean goes from that comment — stating that it is incorrect that he asks for no relief by once again asking for no relief — to instead make an argument about bail. (This series of exchanges is actually about preparing a record for Nordean's detention challenge at the DC Circuit.)
Nordean points to this declaration from Daniel Aurellano stating that Ethan Nordean is no longer the President of Proud Boys Seattle Chapter, because he, Aurellano, was elected to replace him.
Nordean is also developing evidence showing that the premises for revoking his release order are factually mistaken. For example, although Nordean's leadership role in the Proud Boys was cited to detain him, he is no longer a leader, in any sense of the word, in that organization, nor does he have any decision-making authority, as sworn statements indicate and will further indicate.
Aurellano says he was elected to replace Nordean "in February 2021," but doesn't say when that happened. Nor does Aurellano say when, in February 2021, the Proud Boys Northwest chose to dissociate from the national Proud Boys. He does, however, say Nordean stopped participating in Proud Boys Internet communications after his arrest in February 2021. Which suggests Aurellano got elected to replace Nordean at a meeting that Nordean called for while still the head of the chapter, on January 20, and at which Nordean planned to discuss "bugout bags" and "bulk armor deals" because they were "on the brink of absolute war."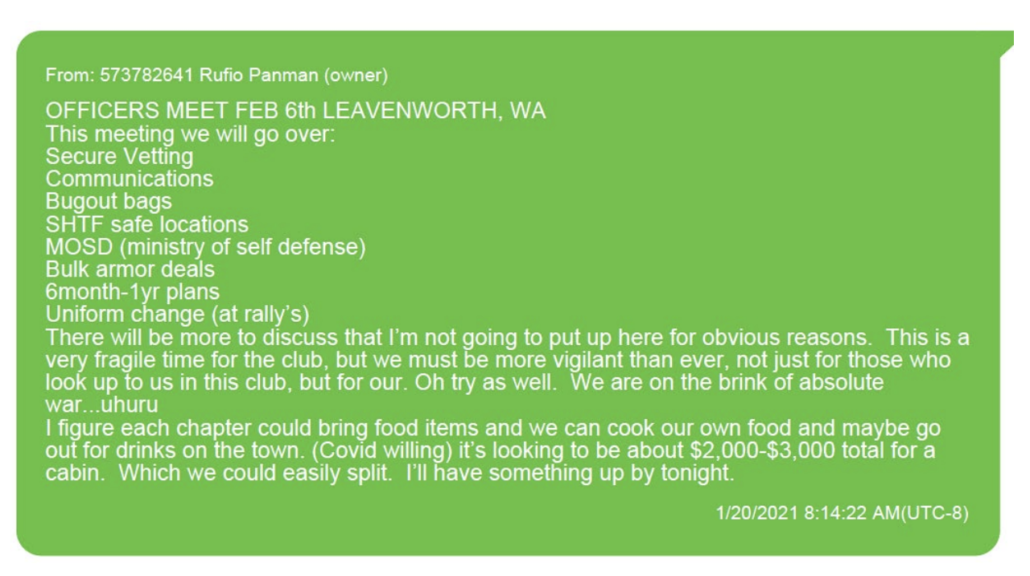 Nordean makes much of the fact that subsequent to this January 20 statement, and so also subsequent to Joe Biggs' arrest on January 20, he made a series of comments forswearing rallies.
But that means one of the last things Nordean did while still in charge was call for and prepare for war — not to mention to call for bugout bags for which the old passport of one's ex-wife, such as the one the government alleges (though the allegation is contested) was out on Nordean's bedroom dresser when the FBI came to search his house — would be acutely valuable. And then everyone started getting arrested and the Proud Boys took steps to cover their tracks.
Amid this whole bail dispute pretending to be a misconduct dispute, however, Nordean has helped to lay out both that this is a remarkably organized militia, and it is adopting a tactic other terrorist groups have in the past: to splinter and rebrand as a way to attempt to evade prosecution, as if the Proud Boys Northwest had adopted the name Y'All Qaeda Northwest like African branches of the Islamic State did.
Thus far, filings in the Proud Boys Leadership conspiracy case have shown that:
The Proud Boys started preparing a compartmented cell structure in anticipation of the January 6 insurrection on December 29
Enrique Tarrio anticipated he would be arrested when he came to DC on January 4 and so provided for a succession plan
Charles Donohoe allegedly attempted to destroy evidence of past planning in the wake of Tarrio's arrest, specifically in an attempt to avoid gang charges (whether he succeeded or not remains contested)
In the aftermath of January 6, the Proud Boys (and Nordean specifically) took steps to prepare for war
In Seattle, the Proud Boys responded to Nordean's arrest by ensuring the continuity of the organization
Again, none of this is exculpatory for Nordean. It shows the Proud Boys operating like sophisticated terrorist groups have operated in the past, in an attempt to retain viability while under government scrutiny.
And along the way, Nordean and the government have been drawing an utterly convincing argument — with two attempts to access passports and an explicit call for bugout bags — that he would flee the country the first chance he got.
https://www.emptywheel.net/wp-content/uploads/2021/03/Screen-Shot-2021-03-20-at-2.34.50-PM.png
538
762
emptywheel
https://www.emptywheel.net/wp-content/uploads/2016/07/Logo-Web.png
emptywheel
2021-05-17 05:48:01
2021-05-17 08:42:30
Y'all Qaeda Northwest: Ethan Nordean Provides Yet More Proof of the Proud Boys' Sophistication and Resilience