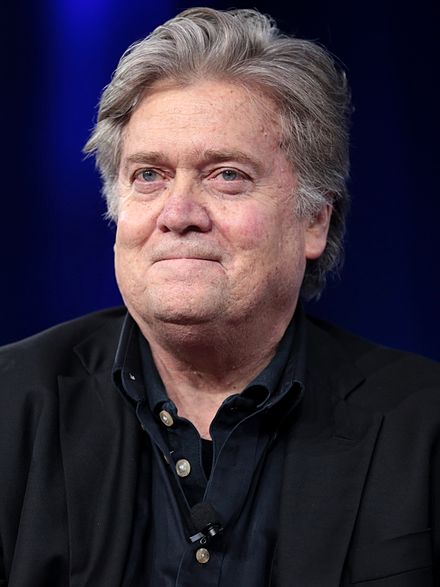 Steve Bannon Was Made to Testify, Truthfully, Once
Chuck Rosenberg has an interesting prosecutor's analysis arguing — based on Steve Bannon's indictment for fraud — that Bannon can never be made to testify truthfully, and so DOJ should be considering criminal contempt to send a message.
Recall, in August 2020, federal prosecutors in Manhattan indicted Bannon and others for "defraud[ing] hundreds of thousands of donors, capitalizing on their interest in funding a border wall to raise millions of dollars, under the false pretense that all of that money would be spent on construction," according to a Justice Department press release. As a legal matter, that meant that a grand jury found probable cause to believe that several defendants – including Bannon – committed an egregious fraud. Before Bannon could be tried on those felony charges, former President Trump pardoned him.

It makes sense for Justice Department prosecutors to ask whether Bannon – accused of defrauding hundreds of thousands of donors – would tell the truth about the January 6 insurrection. And because Bannon has demonstrated his disdain for the work of the select committee, helped spread election misinformation and fanned the flames ahead of the insurrection, it seems that he might be an unwilling witness and an untruthful witness. In that case, pressuring Bannon to testify seems pointless.

The notion of letting someone off the subpoena hook because they are unwilling to testify, or because they are untruthful, or both, is distasteful. Accountability matters, before Congress and in the criminal justice system. We should expect people to come forward and tell Congress what they know, to help better understand the events leading up to that awful day and to ensure that something like that never happens again.

But some people are more interested in staging insurrections and discrediting valid elections than they are in speaking the truth. Some people might use a congressional forum not to help heal the nation, but to further sow division. In that case, pursuing civil contempt against Bannon to pressure him to testify makes little sense. But charging him with criminal contempt – punishing his defiance – sends the right message to him and others.
I'm in no position to question Rosenberg's wisdom speaking as a prosecutor.
But the public record suggests that Bannon can be coerced to testify in damning ways. That's what happened with the Mueller investigation, possibly assisted with Bannon's staged testimony to the House Intelligence Committee.
Steve Bannon is known to have testified in various forms at least nine times (this post analyzes Bannon's second Mueller interview, this post describes how he read from a White House script at his second HPSCI interview, this post describes how he inched closer to the truth, and this post includes links and analysis on the Mueller interviews liberated by BuzzFeed).
January 16, 2018: Bannon did an interview with the House Intelligence Committee at which he refused to testify about the Transition and Administration and falsely claimed the campaign would have all relevant emails on Russian interference, which served to cover-up damning emails he had with Roger Stone.
February 12, 2018: Bannon's first Mueller interview largely covered obstruction; as with the HPSCI interview days later and the SSCI interview nine months later, Bannon hid his involvement in sanctions discussions during the transition.
February 14, 2018: Bannon's second Mueller interview finished obstruction topics and covered campaign related events and included some breathtaking lies about his role and knowledge of optimizing the hacked releases.
February 15, 2018: After Devin Nunes shared the transcript of his first interview with the White House, Bannon did another HPSCI interview and largely read from a pre-arranged script from the White House designed to hide (among other things) his involvement in discussions about sanctions before Mike Flynn attempted to undermine Obama's sanctions on Russia.
October 26, 2018: After Mueller obtained communications proving a number of Bannon's lies in the earlier interviews, he inched closer to the truth on obstruction and the WikiLeaks releases (including about a December 2016 meeting between Roger Stone and Trump that Trump wanted Bannon to attend as a witness), though still told incredible stories about his ties to Russia during the transition.
November 19, 2018: In an appearance before the Senate Intelligence Committee, he told suspected lies that the committee referred for prosecution. [I've excerpted the parts of his testimony quoted in the SSCI Report here.]
January 19, 2019: The content of a January 19, 2019 interview and grand jury appearance (one that took place after Mueller obtained Bannon's HPSCI transcripts) remains entirely sealed, but he was forced to adhere to some of it at Roger Stone's trial and Stone has recently accused Bannon of betrayal in this appearance.
Unknown date (possibly July 26, 2019): A trial prep interview with DC's AUSAs at which Bannon tried to back off his grand jury testimony.
November 8, 2019: After prosecutors forced him to match his grand jury testimony, Bannon testified to speaking to Stone about the hacked emails both before and after he joined the Trump campaign.
Somehow, Mueller's attorneys were able to get Bannon to be more truthful in that grand jury appearance, and then with it, they forced him to adhere to his more damning testimony at Roger Stone's trial. But Stone's continued attacks on Bannon suggest Bannon's grand jury testimony extended beyond his trial testimony.
My guess is that Mueller's team got Bannon to tell something approximating the truth on some topics via a range of tactics. First, Bannon originally lied about when he used his personal email on the campaign; after Mueller obtained some damning emails with Roger Stone from that email, Bannon conceded more of the truth. Additionally, Bannon clearly was playing different audiences for different purposes (for example, Republicans ensured that the entirety of the HPSCI investigation served to get Trump flunkies to tell false cover stories, and as noted, Bannon literally read from a White House issued script in his second appearance). But that likely served to alert prosecutors to what Bannon was trying to hide (and in the case of Bannon's efforts to hide his knowledge of discussion of sanctions during the transition, Mueller actually got somewhat useful testimony from Flynn). Finally, it seems likely that prosecutors used earlier lies to coerce Bannon to tell the truth later in their investigation.
To be clear, the January 6 Select Committee doesn't have the time to coerce some truths out of Steve Bannon, though it's possible that DOJ could use any testimony he did offer as Mueller's team seems to have done during their investigation, as a means to corner him about prior lies.
In any case, tough his testimony helped convict Roger Stone (after which Trump pardoned the rat-fucker), whatever truths Bannon told during the Mueller investigation were useless. The truthful bits remained sealed in an unreleased 302 and grand jury testimony, of no use to the public.
Still, the overriding lesson from Bannon's book of laughter and forgetting is that his past lies and changing loyalties can be exploited, if you have the time to really work on him.
https://www.emptywheel.net/wp-content/uploads/2020/05/Steve_Bannon_by_Gage_Skidmore.jpg
587
440
emptywheel
https://www.emptywheel.net/wp-content/uploads/2016/07/Logo-Web.png
emptywheel
2021-10-30 09:54:52
2021-10-30 10:48:47
Steve Bannon Was Made to Testify, Truthfully, Once