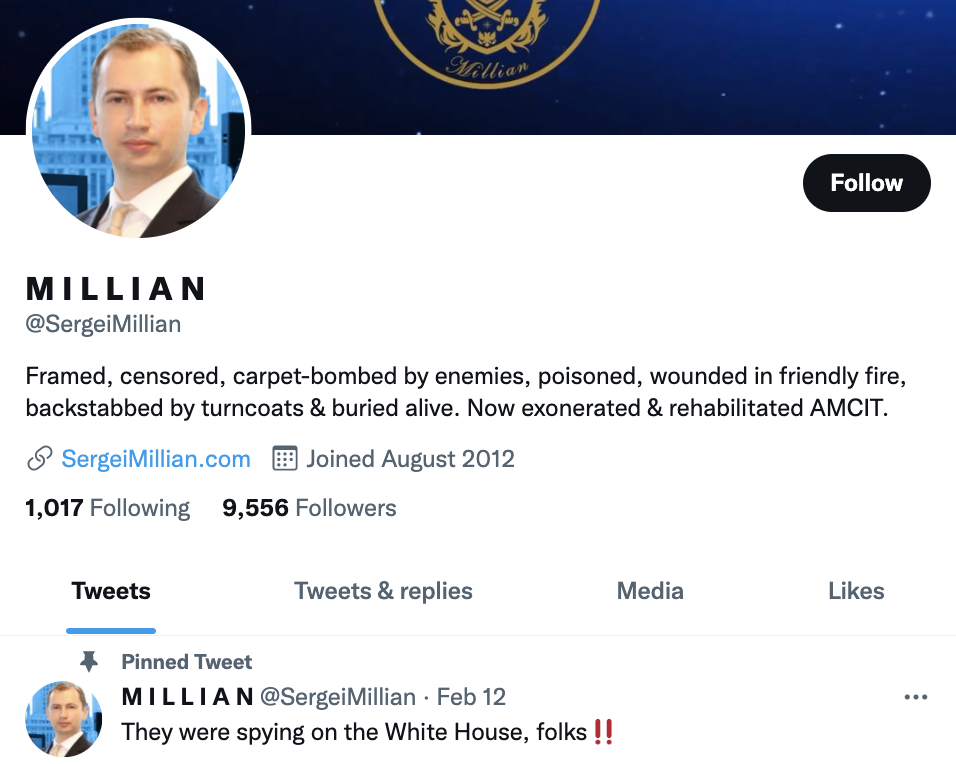 As I documented the other day, John Durham responded to the uproar over his conflicts filing stunt by claiming to have had nothing at all to do with the "third parties" who "overstated, understated, or otherwise misinterpreted facts contained in the Government's Motion."
If third parties or members of the media have overstated, understated, or otherwise misinterpreted facts contained in the Government's Motion, that does not in any way undermine the valid reasons for the Government's inclusion of this information.
The claim that the uproar was created by "third parties" is so obviously false it raises conflict problems for Durham himself.
Durham falsely claims those pushing lies are "third parties" to his investigation
As I laid out, one of the key perpetrators of the false claims — including the false claims (1) that Hillary paid Rodney Joffe, (2) that Joffe had "infiltrated" the White House, and (3) Joffe had done so when Trump was President — was Kash Patel, the originator of this entire line of inquiry in December 2017, and someone who for years had means to learn that those claims were false.
John Ratcliffe, whom Durham was meeting rather than interviewing Hillary staffers who could substantiate or debunk his accusations that Michael Sussmann was coordinating with the campaign, made these unsubstantiated claims in a TV appearance earlier this week:
There was a "Hillary Clinton campaign plan to falsely accuse Donald Trump of collusion with Russia"
Rodney Joffe used DNS data "for an unlawful purpose"
Sussmann "pitched" information "to the FBI as evidence of Trump-Russia connections that simply weren't true and that the lawyer, Michael Sussmann, and the tech executive knew not to be true"
Donald Trump, who personally nominated John Durham as US Attorney and whose demands for criminal investigations led to Durham's appointment as Special Counsel, asserted that his "presidency [was] spied on by operatives paid by the Hillary Clinton campaign in an effort to develop a completely fabricated connection to Russia."
These are not "third parties." These are:
The originator of the allegations against Sussmann
A self-described repeat Durham witness
The man who nominated Durham to be US Attorney and, ultimately, was his boss for almost 3 years
But there's actually another key player in the effort to magnify Durham's conflicts filing stunt who is even more central to Durham's work: One of his most important "witnesses," Sergei Millian's twitter account.
The pipeline from online conspiracy theorists through former investigators to the former President
Yesterday, Glenn Kessler attempted to trace how the filing became a propaganda tool. The timeline he laid out looks like this (these times are ET):
11:33PM: Filing hits PACER.
12:43AM: Whispers of Dementia screencaps the filing, noting Durham claimed "Sussmann is likely to be in an "adversarial posture" against Perkins Coie."
9:24AM: emptywheel notes that Durham is criminalizing lying to the FBI about traffic involving Trump Tower, which Trump himself did at the time.
9:25AM: Hans Mahncke links and screencaps the filing and claims,
Rodney Joffe and his buddies at Georgia Tech monitored Trump's internet traffic *while* he was President of the United States.
9:39AM: Kessler's gap
9:45AM: emptywheel RTs Mahncke and notes that this is about cybersecurity.
10:25AM: Techno Foggy tweets that,
DNC/Perkins Coie allies – Rodney Joffe, et al. – Joffe et al, "exploited a sensitive US govt arrangement" to gather intel on the "Executive Office of the President of the U.S." They spied on Trump.
11:11AM: House Judiciary GOP [so a Jim Jordan staffer] RTs Foggy's tweet, claiming:
We knew they spied. But it was worse than we thought.
11:44AM: Techno Foggy tweets out his Substack with the claim,
Clinton allies used sensitive data from the Office of the President to push false Trump/Russia claims to the CIA

Why did they risked jail to link Trump to Russia?

Maybe because the origin of their fraud was the "Russian hack" of the DNC.
2:27PM: John Ratcliffe responds to House Judiciary tweet with claim, "And now you're finding out why…," thereby seemingly endorsing the "spying" claim, and linking the Durham release with his own cooperation with Durham's inquiry.
3:24PM: Mark Meadows RT's Foggy's tweet, claiming,
They didn't just spy on Donald Trump's campaign.

They spied on Donald Trump as sitting President of the United States.

It was all even worse than we thought.
5:51PM: Center for Renewing America tweets out Kash Patel statement making numerous false claims.
6:47PM: Trump's spox tweets out his claims of spying.
This timeline is damning enough: It shows how these false claims went from "sleuths" who spend much of their time spinning Durham's conspiracy theories, through Techno Foggy (a self-described lawyer who has for years interacted openly with lawyers like Sidney Powell and Billy Barr's spox Kerri Kupec), to Jim Jordan's staffer to Ratcliffe to Mark Meadows to Kash Patel to Trump. Every single one of these current and former officials have played a central role in these investigations; none is a "third party."
Sergei Millian's twitter account calls it spying
But there's a very key step in Kessler's timeline that is missing. At 9:39AM (the time shown here is Irish time) — which I've marked above in red — Sergei Millian's twitter account tweeted, "They were spying on the White House, folks!!."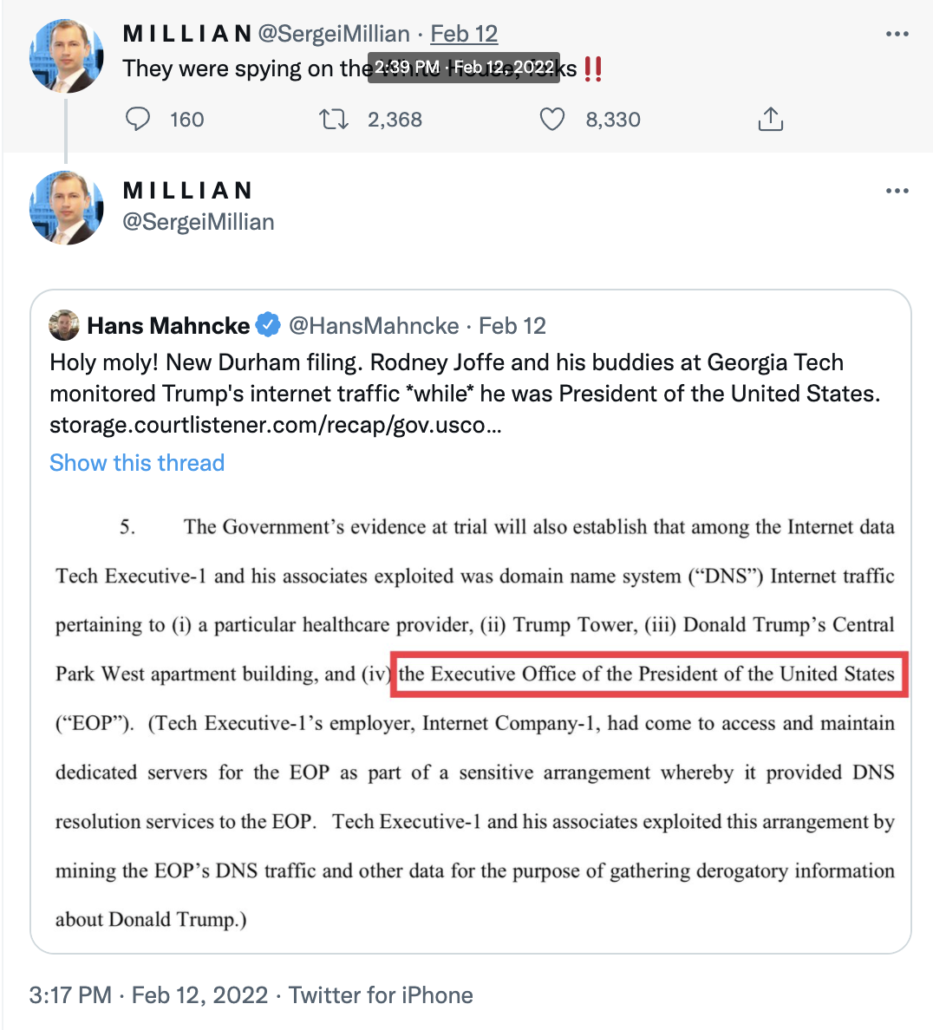 This claim was before Techno Foggy made the spying claim. The first person to have made the "spying" claim in this timeline, then, was Sergei Millian's twitter account.
In fact, the next day, Millian's twitter account insinuated to have started all this in the first place — that the twitter account "had a direct line into the White House" via which it "told them who was working against them."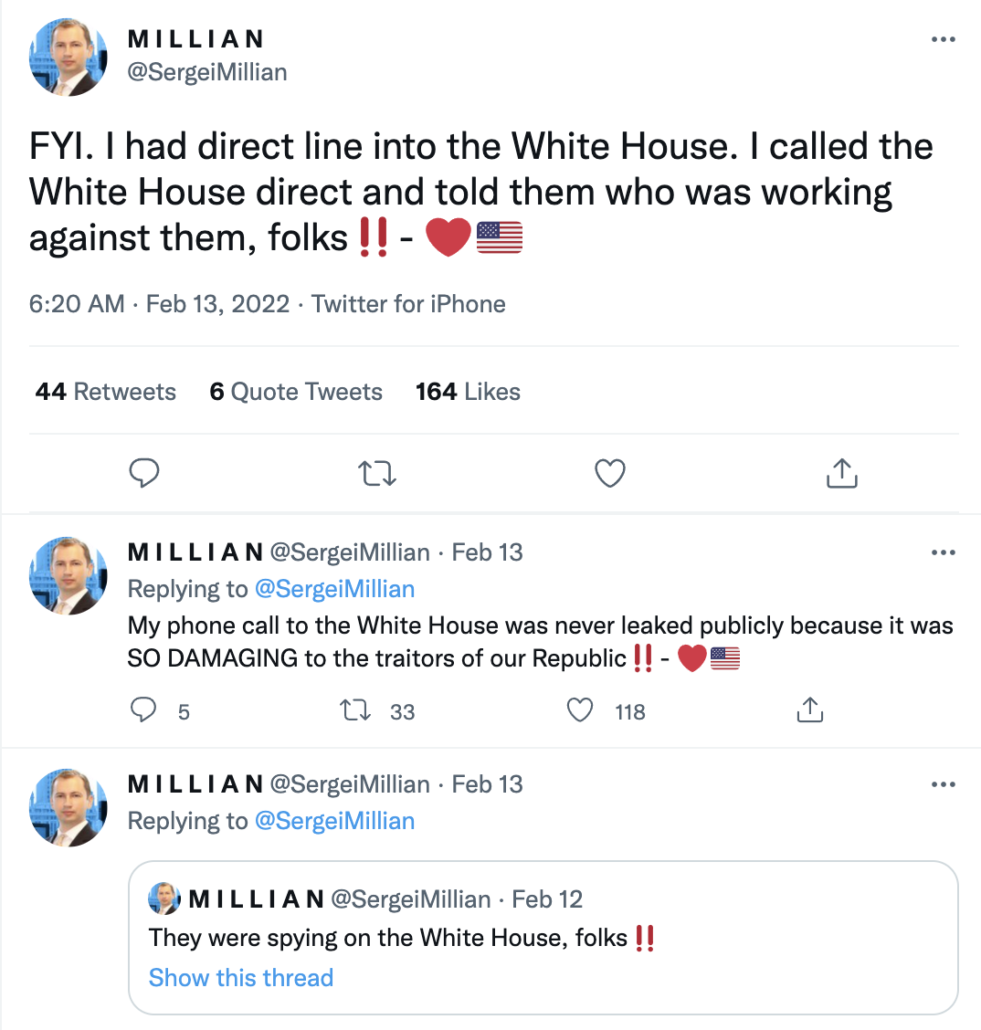 Thanks for identifying this phone call, Sergei, because Igor Danchenko will now have cause to demand details of it in discovery, which will mean, on top of the other unprecedented discovery challenges Durham has taken on in prosecuting Danchenko, he's now going to have to get Trump records from the Archives. Michael Sussmann, too, likely now has cause to demand those records.
The Millian twitter account RT of Mahncke to belatedly explain the spying claim makes it clear it is an active participant in the "Sleuths Corner" that drives many of the false claims about Durham. In fact the Millian twitter account even advertises it on the twitter account.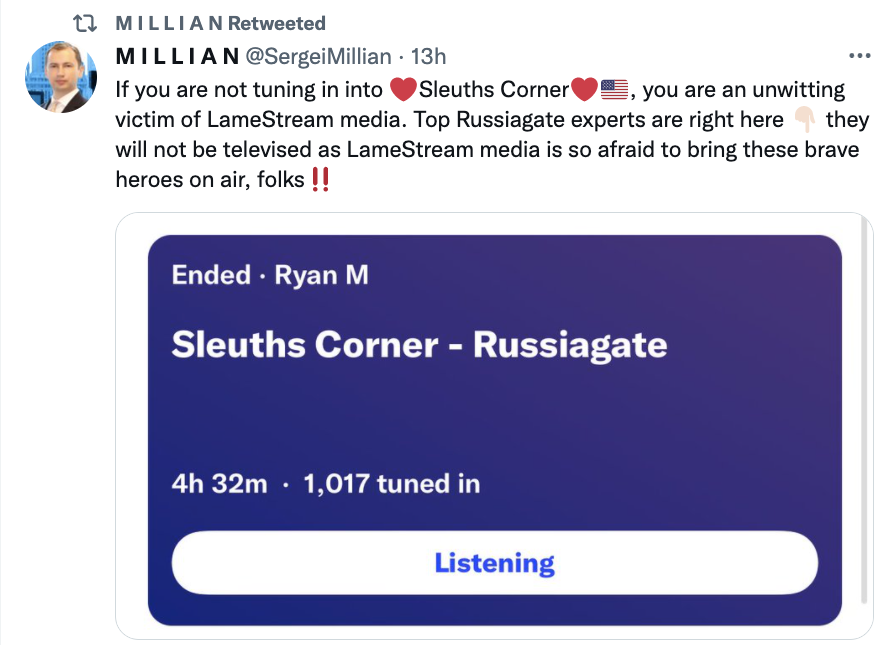 Durham says his key witness "misrepresented the facts"
This all amounts to Durham himself discrediting one of his witnesses, perhaps fatally.
As I have noted, when John Durham charged Igor Danchenko with four counts of lying about believing that he had spoken to Sergei Millian back in July 2016, Durham didn't actually claim to have obtained testimony from the human being named Sergei Millian. Durham did not appear to have required that Millian show up and make statements for which he could be legally held accountable.
Instead, Durham presented an unverified twitter account to the grand jury and based on that, claimed "Chamber President-1 has claimed in public statements and on social media that he never responded to DANCHEKNO's [sic] emails, and that he and DANCHENKO never met or communicated."
I refer to this entity as "Sergei Millian's twitter account" to emphasize that there is not a scrap of evidence in the public record showing that Durham did anything to confirm that Millian, the person, even operates it exclusively. While I have no reason to doubt that he does, from a legal standpoint, Durham is at least publicly relying on nothing but an unverified account, something journalists have been loathe to do for years with Millian.
And this claim attributed to an unverified twitter account is a very important piece of evidence. There's nothing else in the public record that shows Durham affirmatively ruled out that Danchenko and Millian really did have a phone call.
When I first realized how reckless that was, I though it impossible for Durham to have been that negligent. But we've since learned that he accused Sussmann of coordinating with Hillary's staffers without ever first interviewing a single full-time staffer. So perhaps it is, in fact, true that Durham charged a man based off the unsubstantiated claims of a twitter account.
Danchenko appears to have obtained a pre-trial subpoena on February 8; I have wondered whether it was for the Millian twitter account. If so, the subpoena might well obtain the traffic of what has happened in recent days.
As it stands, though, Durham makes no claim to have anything else.
Just that twitter account.
And that twitter account is part of a pipeline that took Durham's filing and made egregiously false claims about it. Durham is now on the record claiming that that twitter account "misinterpreted the facts." But Danchenko will have good reason — and abundant proof, given the details of last week's little propaganda explosion — to argue that Sergei Millian's twitter account is willing to make false claims to create a scandal around the Durham investigation.
That shreds the credibility of the only claimed "witness" that the call never happened.
https://www.emptywheel.net/wp-content/uploads/2022/02/Screen-Shot-2022-02-19-at-5.23.21-PM.png
764
956
emptywheel
https://www.emptywheel.net/wp-content/uploads/2016/07/Logo-Web.png
emptywheel
2022-02-19 11:27:32
2022-09-10 19:18:11
John Durham Accuses One of His Key Fact Witnesses — Sergei Millian's Twitter Account — of "Misinterpret[ing] Facts"