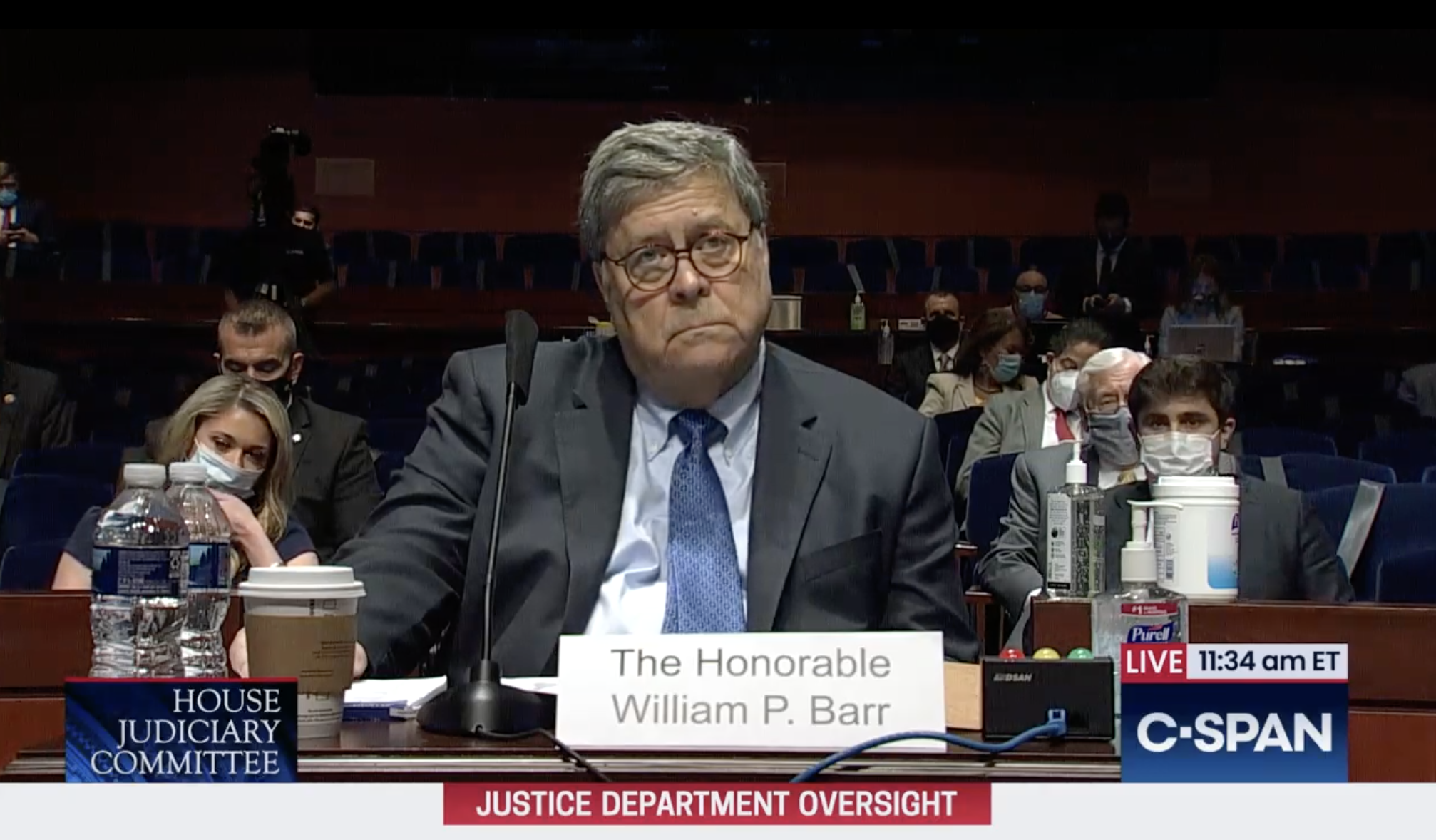 Questions for Bill Barr about His Cover-Ups Pertaining to Ukraine and Russia, Starting with: Who Withdrew the Red Notice for Yevgeniy Prigozhin?
Billy Barr's effort to launder his reputation with a book tour has started, kicked off with a supine WSJ review that includes just one "some said" clause treating as debatable the provably false claims he made in his book about intervening to eliminate all consequences for Trump's top associates for lying to cover up their interactions with Russia during the 2016 election.
During much of Mr. Barr's time in the Trump administration, some said he protected the president at the expense of the Justice Department's independence, especially over his handling of special counsel Robert Mueller's investigation of Russian interference in the 2016 election.

Mr. Barr issued his own summary of Mr. Mueller's investigative report depicting the results in a way that Mr. Mueller and others described as misleading or overly favorable to Mr. Trump. He also worked in the ensuing months to undermine some of the prosecutions spawned by the Mueller investigation. An example was his decision to drop the criminal case against Michael Flynn, Mr. Trump's former national security adviser.

Mr. Barr has said that he intervened to correct what he saw as overreach by the prosecutors and flaws in the department's approach to those cases, a stance he maintains in his book.
Barr's book tour happens at the same time, the Times reports, as 400 Wagner mercenaries sent by Putin to Kyiv are trying to hunt down the elected President of Ukraine.
More than 400 Russian mercenaries are operating in Kyiv with orders from the Kremlin to assassinate President Zelensky and his government and prepare the ground for Moscow to take control, The Times has learnt.

The Wagner Group, a private militia run by one of President Putin's closest allies and operating as an arm-length branch of the state, flew in mercenaries from Africa five weeks ago on a mission to decapitate Zelensky's government in return for a handsome financial bonus.

Information about their mission reached the Ukrainian government on Saturday morning and hours later Kyiv declared a 36-hour "hard" curfew to sweep the city for Russian saboteurs, warning civilians that they would be seen as Kremlin agents and risked being "liquidated" if they stepped outside.
This makes me wonder whether Viktor Medvedchuk — the guy Putin would like to install as a puppet — had help escaping from house arrest.
People's deputy from the Opposition Platform – Pri Life party, Putin's godfather Viktor Medvedchuk, escaped from arrest.

Source : information from the ZN.UA edition , obtained from the Office of the Prosecutor General, Advisor to the Minister of Internal Affairs Anton Gerashchenko

Details : According to sources, on February 26, the Prosecutor General's Office instructed the National Police to check the presence of Medvedchuk at the address where he is under house arrest.

The National Police fulfilled the order: Medvedchuk was not at the scene.
The coincidence of Putin's invasion with Barr's attempt to launder his reputation led me to put together a partial list of questions Barr should be asked (hopefully by Lester Holt) as he attempts to pretend he didn't pervert justice — in part — to protect Trump from his attempt to extort Ukraine. For example:
Why didn't Barr recuse himself from the review of the whistleblower complaint against Trump given that Trump told Zelenskyy Barr would contact him during the Perfect Phone Call? (This post provides more details of how Barr's DOJ mishandled that referral.)
Why did Barr only refer the transcript of the call, and not the entire whistleblower complaint, the latter of which would have led Public Integrity to see the tie between Trump's call and Rudy's successful effort to get Maria Yovanovich fired (for which Rudy remains under active investigation)?
Why did OLC, first, write a memo refusing to share the whistleblower complaint and, once they did, overclassify passages of the call to hide Barr's own role?
Why did Barr personally warn Rupert Murdoch before Sean Hannity got on a plane to fly to Vienna as part of Rudy's grift?
Why did Barr try to fire Geoffrey Berman at a time it was investigating Rudy Giuliani's role in all this?
Why did Barr ask one of his most politicized US Attorneys, Scott Brady, to serve as an intake point for Russian disinformation from Andrii Derkach?
Why did Barr separate the investigation into Derkach from the one in which Rudy, who met with Derkach after he had been IDed as a Russian agent, was already under investigation?
Had Barr not intervened in all these ways, the US would have been better able to protect its own democracy from Trump (and Giuliani's) attempt to corrupt Ukraine's democracy. Instead, Ukraine is schooling America about what it takes to defend democracy.
But given the assassins hunting down Zelenskyy even as Barr attempts to launder his reputation, there's perhaps a more urgent question. Why did Bill Barr's DOJ let the Red Notice for Yevgeniy Prigozhin's arrest drop in September 2020?
In March 2020, DOJ dismissed the case against two of Prigozhin's companies that had interfered in the 2016 election, but not Prigozhin himself. As I wrote, the decision was not as suspect as some of Barr's other interventions in Mueller prosecutions (though it happened at the same time). Because Prigozhin's corporate persons, but not his biological person, showed up to contest the charges, the Prigozhin defense became substantially an effort to learn FBI's sources and methods. A Dabney Friedrich decision on the protective order exacerbated that, and another required DOJ to start naming US persons affected. Dropping the case against two corporate persons was not, itself, suspect. DOJ did not drop the case against Prigozhin or his trolls.
Even though the charges against the biological person Prigozhin had not been dropped, in September 2020, Interpol removed Prigozhin from the list of those who could be arrested, citing the dismissal against his corporate persons. This allowed Prigozhin to make several trips to jurisdictions, including Germany, from which he could have been extradited.
It's certainly possible Billy Barr had no role in this decision and that DOJ tried to point out that, in fact, the charges against Prigozhin remained (and still remain). But given that he gave a screed that seemed to attack the prosecution as a whole at the time, perhaps DOJ affirmatively let Prigozhin slide.
But as his book tour takes place against the backdrop of assassins hunting for Zelenskyy, it seems like a good time to ask him if he did intervene to let the owner of Putin's paid killers travel free from any risk of direct legal consequences for his intervention in America's own democracy.
https://www.emptywheel.net/wp-content/uploads/2020/07/Screen-Shot-2020-07-28-at-4.35.21-PM.png
1178
2014
emptywheel
https://www.emptywheel.net/wp-content/uploads/2016/07/Logo-Web.png
emptywheel
2022-02-28 04:05:23
2022-03-14 14:55:31
Questions for Bill Barr about His Cover-Ups Pertaining to Ukraine and Russia, Starting with: Who Withdrew the Red Notice for Yevgeniy Prigozhin?