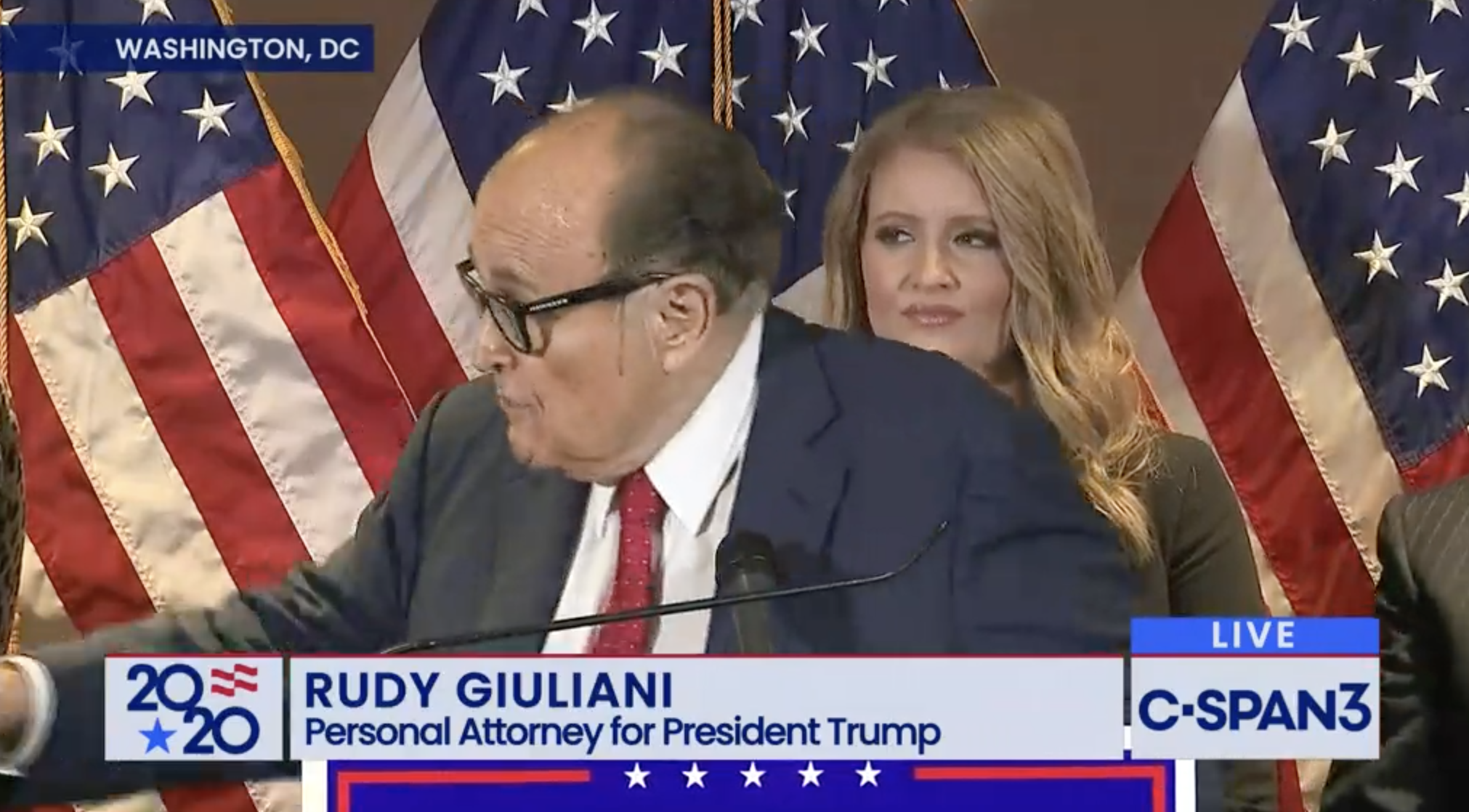 Four Rudy Giuliani-Related Privilege Reviews: DOJ Likely Already Has a Version of Document 4708
As I noted here and here, on Monday, Judge David Carter ordered John Eastman to turn over most documents he had been trying to withhold from the January 6 Committee. That order found that it was likely that Trump and Eastman had conspired to defraud the US. But there was just one document turned over on the basis of crime-fraud exception: a document otherwise privileged under a work product claim that, Judge Carter ruled, could not be withheld because it was sent in the commission of the attempt to obstruct the vote count.
Here's how Carter described the document:
In this email, a colleague forwards to Dr. Eastman a memo they wrote for one of President Trump's attorneys.153 The memo sketches a series of events for the days leading up to and following January 6, if Vice President Pence were to delay counting or reject electoral votes. The memo clearly contemplates and plans for litigation: it maps out potential Supreme Court suits and the impact of different judicial outcomes. While this memo was created for both political and litigation purposes, it substantively engages with potential litigation and its consequences for President Trump. The memo likely would have been written substantially differently had the author not expected litigation. The Court therefore finds that this document was created in anticipation of litigation.

[snip]

The eleventh document is a chain forwarding to Dr. Eastman a draft memo written for President Trump's attorney Rudy Giuliani.274 The memo recommended that Vice President Pence reject electors from contested states on January 6. This may have been the first time members of President Trump's team transformed a legal interpretation of the Electoral Count Act into a day-by-day plan of action. The draft memo pushed a strategy that knowingly violated the Electoral Count Act, and Dr. Eastman's later memos closely track its analysis and proposal. The memo is both intimately related to and clearly advanced the plan to obstruct the Joint Session of Congress on January 6, 2021. Because the memo likely furthered the crimes of obstruction of an official proceeding and conspiracy to defraud the United States, it is subject to the crime-fraud exception and the Court ORDERS it to be disclosed.

274 4708. [my emphasis]
Carter's decision and the release of documents has set off the usual wails about how much more proactive the January 6 Committee is than DOJ, replete with statements of fact — almost always people who haven't done any work to understand what DOJ is really doing — that DOJ hasn't taken steps to obtain such documents itself.
I'd like to look at four privilege reviews that implicate Rudy Giuliani and show that it is likely DOJ already has this document or at least ones that are related. Those reviews are:
Judge David Carter's review of 111 documents subpoenaed from John Eastman by the January 6 committee
The 11-month long privilege review of materials on 16 devices seized from Rudy Giuliani on April 28, 2021
Details released about Robert Costello's advice to Steve Bannon provided in response to a subpoena from the January 6 Committee
The known details about subpoenas served on Sidney Powell's non-profit, Defending the Republic
John Eastman
As explained here, the David Carter opinion describes the judge's privilege review of just four days of materials (January 4 to January 7, 2021) responsive to the January 6 Committee subpoena to Eastman. Carter went meticulously through seven categories of materials in Eastman's possession and determined that just ten documents could be withheld under a work product claim and one — document 4708 — had to be turned over under a crime-fraud exception.
Carter ruled the document — an email chain that forwarded a memo written for Rudy to Eastman — was excepted under a crime-fraud exception because, the judge described, it sought to transform Eastman's Electoral Count Act scheme "into a day-by-day plan of action." Eastman didn't write it. Rather, because the document was created for Rudy, Carter treated it along with four others, "created by or for agents of President Trump or his campaign, including attorneys of record in state cases and President Trump's personal attorney." [my emphasis]
References to the document explain that Eastman claimed attorney-client privilege over the document (fn 81, 125) and someone wrote "PRIVILEGED AND CONFIDENTIAL" in email text (fn 101).
Carter's review of the document is particularly valuable for how he dismisses Eastman's attorney-client privilege claim: In hundreds of pages of briefing, Eastman provided no evidence that its sender was affiliated with the Trump campaign or was covered by Eastman's own claim to be representing Trump.
Dr. Eastman claims attorney-client privilege over only nine documents: five emails125 and four attachments.126 None of these documents includes Dr. Eastman's client, President Trump, as a sender or recipient of the email. Instead, all emails are sent from a third party to Dr. Eastman, and two of the emails blind copy (bcc) a close advisor to President Trump.127

Despite having filed nearly a hundred pages of briefing, Dr. Eastman does not mention this third-party email sender anywhere in his briefs; the person is named only in his privilege log entries. Dr. Eastman's description in the privilege log is conclusory, describing the sender merely as his "co-counsel."128 Dr. Eastman failed to provide retainer agreements or a sworn declaration that would prove this third party was an attorney or agent for President Trump. The Court also cannot infer the third party's affiliation with President Trump from his email, which is a generic, [email protected] email address. Dr. Eastman has not met his burden to show that these communications were with an agent of President Trump or the Trump campaign, and as such, these documents do not warrant the protection of the attorney-client privilege.
In other words, there was someone involved in relaying a memo originally written for Rudy to Eastman that Eastman didn't want to or couldn't argue was a Trump lawyer. And that's why this attorney-client privilege claim failed. That's an important detail because — as we'll see — Bannon tried something similar.
Rudy Giuliani
Now let's turn to Rudy's phones. As I keep explaining, while the known warrants used to seize Rudy's phones cover his Ukrainian influence peddling and cover a time period from May 1, 2018 through December 31, 2019, SDNY got Judge Paul Oetken to approve a Special Master review that covered the period from January 1, 2018 through the date of seizure, April 28, 2021. Special Master Barbara Jones' review is only for privilege claims (including Executive privilege and attorney-client at least), not for responsiveness to any subpoena, so the end result of her review will result in turning over all non-privileged content on Rudy's devices from that 28-month period.
That means if the person who created the memo forwarded as part of document 4708 sent it to Rudy on one of the devices that were seized, then the underlying memo would be included in the Special Master review.
We don't know how DOJ has prioritized this review. We know only what is in this and earlier reports, which I've captured in this table.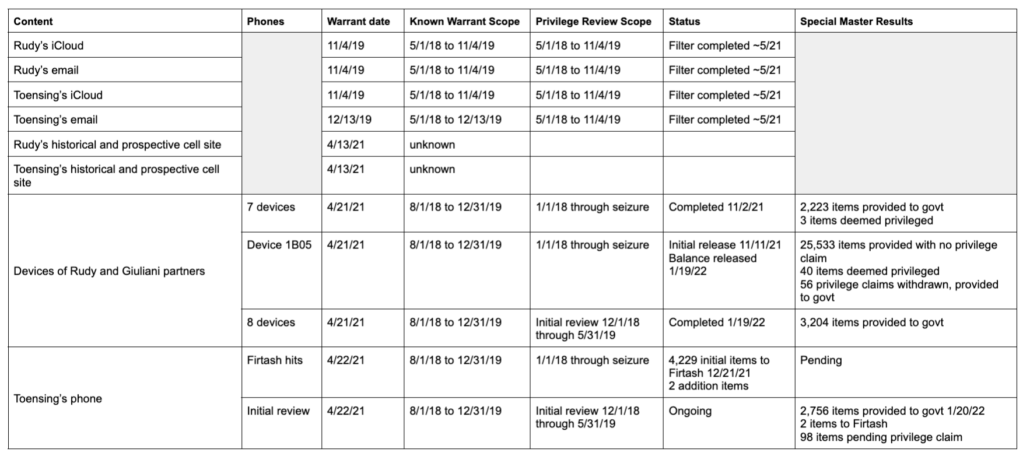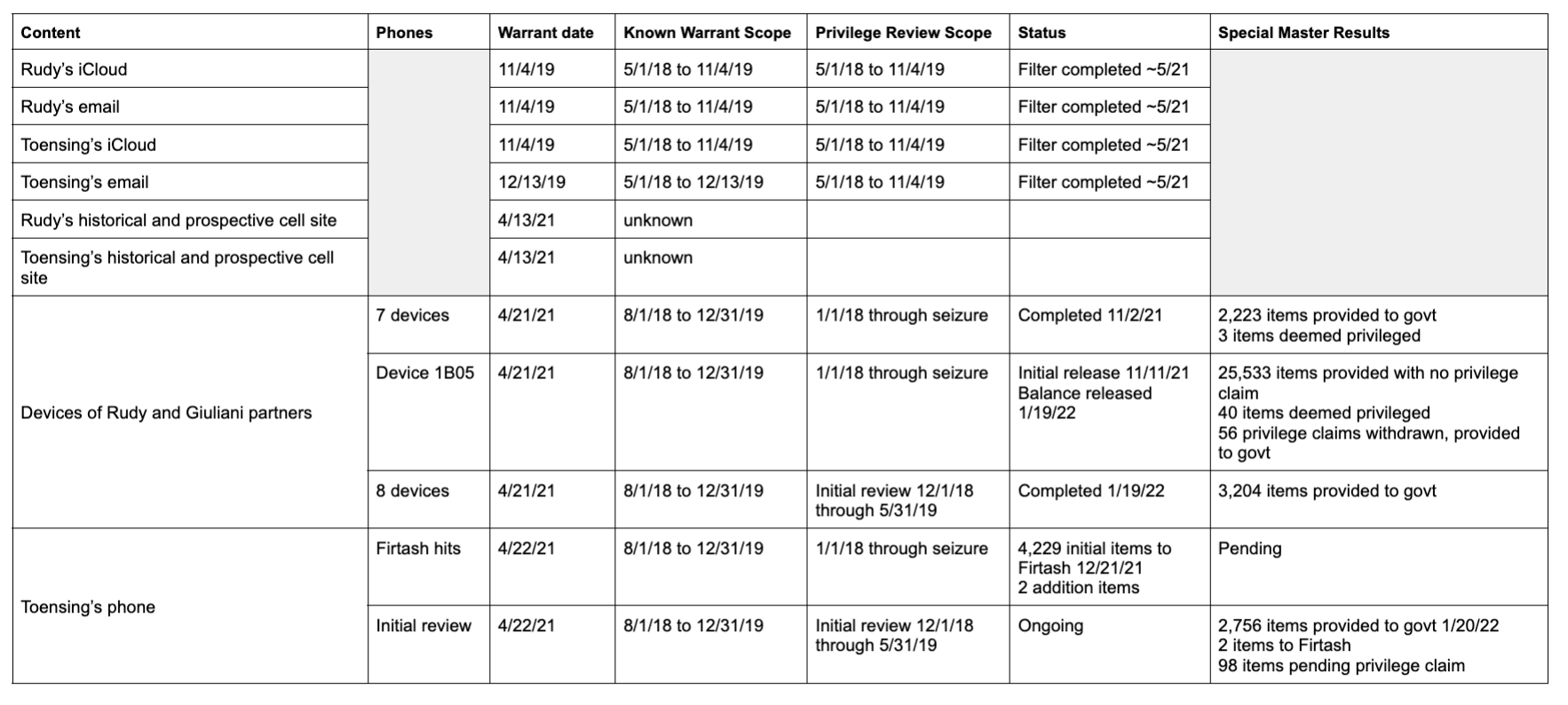 Jones did an initial review, covering the entire timeframe (that is, post-dating January 1, 2018) of 7 devices, from which she found 3 documents about which she had some question, but ultimately deemed them privileged and turned over 2,000 other items.
Then, seemingly in parallel, she did a review of Device 1B05 (a cell phone) and 8 other devices. For the 8 devices, her review covered only the period of Rudy's Ukrainian influence peddling. But for Device 1B05, Jones' review covered the full 28-month period, meaning it would include any texts or messages sent on or pertaining to January 6.
I next assigned for review the chats and messages that post-dated January 1, 2018 on Device 1B05, which is a cell phone. There were originally 25,481 such items, which later increased to 25,629 after a technical issue involving document attachments was identified. An initial release of non-designated items was made to the Government's investigative team on November 11, 2021.1

Of the total documents assigned for review, Mr. Giuliani designated 96 items as privileged and/or highly personal. Of those 96 designated items, I agreed that 40 were privileged, Mr. Giuliani's counsel withdrew the privilege designation over 19, and I found that 37 were not privileged. I shared these determinations with Mr. Giuliani's counsel, and they indicated that they would not challenge my determination that the 37 items are not privileged. The 40 privileged documents have been withheld from the Government's investigative team and the remaining 56 were released on January 19, 2022.

1 Additional non-designated items were released on January 19, 2022.
Device 1B05 was the only one for which Jones disputed the original privilege claims made by Rudy and his attorney Robert Costello. Of 40 items, Jones agreed with their privilege claim. Of 19, Costello withdrew the claim. And of 37, Jones told Costello she disagreed, after which Costello decided not to fight her ruling.
While these discussions were going on, Judge Oetken issued a ruling that, if Rudy wanted to challenge Jones' rulings, they'd have to make their legal arguments (but not the content of the contested communications) public. During the Michael Cohen privilege review, such a decision led Cohen and Trump to drop privilege claims, probably over the crime-fraud excepted hush payment communications, and that may be what happened here.
Whatever happened, we know that, with the exception of 43 items, any January 6-related communications that were on half of the 16 phones seized from Rudy would have been turned over to the FBI for a scope review. To be clear, investigators wouldn't be able to access those comms unless they got a separate warrant for them, but we would never know (short of an indictment relying on them) if they had.
None of that guarantees that the memo forwarded with Eastman's document 4708 is in DOJ possession. If the person who wrote it emailed it, it would not necessarily be on the seized devices. (Though if DOJ had a January 6 warrant for Rudy's phones, they presumably would have obtained one for his email and iCloud as well, as they did with his Ukraine investigation.) If the person delivered it by hand, it would not be on the devices. And it's possible that Costello made a more compelling argument than Eastman did that the sender was covered by a privilege claim tied to Trump.
Steve Bannon
We don't know what kind of wild privilege claims Robert Costello was making as part of the privilege review of Rudy's devices (which started in earnest in September 2021). But we do know what kind of wild privilege claims Robert Costello was making for another of his clients, Steve Bannon, in discussions of how to respond to a subpoena from the January 6 between October 5 and 19, 2021. He provided those details (including two 302s from interviews at which FBI agents were present) in a bid to claim he — Costello — was unfairly targeted as part of DOJ's investigation of Bannon's contempt (see this post for details).
In Costello's interviews, he was all over the map about whether Bannon could invoke Executive Privilege. He said that according to some OLC opinions, Bannon did not have to be a government employee to receive "protections" under EP, and that "TRUMP had the right to claim it for BANNON." He said that 10 of the 17 items on the Jan 6 subpoena were covered by EP. He admitted EP did not cover a request for comms involving Scott Perry and "it would take a 'creative argument' to apply Executive Privilege to that particular item." He admitted, too, that comms with the Proud Boys wouldn't be covered by EP if such communications existed.  He said that EP claims should be worked out between Trump and the Committee. He said he had told Bannon that Bannon could not invoke EP because "that authority belongs to the President."
Ultimately, though, Costello admitted that Trump's attorney Justin Clark never reviewed anything Bannon might have claimed privilege over and refused several requests to contact the Committee himself about EP.
COSTELLO did not provide any documents to attorneys representing former President Trump for review to determine if Executive Privilege covered the documents. At the time, COSTELLO did not know what attorneys were representing others who had received Select Committee subpoenas.

COSTELLO asked CLARK to reach out to the Select Committee and to directly express to the Select Committee what COSTELLO and BANNON were confused about in regards to Executive Privilege. COSTELLO estimated he requested this of CLARK approximately two or three times; however, CLARK did not reach out to the Select Committee. COSTELLO did not have prior knowledge of the lawsuit of former President TRUMP.

[snip]

CLARK would not identify for COSTELLO what would be covered under Executive Privilege and that CLARK left that determination up to those who had received the Select Committee subpoena. CLARK also refused to reach out to the Select Committee on behalf of COSTELLO or BANNON.

[snip]

COSTELLO did not provide or offer any documents to attorneys representing former President TRUMP to review for Executive Privilege.
In a follow-up, Costello effectively admitted there was no concrete record that Trump had invoked EP.
Costello stated that Justin Clark (Clark) was trying to be intentionally vague; however, Costello was clear former President Donald Trump (President Trump) asserted executive privilege with regard to Bannon.
When DOJ asked Costello for a letter indicating that Clark had invoked EP for Bannon, he had nothing specific.
Then there was the matter of Bannon's podcasts. Costello ceded they weren't covered by privilege, but only because they were public (!!!!), and appears to have just assumed the Committee would go get them on their own.
With regards to responding to the Select Committee's request for documents, COSTELLO planned to send a link to the website hosting all of BANNON's publicly accessibly podcasts.

[snip]

The podcasts requested could be obtained by the Select Committee off the internet, and since they were in the public domain, the podcasts also were not covered by Executive Privilege.

[snip]

COSTELLO admitted he did not have a good answer as to why he didn't disclose to the Select Committee that the podcasts were in the public domain and BANNON was not required to respond to that particular item. COSTELLO believed the particular requests regarding the podcasts was just a "bad request" by the Select Committee.
The most telling piece of advice given by the lawyer Bannon shares with Rudy — one that goes to the heart of what Costello might have done in discussions taking place at the same time about privilege with SDNY — was that Bannon, who is not a lawyer, could claim attorney-client privilege over items requested in item 17 of the subpoena, which asked for,
Any communications with Rudolph Giuliani, John Eastman, Michael Flynn, Jenna Ellis, or Sydney Powell about any of the foregoing topics.
Costello claimed these such communications, including those with Mike Flynn or Sidney Powell, would be covered by attorney-client or work product privilege.
COSTELLO believed that the request listed as number 17 involved information over which BANNON could assert attorney-client privilege given it included a request for communications between BANNON and RUDOLPH GIULIANI, JENNA ELLIS, and other attorneys who were working for former President Trump.

[snip]

COSTELLO believed item 17 was covered by attorney-client privilege or by attorney work product protections. Even though MICHAEL FLYNN was not an attorney, he was present during attorney-client-protected discussions. Those particular attorneys represented former President TRUMP and CLARK informed COSTELLO not to respond to item 17.
There's so much crazy-train about this last bit. After stating over and over that Clark refused to invoke EP, Costello then admitted that Clark wanted Bannon to withhold communications involving Rudy, Eastman, Powell, and Mike Flynn. Costello admitted Flynn (like Bannon) was not a lawyer, but was still prepared to claim attorney work product over comms with him anyway. But the thing I can't get enough of is that Rudy's lawyer Robert Costello was claiming that Sidney Powell — who, in a written statement issued on November 22, 2020, Trump's lawyer Rudy Giuliani made very clear did not represent Donald Trump — represented Donald Trump.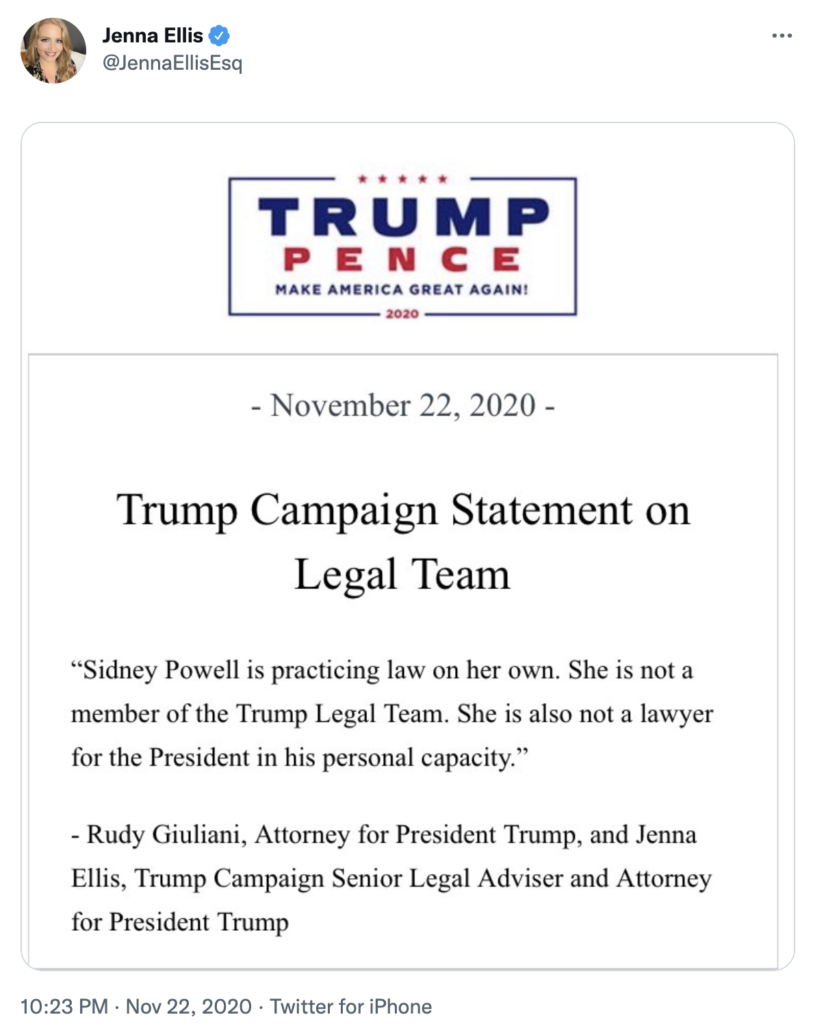 Still, all this crazy train amounts to non-lawyer Bannon, advised by the lawyer he shares with Rudy, making the same claim that lawyer John Eastman had made regarding "war" planning leading up to January 6; that such documents were covered by work product privilege. That's the same claim that Judge Carter just applied a crime-fraud exception for.
I'm guessing Costello attempted to make similar claims with Barbara Jones in SDNY and I'm guessing that Jones pointed out that Bannon and Flynn aren't lawyers and Rudy was quite clear that Powell was not Trump's lawyer. In other words, I think it likely that some of the claims Costello withdrew are similar to those that Eastman failed with. If that's right, it increases the chance Document 4708 would be turned over to DOJ.
Sidney Powell
And then there's the Kraken lady.
We don't know the full scope of the grand jury investigation into Powell, aside from the fact that Molly Gaston, who is supervising the Bannon prosecution, is also involved in it (which means she'd have visibility on the overlap between the two, and would know that Trump's lawyer tried to withhold comms involving Powell without invoking privilege). The subpoena requests, at least, cover the finances of her Defending the Republic "non-profit."
The federal probe, which has not been previously reported, is examining the finances of Defending the Republic, an organization founded by Powell to fund her "Kraken" lawsuits to overturn the 2020 election, the sources said.According to two of the people familiar with the matter, a grand jury was empaneled, and subpoenas and documents requests have gone out to multiple individuals as recently as September.
The investigation, then, would cover activities that are tangential to the January 6 subpoenas to Bannon and Eastman.
But the fact that there's a grand jury investigation into Powell makes it exceedingly likely DOJ got a warrant for her emails.
She has a valid privilege claim covering communications with Mike Flynn for some of this period. But thanks to Rudy's public statement, she has no privilege covering her actions for Trump.
Chances are pretty good she received a copy of the memo for Rudy too (if the memo wasn't written by someone with closer ties to Powell than Rudy).
I think it's likely that DOJ has multiple copies of document 4708, probably via Rudy, Bannon, and Powell, if not Eastman himself (getting it from Chapman U would always have been easy to do with a gag, and would be still easier now).
What's clear, though, is that the lawyer that Rudy and Bannon share is making privilege claims every bit as absurd as the ones Carter just rejected, and with Bannon, there's no question about privilege claims.
https://www.emptywheel.net/wp-content/uploads/2020/11/Screen-Shot-2020-11-20-at-10.41.19-AM.png
1118
2022
emptywheel
https://www.emptywheel.net/wp-content/uploads/2016/07/Logo-Web.png
emptywheel
2022-03-30 13:29:04
2022-03-31 06:42:31
Four Rudy Giuliani-Related Privilege Reviews: DOJ Likely Already Has a Version of Document 4708