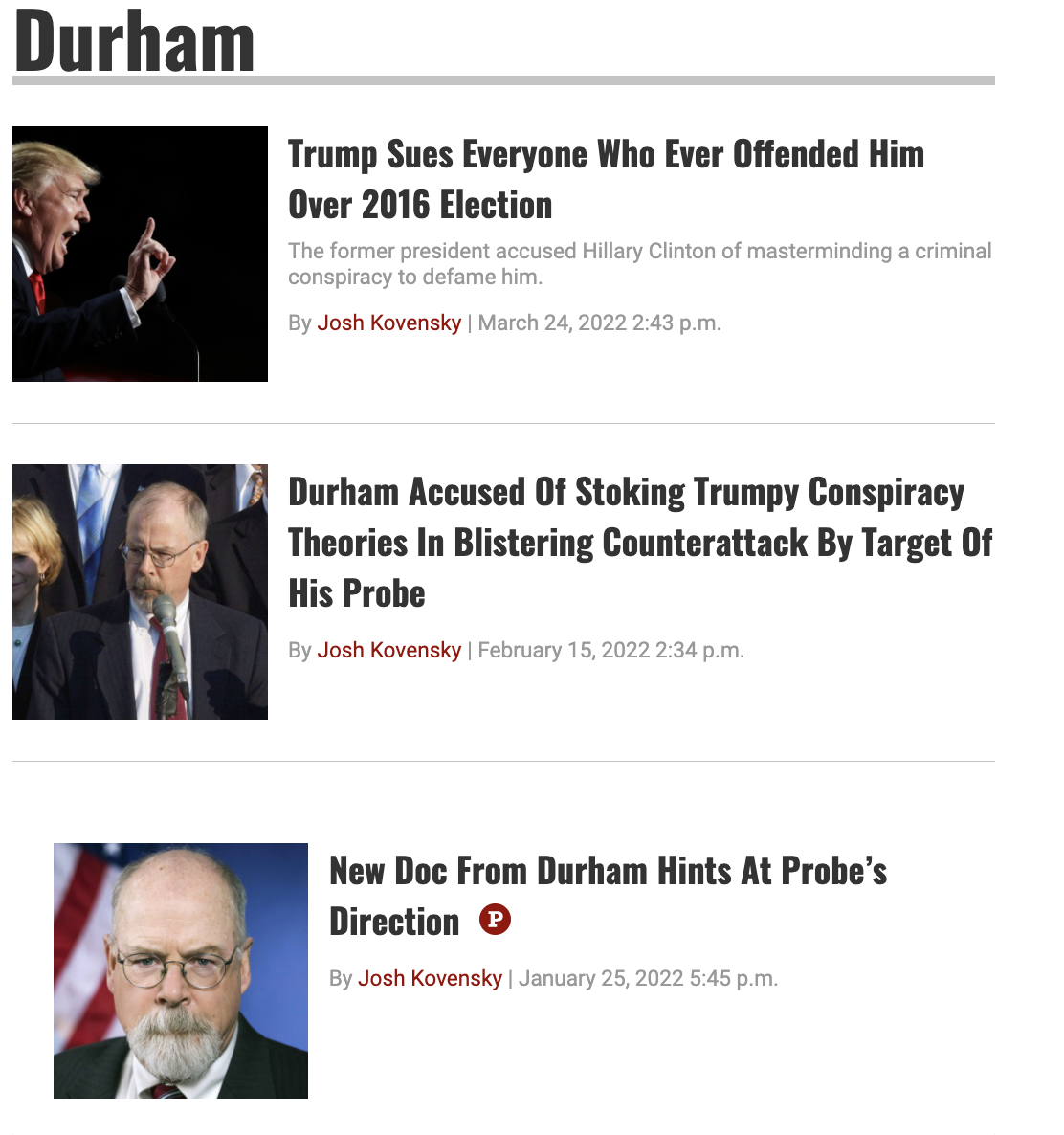 Josh Marshall's "Team on the Field:" Putting GOP on Defense Over Russia Requires Reversing Their Offense
Josh Marshall argued yesterday that the Democratic Party needs to start going on offense on the GOP's complicity in Russia's attack on Ukraine.
A new AP poll says that 54% of Americans think President Biden has been "not tough enough" on Russia for its invasion of Ukraine. These kinds of public perceptions can be shaped by perceptions of a leader as much as they drive them. So you think Biden is weak as your starting point and therefore you think he's not being tough enough on Russia rather than the other way around. Also notable, Americans' hawkishness over Ukraine has dipped a bit from a month ago. But the first, second and third most important thing about this poll is that this is what you get when you're not reminding Americans every day — and I mean every god-damned day — that the GOP has spent the last 7 years boosting, allying with and even conspiring with Russia.

[snip]

Will pushing the GOP's guilt and complicity on Russia make people stop caring about inflation? Of course not. But if you're not even putting that team on the field you are simply not doing the simplest blocking and tackling of politics. It's that bad. [my emphasis]
I don't disagree with him. But for a guy with his own media outlet, he needs to start taking his own advice. That's because his site has done little to undercut the flood of disinformation that the GOP has used to hide their own complicity.
Between the tag, "Durham,"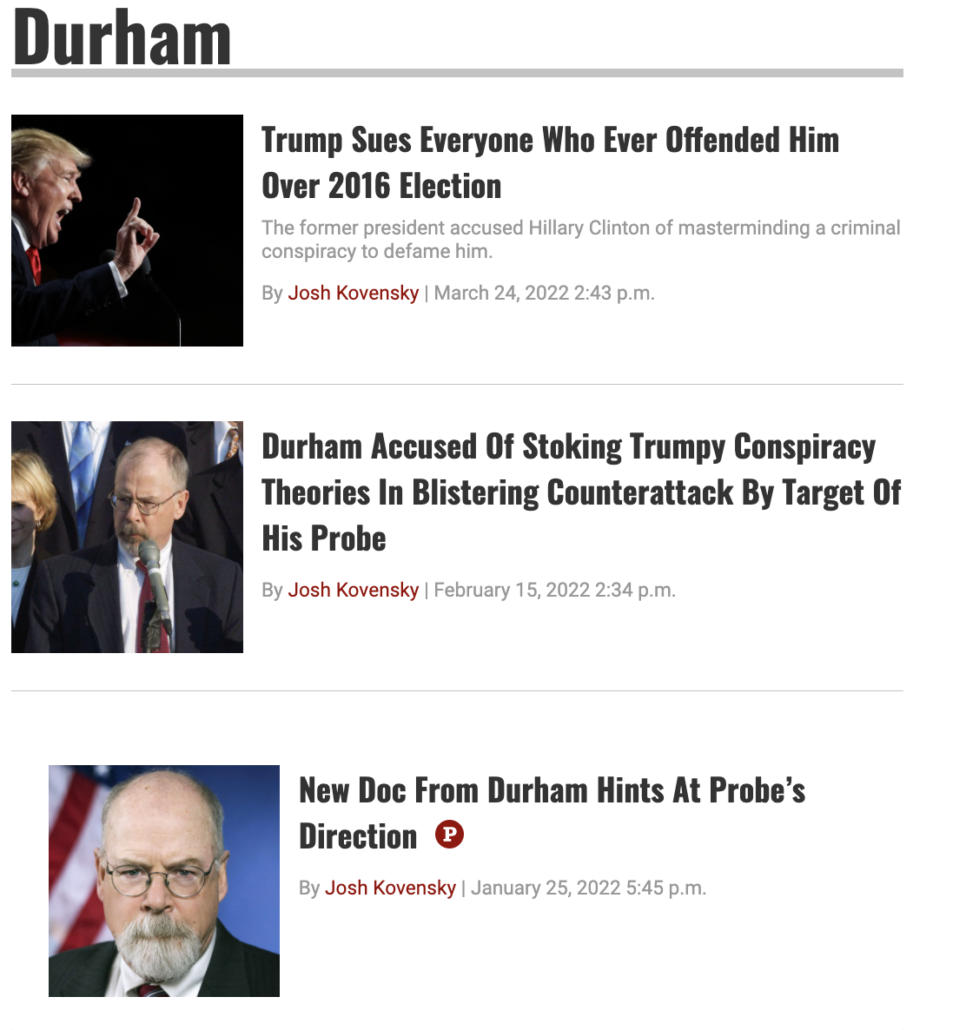 And "John Durham," Marshall's site shows four stories this year.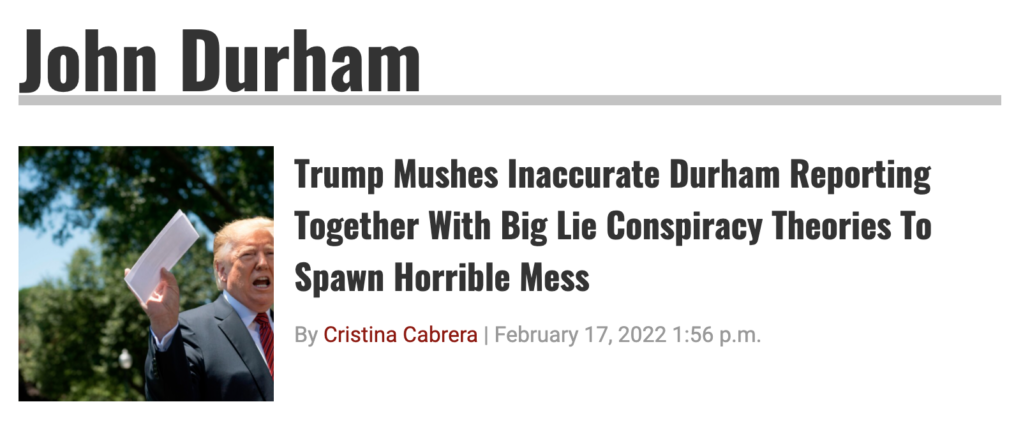 The tag, "Hunter Biden," returns just two things this year.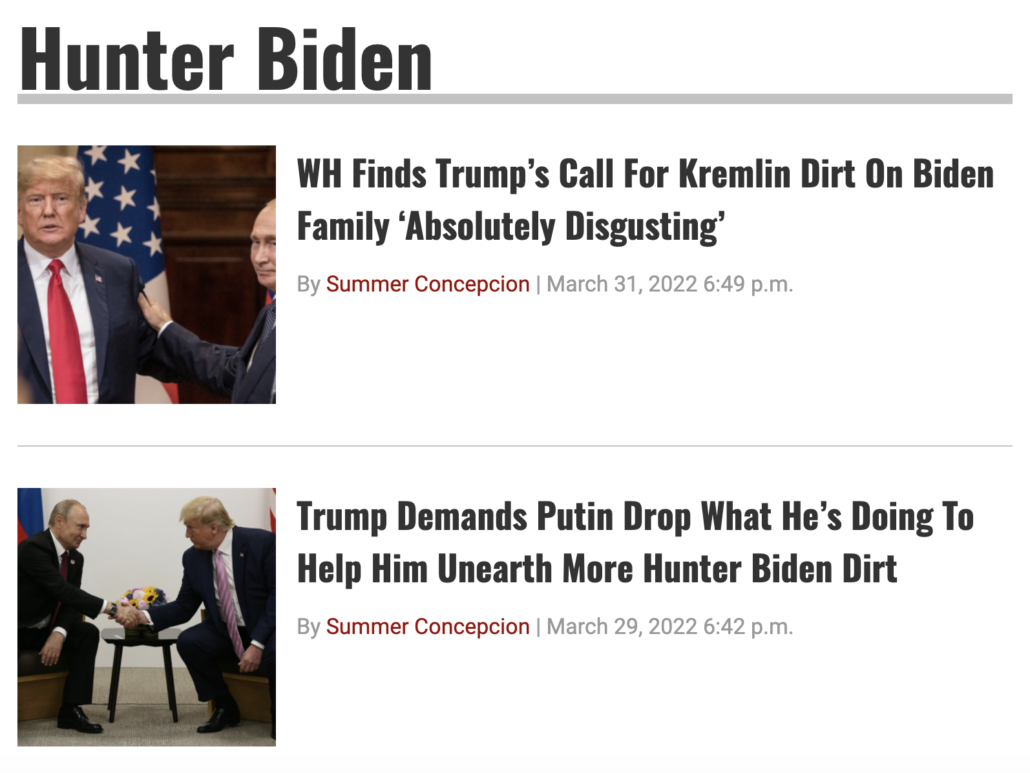 While I haven't focused on undermining the ridiculous claims the GOP are making about the "Hunter Biden" "laptop" — I have written just three stories this year (one, two, three), though that number would be far more if you count my focus on the investigation into Rudy — I've written 28 stories on the Durham investigation this year. Among other things, I have shown that:
One of the only other reporters covering this stuff with any attention, Charlie Savage, has to cater to a general audience. Meanwhile, an absolute torrent of propaganda from the frothy right has ignored the accumulated evidence not just of prosecutorial abuse, but shocking sloppiness. Instead, they spin Durham's unsubstantiated conspiracy theories as fact, and from that, conclude that Trump wasn't really badly implicated by Russia, but instead that was all made up by Hillary ahead of time.
If I weren't alone swimming against this tide, Durham's rank ignorance would actually be a great vehicle to correct the frothers. As I've noted, Durham and his rubes appear entirely unaware that the suspicions of the researchers trying to understand the Alfa Bank anomalies — that Trump had back channel communications with the Kremlin, that people close to Trump were laundering payments from oligarchs close to Trump, and that a family member of an Alfa Bank oligarch might be helping — all proved to be true.
The story of the Durham investigation is that he has criminalized people investigating reasonable inferences that turned out to be true. And yet the story that has gotten told, largely because other reporters are largely silent about it, is that he continues to chase Russian-seeded conspiracy theories in defiance of the evidence obtained as part of the Mueller investigation.
Josh Marshall has been far more successful than me in the two decades we've done this online journalism thing, so I'm in no place to tell him how to run his business.
But people believe that Biden is weak on Ukraine not just because Democrats aren't screaming about how complicit Trump and his enablers are. They believe it because Trump has seeded two screaming conspiracy theories that have filled that void with false denials that all the suspicions about Trump turned out to be true.
Update: Added a third "Hunter Biden" "laptop" story.
https://www.emptywheel.net/wp-content/uploads/2022/04/Screen-Shot-2022-04-22-at-11.55.01-AM.png
1186
1112
emptywheel
https://www.emptywheel.net/wp-content/uploads/2016/07/Logo-Web.png
emptywheel
2022-04-22 07:41:33
2022-04-22 08:35:33
Josh Marshall's "Team on the Field:" Putting GOP on Defense Over Russia Requires Reversing Their Offense