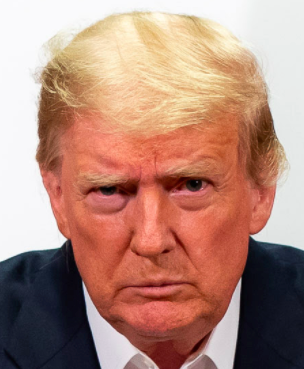 There was a funny exchange in yesterday's pre-trial hearing in the Michael Sussmann case. In the part of the hearing focused on objections to exhibits, Andrew DeFilippis raised the newspaper articles that — I noted — were necessary background to understand the mindset that led Sussmann and Rodney Joffe to believe that the Alfa Bank DNS anomaly raised national security concerns.
These articles explain why it was reasonable, not just for the Democrats' cybersecurity lawyer who was spending most of his days trying to fight back against a persistent Russian hack, but also for the researchers and Rodney Joffe to try to first look for more Russian hacking (including that victimizing Republicans), and when they found an anomaly, to try to chase it down and even to bring it to the FBI for further investigation. Several threads of these articles — pertaining to Trump's request that Russia hack Hillary and to Manafort's corruption — were explicitly invoked in discussions that Durham wants to claim must arise from political malice.
In the hearing, DeFilippis predictably complained that prosecutors didn't want this to become a trial on Donald Trump's ties to Russia.
MR. DeFILIPPIS: The last category we had identified were a number of news articles about — again, on the face of — the headlines of the articles about — "Donald Trump's ties to Russia," I think, was the primary theme of the news articles.

We just — number one, they're news articles, which we don't think have, you know, probative weight here. Number two, we do not want to make this a trial on Donald Trump's ties to Russia.

And again, we don't have a lot of context for which it would be — why the defense would want to offer all of those. But I think our initial reaction is they would be a distraction.
Sussmann's attorney Sean Berkowitz noted that prosecutors — who have made several newspaper articles the central point of their case — aren't so much opposed to newspaper articles as evidence as they're opposed to articles about Trump and Russia.
MR. BERKOWITZ: So as we understand the objection, your Honor, it's not to articles generally. They have articles on their exhibit list. It's to articles that talk about the issues with Trump and Russia in the summer of 2016.
Judge Christopher Cooper correctly noted that it would be unfair to send a bunch of articles back with the jury to read.
THE COURT: I think it's broader than that. It's sending back multiple newspaper articles to the jury with all sorts of stuff in them, and the jury is spending its time reading newspaper articles.
Berkowitz noted that they're really trying to get to the mindset of Sussmann and Joffe, particularly their response to Trump's request that Russia hack Hillary some more.
MR. BERKOWITZ:  The articles that we think are relevant, your Honor, relate to what's going on in the world in July and August of 2016, which provide context and animate what's going on for Mr. Sussmann and Mr. Joffe and why there are potential national security issues associated with this.

As you'll remember, you know, on July 27th, at a press conference — again, this is shortly before the researchers start looking into issues, according to the Government — Trump has a press conference that says: Russia, if you're listening, I hope that you're able to find the 30,000 emails that are missing. I think you'll probably be rewarded mightily by our press.

That fact being out there and well known provides context for the work that's done and the motivation potentially to go to the FBI as to why it would be relevant that there were connections between — potential connections between Trump and Russia.

[snip]

But the fact that this was what was going on in the world at this time we think is very relevant to the state of mind and the rationale behind this as well as the opposition research that was going on.
Cooper cut off Berkowitz before he could explain how this related to the DNC hack. But he suggested that such information could instead come in via questioning of Robby Mook, Marc Elias, and James Baker.
THE COURT: — Mr. Elias, Mr. Mook, Mr. Baker perhaps can all certainly testify to that. Right?

MR. BERKOWITZ: I think that they certainly could, your Honor.
As I've noted, that the main redacted part of Elias' declaration explaining why they hired Fusion for Russian-related research was introduced via a reference to Trump asking Russia to hack Hillary.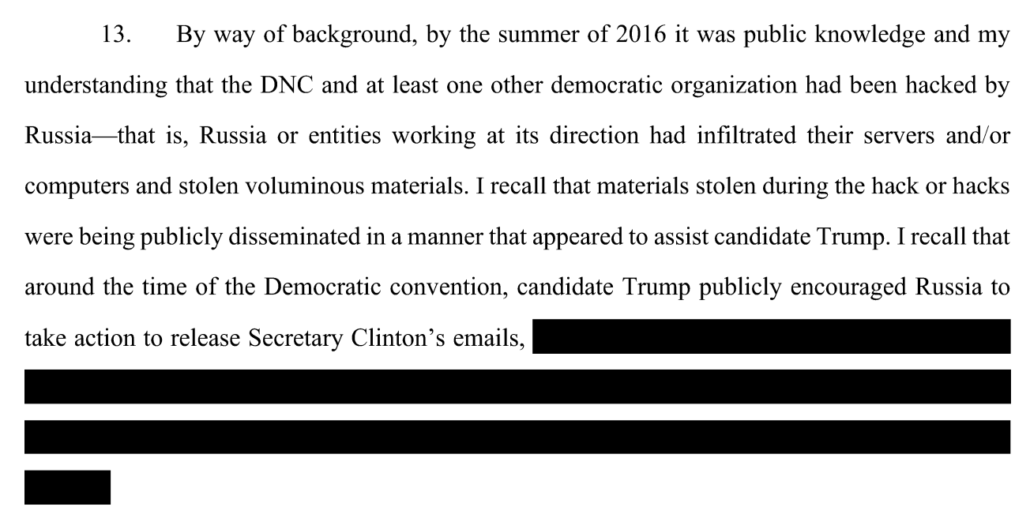 Because both sides have separate scope of testimony they'd like to elicit from Elias, he'll be asked both sets when prosecutors call him.
I'm sure Elias has quite a lot he'd like to say about serving as General Counsel for a candidate whose opponent was soliciting help — and appears to have gotten it — from a hostile foreign country.
Friday is the three year anniversary of the Durham investigation. Tuesday, the likely day both sides will make opening arguments, marks the five year anniversary of the Mueller investigation.
And on that day, a jury will finally hear an argument about how reasonable it was to believe Donald Trump posed a threat to the United States after he asked Russia to help hack his opponent.
https://www.emptywheel.net/wp-content/uploads/2020/10/COVID-Don.png
369
304
emptywheel
https://www.emptywheel.net/wp-content/uploads/2016/07/Logo-Web.png
emptywheel
2022-05-10 11:21:11
2022-05-10 14:04:04
Three Years into the Durham Investigation, a Jury Will Get to Hear about Trump's Request that Russia Hack Hillary