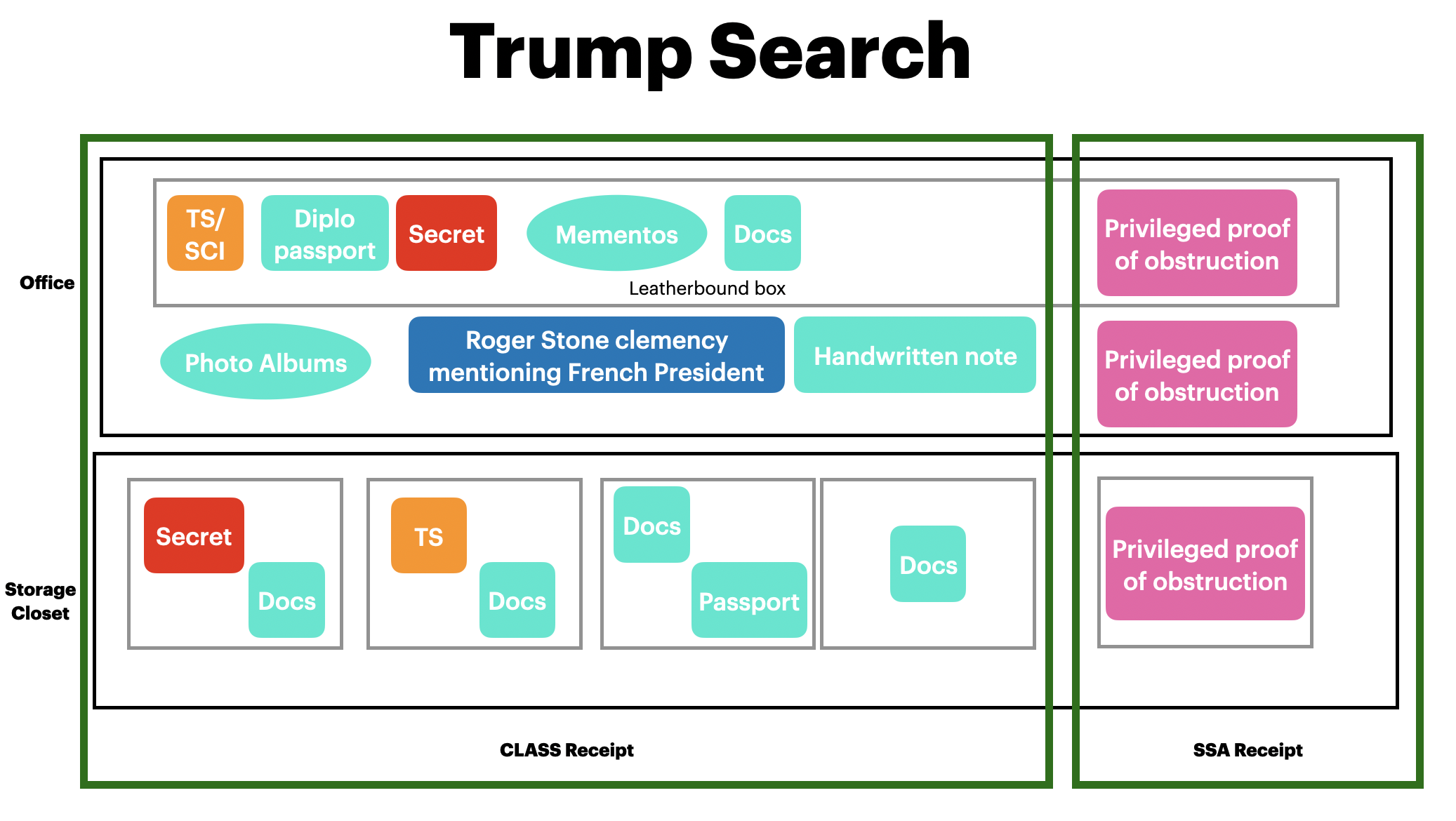 Here's the affidavit used to search the home and resort of the 45th President of the United States for classified documents he refused to return. My live tweet is here. I'll do running updates in this thread. Here's my earlier post on what the affidavit would include which accurately predicated a great deal of what was in here.
The investigation
The affidavit spends three paragraphs describing how, after NARA made a referral on February 9, 2022, the FBI opened an investigation to learn:
How classified documents were removed from the White House
Whether the storage facilities at Mar-a-Lago were suitable for storing classified materials
Whether there were anymore classified documents at Mar-a-Lago or elsewhere
Who had removed and retained the documents in unauthorized spaces
In a probable cause paragraph, it explains that there were 15 boxes with classified information at Mar-a-Lago and there was probable cause to believe there were more.
There's a redacted paragraph that may describe the basis for suspecting obstruction. A later sentence in the probable cause paragraph describes that there likely will be evidence of obstruction at MAL.
The affidavit explains that this is an investigation into (among other things) 18 USC 793e — which I was among the first people to predict. This means that DOJ maintains that Trump was not authorized to have these documents.
Statutory authorities
As I predicted, there is a series of paragraphs that lay out the statutory authorities implicated. This tells us how sensitive the documents in question are.
It does not list the Atomic Energy Act.
It does have paragraphs defining:
18 USC 793(e), the Espionage Act
EO 13526, the Executive Order governing classified information
Confidential, Secret, and Top Secret classifications
Secure Compartmented Information
Special Intelligence, which is SIGINT
HCS, which refers to clandestine human spying
 FISA
NOFORN, material not permissible to share with foreign governments
Originator Controlled, meaning whoever created controls it
Need to know
32 CFR Parts 2001 and 2003 which describes the Storage requirements for classified information
18 USC 1519, obstruction
18 USC 2071, willfully removing information
44 USC 2201, the Presidential Records Act
44 USC 3301(a), the Federal Records Act
NARA Referral
Two paragraphs describe the NARA referral.
First, it describes the February 9, 2022 message to DOJ describing how Trump had "classified records [that were] unfoldered," meaning their protective cover sheets were gone, "intermixed with other records, and otherwise unproperly [sic] identified.
Former Watergate prosecutor Elizabeth de la Vega described that this sounds like an old white collar crime technique.
There's also a description, first, of the notice NARA gave to Carolyn Maloney as the Chair of the House Oversight Committee, and Trump's response. It also included Trump's statement in response falsely claiming he was raided.
Redacted pack-up description
There are four paragraphs that appear before the description of Trump's move out of the White House. Those must include details about what was known of his pack-up.
Boxes containing documents were transported from the White House to Mar-a-Lago
There are eight paragraphs that start with a description of how he moved at least two trucks of stuff to Mar-a-Lago.
It's unclear what the rest of this section describes (though it may include witness testimony about how things were unpacked). It also seems to quote from correspondence.
Provision of the fifteen boxes to NARA
Nine paragraphs (and one footnote) describe the effort to retrieve the boxes. It describes the effort lasting from May 6, 2021 to "approximately late December 2021," when NARA was informed there were 12 — not 15 — boxes ready to be retrieved.
That section ends with a redaction, possibly a Trump Text.
The FIFTEEN BOXES provided to NARA contain classified information
What may be just two paragraphs describes what was found in the original 15 boxes: 184 documents bearing classification marks, including:
67 Confidential documents
92 Secret documents
25 Top Secret documents
Others marked HCS, FISA, ORCON, NOFORN, and SI
Some documents with Trump's handwritten notes
Two redacted documents
Paragraphs 49 and 50 are a separate section. They may describe evidence of obstruction.
A description of Trump's refusal to return materials [redacted title]
Paragraphs 51 through 61 describe DOJ's efforts to get Trump to return the rest. Most are redacted. The unredacted passages include:
A May 25 letter from Evan Corcoran purporting to lay out "principles" covering the the President's authority to declassify, asking NARA to share that letter with "any judicial officer who is asked to rule on any motion pertaining to this investigation."
A link to the Kash Patel post where he claimed Trump had declassified documents. (I accurately predicted these were related.)
A description of the June 8 letter from Jay Bratt to Corcoran, informing him that the facilities were not authorized for classified information.
A footnote to the paragraph leading into that section distinguishes NDI from classified information. Clearly, Trump was claiming he had declassified everything, and DOJ was saying that didn't matter.
Seven redacted paragraphs
This may explain the declaration Christina Bobb signed and reason DOJ believed it was false.
There is probable cause to believe that documents containing classified NDI and Presidential Records remain at the premises
Seven paragraphs in this section are classified.
The eighth explains that the classified documents are likely to be in the STORAGE ROOM, FPOTUS' residential suite (which is called Pine Hall), and the "45 Office."
A mostly redacted paragraph describes where this stuff has been stored. After a redaction, it explains that the club is closed for the summer, and explains that rooms that are not currently occupied may be searched.
Conclusion
This is summary asking for proof of all three crimes.
Sealing
This is a standard sealing paragraph.
Search procedures for handling potential attorney-client privileged information
Four paragraphs describe that a taint team will conduct the search of Trump's office. If it finds stuff that is privileged that DOJ wants to search, it provides three further ways to get it:
An ex-parte determination of whether they are privileged
Simple deferral of accessing the information
Cooperation with Trump
This must be the stuff on the SSA receipt.
Update: Corrected something I thought was a heading but which was not.
https://www.emptywheel.net/wp-content/uploads/2022/08/Screen-Shot-2022-08-18-at-9.25.29-PM.png
1170
2074
emptywheel
https://www.emptywheel.net/wp-content/uploads/2016/07/Logo-Web.png
emptywheel
2022-08-26 12:48:29
2022-08-27 15:07:08
Trump Had Human, Signals, and FISA Intelligence in an Insecure Room at Mar-a-Lago for a Year