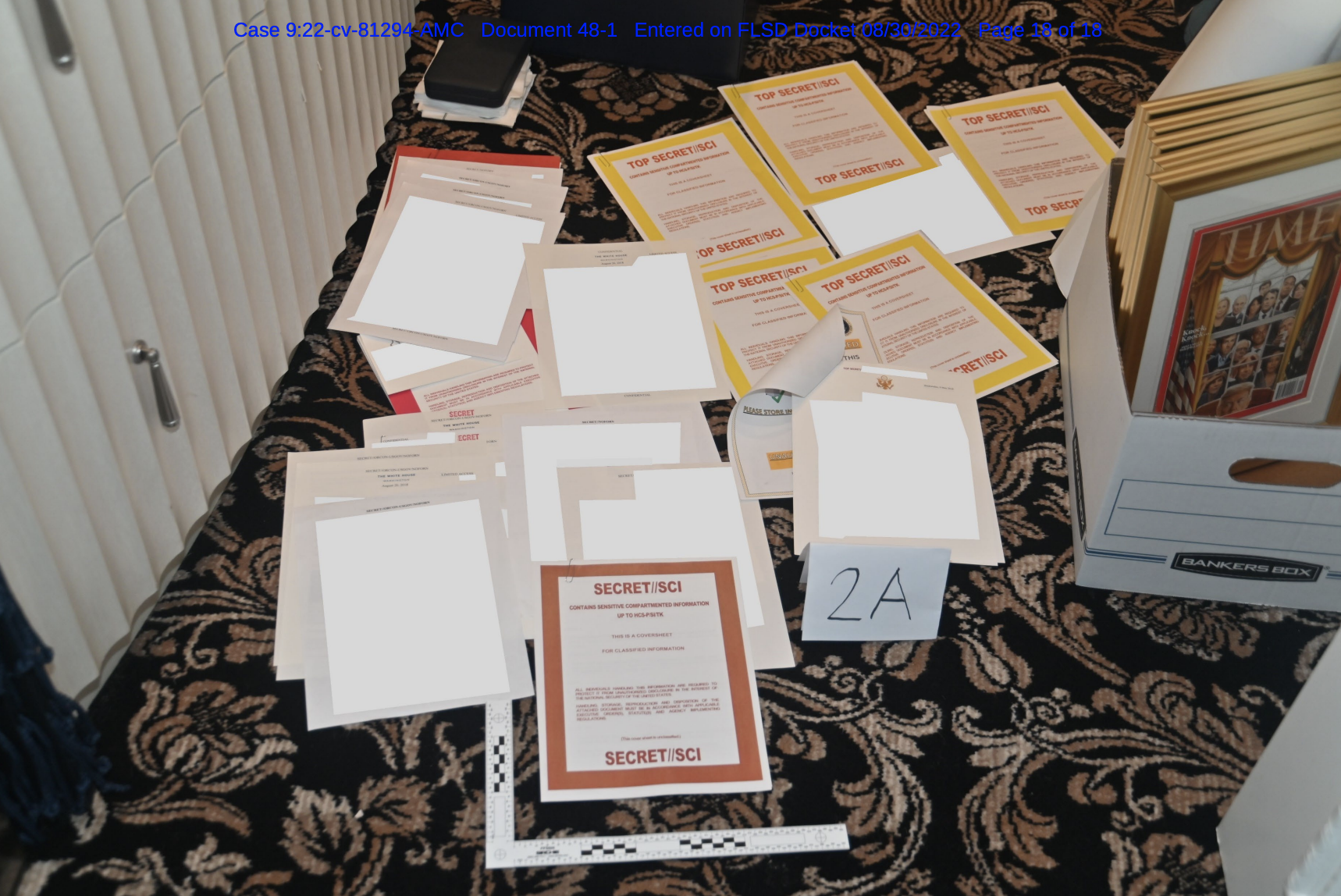 Trump appears to be accusing his hand-picked Special Master, Raymond Dearie, of violating Judge Aileen Cannon's rules under seal.
In a government request for an extension of deadlines that appears to be necessitated because document review vendors either refuse to work with Trump, or Trump has made himself impossible to work with, it lays out three objections Trump made to Dearie's September 22 case management plan under seal (such objections were due Tuesday). At least one of the complaints appears to accuse Dearie of violating Judge Cannon's September 15 appointment order.
Below, I've shown passages from Cannon's order, Dearie's implementation of that order, and DOJ's response to Trump's objection; that helps to show what Trump's complaints must be.
Cannon order:
Verifying that the property identified in the "Detailed Property Inventory" [ECF No. 39-1] represents the full and accurate extent of the property seized from the premises on August 8, 2022, including, if deemed appropriate, by obtaining sworn affidavits from Department of Justice personnel;
Dearie order:
No later than September 30, 2022, Plaintiff shall submit a declaration or affidavit that includes each of the following factual matters:
a. A list of any specific items set forth in the Detailed Property Inventory that Plaintiff asserts were not seized from the Premises on August 8, 2022.
b. A list of any specific items set forth in the Detailed Property Inventory that Plaintiff asserts were seized from the Premises on August 8, 2022, but as to which Plaintiff asserts that the Detailed Property Inventory's description of contents or location within the Premises where the item was found is incorrect.
c. A detailed list and description of any item that Plaintiff asserts was seized from the Premises on August 8, 2022, but is not listed in the Detailed Property Inventory.
Sealed Trump objection?
DOJ response:
First, contrary to Plaintiff's objection, the verification required by Plaintiff of the Detailed Property Inventory is a condition precedent to the document categorization and privilege review. The Special Master needs to know that that he is reviewing all of the materials seized from Mara-Lago on August 8, 2022 – and no additional materials – before he categorizes the seized documents and adjudicates privilege claims.
Cannon order:
Plaintiff's counsel shall review the materials, allocate each of them to one of four mutually exclusive categories listed below, and prepare and provide to the Special Master a log stating, for each item or document, the particular category claimed and on what basis.
The four categories are as follows:
aa. Personal items and documents not claimed to be privileged;
bb. Personal documents claimed to be privileged;
cc. Presidential Records not claimed to be privileged; and
dd. Presidential Records claimed to be privileged.
Dearie Order:
Plaintiff shall provide the Special Master and the government with an annotated copy of the spreadsheet described above that specifies, for each document, whether Plaintiff asserts any of the following:
a. Attorney-client communication privilege;
b. Attorney work product privilege
c. Executive privilege that prohibits review of the document within the executive branch;
d. Executive privilege that prohibits dissemination of the document to persons or entities outside the executive branch;
e. The document is a Presidential Record within the meaning of the Presidential Records Act of 1978, 44 U.S.C. § 2201, et seq. ("PRA); see id. § 2201(2); and/or
f. The document is a personal record within the meaning of the PRA; see id § 2201(3).
Sealed Trump objection?
DOJ response:
Second, that the Amended Case Management Plan has six categories (ECF 112, at 3) and the Appointment Order four (ECF 91, at 1) is entirely a function of the fact that the four categories in the Appointment Order speak of "privilege" in general and do not (as the Amended Case Management Plan does) differentiate between attorney-client and Executive privilege. The Amended Case Management Plan is entirely consistent with the Appointment Order. Plaintiff's objection has no logical basis.
Cannon order:
Evaluating claims for return of property under Rule 41(g) of the Federal Rules of Criminal Procedure;
Dearie order:
Once the Court has reviewed the Special Master's recommendations and ruled on any objections thereto, the Special Master will, if necessary, consider Plaintiff's motion for the return of property under Federal Rule of Criminal Procedure 41(g). Plaintiff shall submit a brief in support of the motion no later than seven calendar days after the Court's ruling on the Special Master's recommendations. In addition to addressing the merits of the Rule 41(g) motion, Plaintiff's brief should address specifically whether the motion may properly be resolved in this action or must instead be decided as part of the docket in the action in which the relevant warrant was issued, 9:22-MJ-08332-BER.
Sealed Trump objection?
DOJ response:
Third, the Special Master's request for briefing on a particular point of law is similarly consistent with the Appointment Order. The government will brief that point of law. It behooves Plaintiff to brief that point as well.
It's fairly clear why Trump has leveled these objections, and equally clear why he filed them under seal.
If Trump complies with the order to confirm or deny the inventory, it will require him to admit there are 103 documents bearing classification marks that he didn't turn over in response to a subpoena, an element of the obstruction and possibly the Espionage Act offense. To make any claims about the inventory, Trump will quite literally either have to confess he committed at least one crime or his lawyers will have to affirmatively lie (and do so without access to the other FBI evidence documenting their search protocol that would disprove the lie).
With regards the designations, labeling documents with six non-exclusive labels effectively amounts to declaring the basis underlying Cannon's four "mutually exclusive" designations, but it also requires Trump to lay out where he disputes the law as it actually exists. Adhering to the meanings of "personal" and "Presidential" records as laid out in the Presidential Records Act would accept the legal guidelines imposed by that. Requiring Trump to label something as both Presidential and Executive Privileged requires him to accept that personal items cannot be the latter. Making claims of Executive Privilege — which must be made to treat such things as privileged — would make any appeal easier. Distinguishing between Executive Privileged documents that can and cannot be shared within the Executive branch will similarly make DOJ's appeal easier and help prove that Trump withheld the latter to obstruct the function of the Archives. And to distinguish between Attorney-Client and Executive privilege would be to concede that government lawyers didn't work for Trump. To be sure: Cannon did say Dearie should use four mutually exclusive categories, but these six are the ones that Dearie would have to adjudicate and (as noted) Trump would always need to affirmatively claim both attorney-client and Executive Privilege. Dearie can't do his job if Trump won't specify what kind of privilege he is claiming here. But by suggesting Dearie's order is inconsistent with Cannon's order (as DOJ's response suggests Trump is doing), Trump may be trying to hasten to the point where Cannon fires Dearie and replaces him with someone who'll hold Trump to a standard other than that required by a Special Master review, not to mention the Presidential Records Act.
Briefing the 41(g) issue will make it easier for DOJ to show, on appeal, that Judge Cannon overstepped by asserting jurisdiction.
By keeping all these objections under seal, Trump makes it harder for the press to call him (and Cannon) out for — as Dearie noted in the hearing — "having his cake [of a civil suit] and eating it too," demanding relief without being willing to put in writing what claims he himself is making. His objections, whatever they are, must be written forms of the same complaint that Jim Trusty made in the hearing.
James Trusty, one of Trump's attorneys, called it "premature" for Dearie to consider that issue right now. "It's going a little beyond what Judge Cannon contemplated in the first instance," he said.

In one of several moments of palpable tension with the Trump team, Dearie replied: "I was taken aback by your comment that I'm going beyond what Judge Cannon instructed me to do. … I think I'm doing what I'm told."
By attempting to do this under seal, then, Trump is also attempting to hide the nature of his complaints in case Cannon decides to respond by firing Dearie. If she fires Dearie with this public (and she might!), it'll make it all the easier for the 11th Circuit to reverse the entire appointment as an abuse of civil procedure.
Cannon is still hiding the filter team status report that would show that she made false claims about its contents to even claim jurisdiction, and she may well hide Trump's objections for the same reason: because they make her own actions all the more improper.
DOJ repeated the same point Dearie made in the hearing: as the plaintiff before Cannon, Trump bears the burden of proof, not DOJ.
Plaintiff brought this civil, equitable proceeding. He bears the burden of proof. If he wants the Special Master to make recommendations as to whether he is entitled to the relief he seeks, Plaintiff will need to participate in the process by categorizing documents and providing sworn declarations as the Amended Case Management Plan contemplates.
But somehow, none of the crack lawyers representing Trump or Judge Cannon thought through that if this is really treated as a civil suit, to prevail, Trump will need to make affirmative assertions that DOJ can then use in a criminal case against him.
Update: Trump has now released his objections, which he stated he didn't want to release. He submitted it with this letter, which claims the government seized 200,000 pages of documents from his home.
https://www.emptywheel.net/wp-content/uploads/2022/08/Screen-Shot-2022-08-31-at-6.40.53-AM.png
1148
1718
emptywheel
https://www.emptywheel.net/wp-content/uploads/2016/07/Logo-Web.png
emptywheel
2022-09-28 06:31:38
2022-09-28 23:42:12
Under Seal, Trump Accuses Hand-Picked Special Master of Not Following Orders