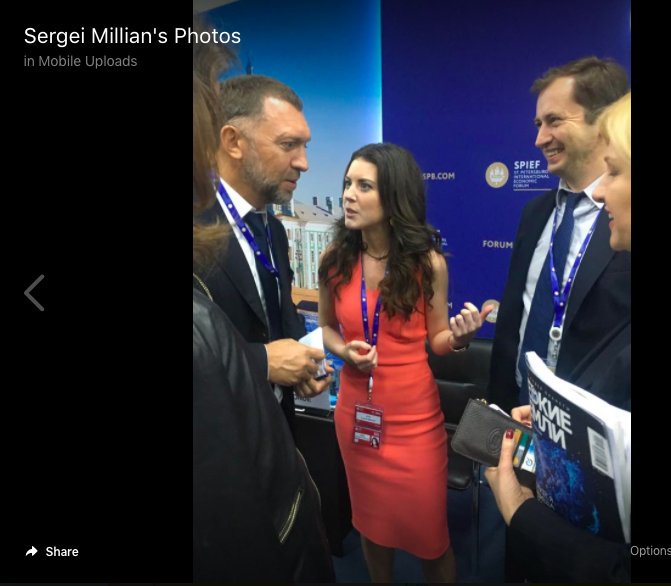 Igor Danchenko Would Have Been a Crucial Witness to Understanding the Disinformation in the Dossier
Igor Danchenko claims that a Supervisory Special Agent involved in the Russian investigation described his cooperation with the FBI as a confidential source as one of the upsides of that investigation.
As one supervisory special agent has agreed, "one of the upshots [of the Crossfire Hurricane Investigation] has been a relationship with [Mr. Danchenko] which has provided the FBI insights into individuals and to areas that it otherwise was lacking [ ] because of the difficulty with which the FBI has in recruiting people from that part of the world." The agent further agreed that the FBI's relationship with Mr. Danchenko was "one thing that in terms of usefulness really did result from this [investigation]."
Danchenko cited it as part of his successful effort to limit how much detail about the 2010 counterintelligence into him John Durham could present at trial, which starts today.
It's an odd statement, insofar as he doesn't cite the source (I was wondering if it comes from a pre-trial interview of a witness he plans to call, the precise details of which he's withholding until the trial). Plus, there are FBI agents who seemed happy to have participated in the investigation, notwithstanding the way Trump found a way to ruin the career of virtually every FBI person involved in it (besides the two guys who botched the Alfa Bank investigation). This person, with the reference to "usefulness," sounds like one of the skeptics.
Imagine if one of the FBI agents the frothers have been celebrating as a Mueller skeptic for years had good things to say about the (hopefully last) target in Durham's witch hunt?
Whoever it is, the frothers' continued obsession with Danchenko's role as an FBI source — now joined by Chuck Grassley and Ron Johnson — and their certainty there was impropriety about it is a testament to how deep within a bubble they all are, in which Trump matters but US security does not.
Start with what we know or can infer about his vetting. First, he was brought on as a source in March 2017, before the FBI stopped including FISA material among the databases it used to vet potential informants. So they likely checked collections of communications from known Russian spies before they formalized the relationship, including those they knew he had contact with years earlier. If that's right, they knew a lot about what ties he had with Russians.
Then, at least if we can believe Danchenko, every time there was a discrepancy between what he said and others said, they were resolved in his favor.
To the contrary, not only did investigators and government officials repeatedly represent that Mr. Danchenko had been honest and forthcoming in his interviews, but also resolved discrepancies between his recollection of events and that of others in Mr. Danchenko's favor.
Frothers blew over the implications of this just like they blew over Danchenko's reference, in this same filing that, "The government had unfettered access to Mr. Danchenko for approximately four years following his first interview in January 2017" (a presumed allusion to his relationship with the FBI).
This statement about "discrepancies" between Danchenko's versions and those of others would have to include the interview with Christopher Steele that Durham attempted (unsuccessfully) to introduce as evidence.
On September 18 and 19, 2017, FBI personnel from the Robert Mueller Special Counsel team interviewed Christopher Steele. Steele informed the FBI personnel, in part, that the defendant had collected election-related material in the United States for Orbis. As part of that undertaking, the defendant informed Steele that he met in person with Sergei Millian on two or three occasions – in New York and once in Charleston, South Carolina. The defendant subsequently informed the FBI that he had not in fact met with Millian on any occasion. On November 2, 2017, the defendant further stated to the FBI that Steele incorrectly believed the defendant had met in-person with Millian, and that he (the defendant) did not correct Steele in that misimpression.
Danchenko makes this even more explicitly clear later.
[W]hile the facts alleged in the indictment may show that [Steele] provided the FBI with an inaccurate statement about a meeting between Mr. Danchenko and [Millian] in New York, the facts also clearly show that Mr. Danchenko corrected the record for the FBI by unequivocally stating, on multiple occasions, that he had never met with [Millian] in New York and did not know whether he ever spoke on the phone with [Millian].
Most Republicans claim that Steele's dossier was garbage. Danchenko maintains he had no role in writing it and Durham doesn't seem to have any evidence to the contrary. Everything in Danchenko's prosecution (and the entire DOJ IG Report on Carter Page) is consistent with the FBI believing Danchenko over Steele. And yet the frothers are sure that one of the first guys to raise questions about Steele (Bruce Ohr was actually the first, though he never gets credit for that) is suspect.
If Danchenko's claim (made after reviewing discovery) is true — something I expect we'll learn more about during the trial — Mueller, at least, came away from a series of interviews in fall 2017 crediting Danchenko's claims about the construction of the Steele dossier over Steele's own. I think the record is somewhat more equivocal than that. For example, Danchenko's claim that he, "did not view his/her contacts as a network of sources, but rather as friends with whom he/she has conversations about current events and government relations," is not credible; he knew he was getting paid for this information. But Danchenko showed proof of some of his other claims (for example, in texts with his friend Olga Galkina), and I assume whatever vetting FBI did — including the FISA 702 collection targeting Galkina — held up as well.
If you think Steele fucked over Trump, that should matter to you.
But Danchenko (and that anonymous FBI agent) make it clear Steele was not the only person who Danchenko helped the FBI to understand. Danchenko describes that the investigation into the dossier ended in November 2017.
The investigation into the Reports was ultimately completed by Special Counsel Robert S. Mueller, III, in or about November 2017
But he remained an approved source until October 2020. A Danchenko filing describes being interviewed "dozens of times," of which roughly eight are included in the scope of the indictment against him (three in January, and one each in March, May, June, October, and November 2017), which therefore must be the only ones that pertain to the dossier. Durham's project, with his conspiracy theory driven prosecution, is to claim that Danchenko lied at least once in every interview about the dossier.
That Danchenko was interviewed some 16 more times is news: it would suggest Danchenko's was asked to explain more than just Steele's reporting methods. It's not even clear Durham would have reviewed all that reporting before he charged Danchenko; he's not known to have investigated past the beginnings of the Mueller investigation, and Durham only produced a December 2017 draft opening memo for an investigation into Charles Dolan in the last month.
[W]hen agents drafted a December 2017 communication in support of opening an investigation into Dolan, they included the information Mr. Danchenko provided them as support for opening the investigation. 3

3 The December communication is highly exculpatory with regard to the essential element of materiality and it is not clear why it was only produced 30 days from the start of trial. It was produced as Jencks material (also late by the terms of the Court's Order requiring all Jencks to be produced by September 1) but is obviously Brady evidence. 
Durham certainly didn't bother learning all of Rodney Joffe's contributions to the FBI before he made wild insinuations about him and got him discontinued as an FBI source, so it's possible he did not for Danchenko either.
And that's interesting given what is in the public record about related events.
Try to look at the Russian investigation not as an attempt to sink Trump (much of what we know about matters Danchenko may have cooperated on comes from before the investigation was predicated on Trump), and not as the precursor to the prosecutions we know happened. Try to consider the Russian investigation as an investigation in the wake of a hostile attack from a foreign power. And consider what the DOJ IG Report on Carter Page — a document most frothers treat with near biblical reverence and ignorance, the declassified footnotes to the report, the Bruce Ohr 302s, and details revealed in the Danchenko filings disclose about where the investigation into the dossier and related topics developed between December 2016 and September 2000.
In the period when Danchenko was brought on as an informant (and before the time Steele was interviewed) the FBI learned that Steele had problematic ties with Oleg Deripaska and his (and Danchenko's) source network had been compromised by Russian spooks.
December 2016: As much as Steele was trying to push the dossier to the FBI, he was also trying to push Oleg Deripaska's complaints that Manafort had stolen money from him
January 12, 2017: Another intelligence service relayed an inaccuracy about the Michael Cohen claims in the Steele Report, claims Danchenko sourced to his friend Galkina, who had gotten close to Dmitry Peskov via Dolan
January 24, 2017: Danchenko didn't know that Deripaska was the one who paid Steele to investigate Manafort in spring 2016
February 14, 2017: Steele was working for certain attorneys, including the attorney for Oleg Deripaska
February 27, 2017: An individual with ties to Trump and Russia said the pee tape was the product of Russia infiltrating a source into the Steele network
March 2017: The Crossfire Hurricane considers the full import of the open counterintelligence investigation on Millian
June 2017: Someone affiliated with Oleg Deripaska learned of Steele's project by early July 2016 — so before all but the first report
Early June 2017: Russian spooks became aware of Steele's election investigation in early 2016 [this date is probably wrong but still an indication that Russia learned about the project from the start]
Early June 2017: FBI targeted Olga Galkina under Section 702 (and discovered her ties to Chuck Dolan and both their ties to Dmitry Peskov)
December 2017: FBI at least considered opening an investigation into Dolan
February 2018: The reason Manafort shared campaign information in August 2016 was in an effort to get "whole" with Deripaska; Kilimnik shared a clever plot to defeat Hillary
April 2018: Treasury sanctions Deripaska, among others
May 2018: More on how Kilimnik's August meeting pertained to a plan to beat Hillary
September 2000: Deripaska's US associate, Olga Shriki, appears before grand jury
By 2019, the IG Report makes clear, there were abundant reasons to suspect that Deripaska had played a key role in injecting disinformation into the dossier. In the earlier days of the investigation, key people on the Crossfire Hurricane team didn't know of Steele's ties to Deripaska, something that, "could have indicated that Steele was being used in a Russian 'controlled operation' to influence perceptions (i.e., a disinformation campaign)." Until the way Deripaska was working both sides — increasing Manafort's legal jeopardy while using his desperation to get his cooperation with the election operation — became clear, Deripaska's ties to the dossier didn't make sense, as Bill Priestap explained.
[I]f that's the theory [that Russian Oligarch 1 ran a disinformation campaign through [Steele] to the FBI], then I'm struggling with what the goal was. So, because, obviously, what [Steele] reported was not helpful, you could argue, to then [candidate] Trump. And if you guys recall, nobody thought then candidate Trump was going to win the election. Why the Russians, and [Russian Oligarch 1] is supposed to be close, very close to the Kremlin, why the Russians would try to denigrate an opponent that the intel community later said they were in favor of who didn't really have a chance at winning, I'm struggling, with, when you know the Russians, and this I know from my Intelligence Community work: they favored Trump, they're trying to denigrate Clinton, and they wanted to sow chaos. I don't know why you'd run a disinformation campaign to denigrate Trump on the side.
But as the Manafort side of the equation became clear, it all made more sense. And the implication is that by 2019, that's what the FBI understood to have happened.
Chuck Grassley was the first person to start raising public questions about Deripaska's role in the dossier. Similarly, he was among the first to raise concerns about disinformation and the dossier.
The more likely explanation for Danchenko's CHS status is one he and other Republicans should welcome: that the FBI investigated how the dossier was used as disinformation. Danchenko was fed a lot of shit, from people (like Galkina) he trusted implicitly; that shit happened to be tailored to sow maximal dissension in US politics. And then Steele, unbeknownst to Danchenko, packaged it up inside exaggerations.
If it bothers you that the dossier was larded with disinformation — and it should bother people on both sides of the aisle — then you should welcome FBI's effort to understand how that happened. And one crucial step in that process is to understand how the network behind it tied right back to the Russians who played central roles in the 2016 attack on US democracy. Danchenko would have been a key guide to that information.
https://www.emptywheel.net/wp-content/uploads/2019/01/Milliam-Deripaska.jpg
586
671
emptywheel
https://www.emptywheel.net/wp-content/uploads/2016/07/Logo-Web.png
emptywheel
2022-10-11 08:54:37
2022-10-12 04:34:14
Igor Danchenko Would Have Been a Crucial Witness to Understanding the Disinformation in the Dossier