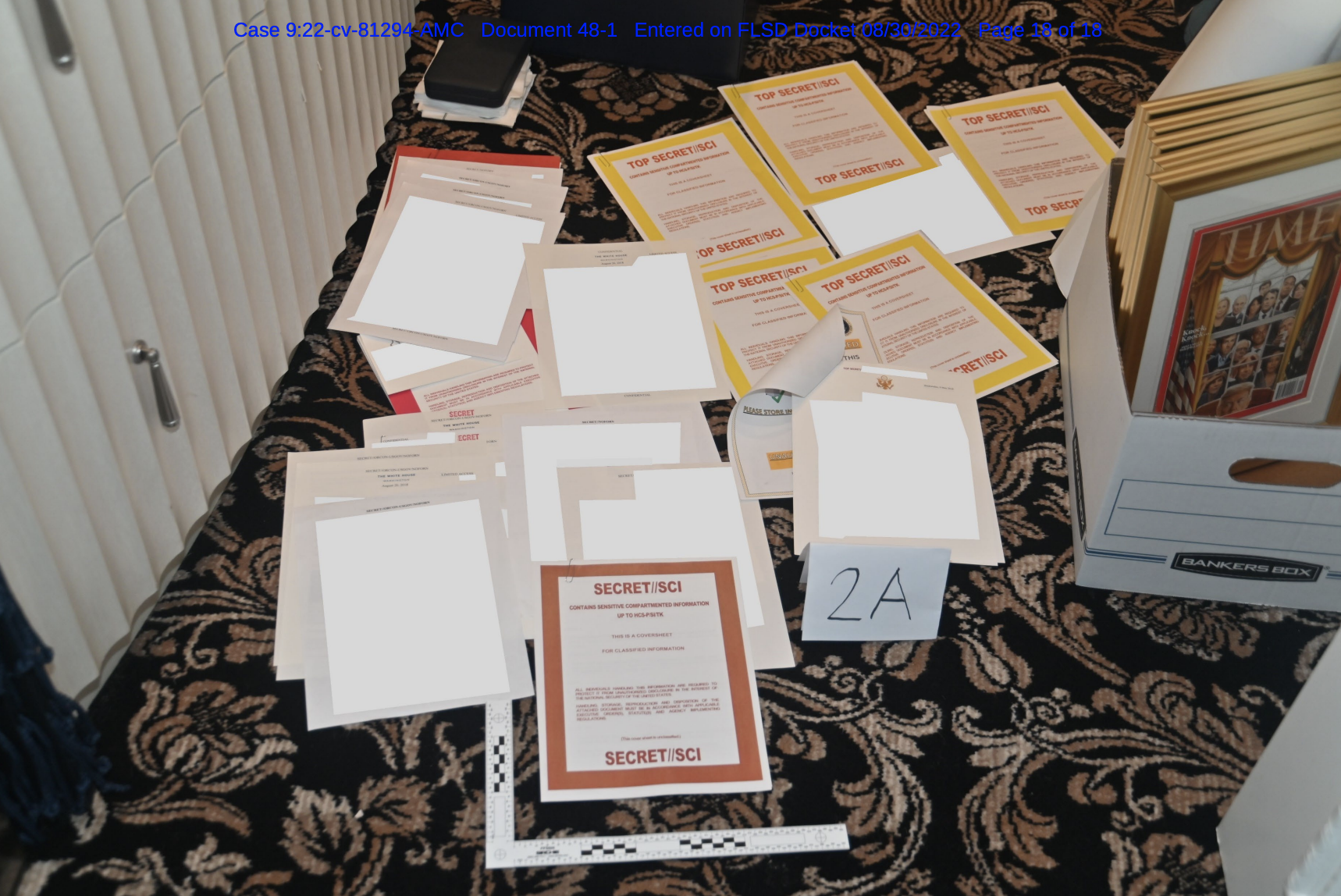 Raymond Dearie just held his second public status conference in the Trump Special Master proceeding. He had the government explain why, after Trump's team claimed there were 200,000 pages to review, the total ended up being 22,000.
AUSA Steve Morrison explained that the estimate came from a vendor, which developed its own estimate based off a standard business letter length of just under 20 pages per document, times the 11,000 documents. He noted that the 32 boxes that had been seized could not possibly have fit that much; he gave 82,000 as the max amount.
Mostly, it seemed, Dearie called the conference to express frustration with the paucity of the descriptions behind the designations so far, and concern that he'll get 11,000 versions of that in November. Several times, he said he wanted an idea of how many disputes to expect on November 12, when he gets the items about which there remains a dispute, so he can at least figure out whether he needs more staff.
There were some specific questions, though.
For example, he asked why the two sides hadn't been able to decide whether the government already had a copy of what is described as Item 5 in this accidentally docketed inventory, a letter from Marc Kasowitz to Robert Mueller. After some squabbling, Dearie complained, "I have no patience for either one of you on this point. If it's in Department of Justice possession, either produce it or make a representation it's in DOJ possession." Filter Counsel Anthony Lacosta described that he sent Jim Trusty a link on September 30 showing a publicly produced version of the letter that seems to be an exact copy of the one seized. That means it must be this letter published by the NYT on June 2, 2018 (the second one on the page).
Dearie also noted that there was nothing in the four pardon packages included that indicated any legal advice had been given — which suggests Trump is claiming a privilege that should not stand over those as well.
Perhaps most importantly, Dearie indicated that there's one letter of the documents discussed so far that Trump has claimed is a personal document but over which he has claimed Executive Privilege.
I see a doc for which claim there's a personal doc, and also a claim that Executive Privilege covers it. Unless I'm wrong, there's a certain incongruity there. Perhaps plaintiff's counsel will address that in submission.
That is, Trump is doing precisely what the law doesn't envision.
And among other things, Dearie is making that clear as the challenge to Judge Cannon's intervention proceeds at the 11th Circuit.
Udpdate: Corrected documents/pages error in first paragraph.
https://www.emptywheel.net/wp-content/uploads/2022/08/Screen-Shot-2022-08-31-at-6.40.53-AM.png
1148
1718
emptywheel
https://www.emptywheel.net/wp-content/uploads/2016/07/Logo-Web.png
emptywheel
2022-10-18 12:43:45
2022-10-19 08:02:23
Judge Dearie Confirms Trump Has Claimed Executive Privilege Over a Personal Document